You have to love a holiday where eating is the expression of thanks. Yes, the turkey is the star of the show. But we think it's actually just an excuse to have the side dishes. Eating stuffing, mashed potatoes, and mac 'n' cheese is especially acceptable during the holidays. Here are three recipes to add to your table this year.
We trust your family's secret recipes, and we wouldn't dare mess with tradition. But to serve up along side the classics, we're sharing three of our favorite creative Thanksgiving side dishes. From tangy sweet Brussels sprouts to luxurious truffle potatoes, these sides are made to impress.

Caramel Apple Brussels Sprouts
Serves 6
Stay with us here. A base of apple cider in this tangy vinaigrette is just the festive touch these veggies need. And with pancetta, sweet green apples, and crispy shallots, you might never want normal Brussels sprouts again.
Ingredients
4 large shallots
2 tbsp of cornstarch
1/2 cup, 1/3 cup and 2 tablespoons of olive oil, divided
2 cloves of garlic, minced
1 pound of Brussels sprouts, stems removed and sliced
1/3 cup and 3 tbsp of brown sugar, divided
4 sage leaves, chopped
1/4 teaspoon salt, plus more to taste
1 green apple
2 honeycrisp apples, thinly sliced
2 cups of apple cider
1 cup of pancetta, diced
1/2 cup of pomegranate seeds
Pinch of cayenne pepper
1 tbsp of apple cider vinegar
Pepper to taste
Directions
For the Vinaigrette
Begin by adding the apple cider, 1/3 cup of brown sugar, and 1/2 of a finely chopped green apple to a medium sauce pot. Bring to a boil over medium heat and let cook for about 10 to 15 minutes. Once the mixture has slightly thickened, remove from the heat and add apple cider vinegar and sage leaves.
Using an immersion blender or food processor, blend together with the olive oil, cayenne, and a pinch of salt and pepper. Pulse the vinaigrette only a few times to ensure the apples don't get puréed, just minced. Taste and season more if desired. This can be stored in the fridge in a tight jar for three to four days.
For the Crispy Shallots
Using a mandolin or very sharp knife, thinly slice 3 shallots and add to a bowl with the cornstarch. Toss to coat the shallots, then pass them through a sieve to ensure there are no clumps. In a large skillet, heat 1/3 cup of olive oil over medium-high. Add the shallots and cook for six to eight minutes, stirring occasionally. The shallots should be frizzled and just golden brown. Remove using a slotted spoon and transfer to a paper towel-lined plate. Set aside until ready to serve.
For the Brussels sprouts
Discard all but 2 tbsp of the infused shallot oil. In the same pan that you fried the shallots, heat the oil over medium-heat. Add 1 chopped shallot and sauté for 3 minutes, then add the garlic. Cook for an additional minute until the garlic is fragrant, then add the Brussels sprouts in a single layer. Sprinkle with 3 tbsp brown sugar and 1/4 tsp salt, then let sit for one minute before stirring. Sauté for four to five minutes until the Brussels sprouts are bright green and tender.
Next, add the pancetta and cook for an additional 10 minutes until the sprouts are browned and the pancetta is crisp. Reduce the heat slightly and add 1/2 of a diced green apple and 2 thinly sliced honeycrisps. Cook for additional three to five minutes, then remove from heat and stir in the pomegranate seeds. Plate the sprouts, then drizzle with the vinaigrette and sprinkle the crispy shallots over the top.

Truffle Mashed Potatoes
Serves 6
We couldn't cover sides without including mashed potatoes, obviously. And for these, think your mom's mashed potatoes — but better. We know, bold claim. But it's the holidays, and at least one truffle item is a must. These come together in no time and make the fanciest potato pancakes the next morning. That is, if you manage to keep any leftovers.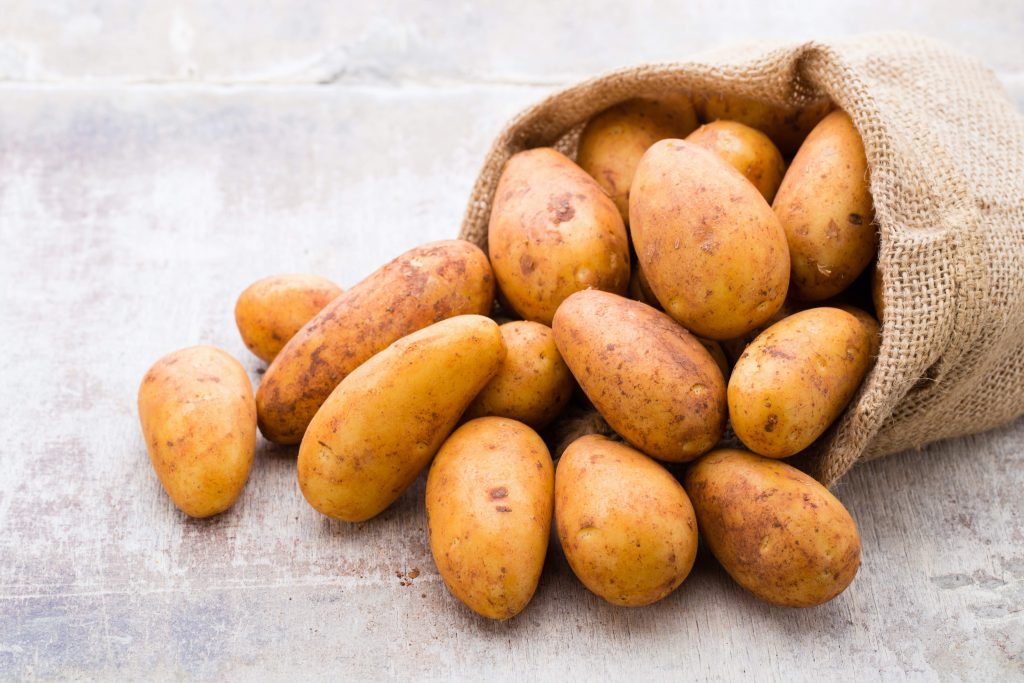 Ingredients
5 lb bag of golden potatoes, unpeeled and quartered
1 head of garlic
6 garlic cloves, smashed
2 sticks of room temperature butter
2 tbsp of truffle salt, plus more to taste
4 to 6 tbsp of sour cream
1/3 to 1/2 cup heavy cream
Salt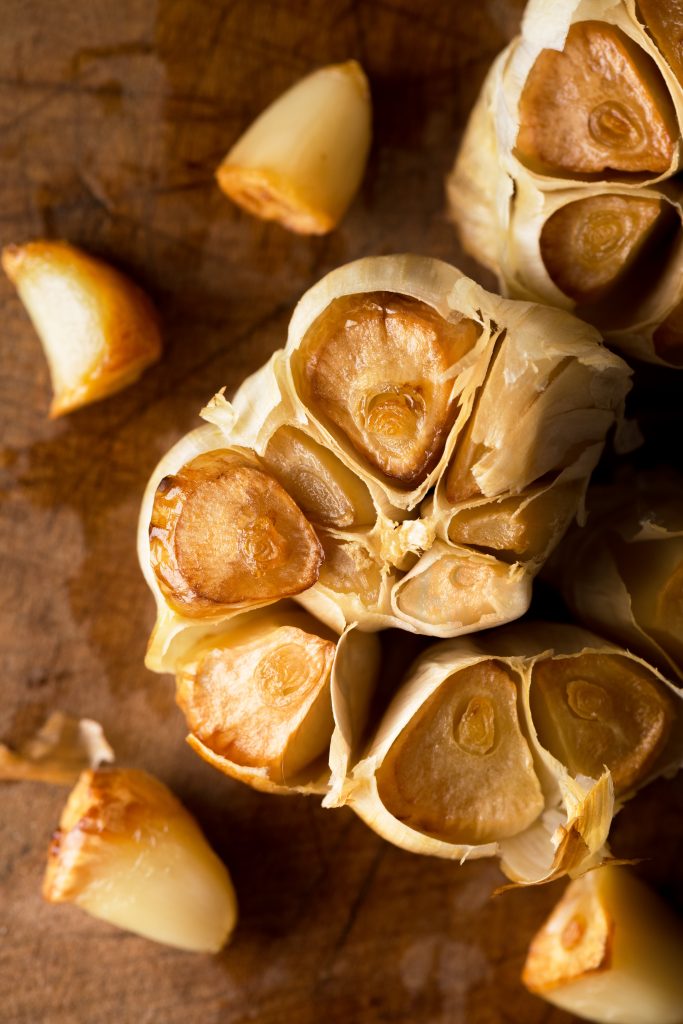 Directions
Preheat your oven to 450 degrees. Cut the top off your head of garlic and drizzle with olive oil and salt. Wrap the garlic in foil and place directly on the top rack of your oven. Bake for 30 minutes, or until the garlic is soft and golden brown.
To a large pot of cold water, add a very generous amount of salt, the smashed garlic, and the potatoes. Boil over high heat until the potatoes are fork tender, about 20 to 25 minutes. Meanwhile, mix three tablespoons of sour cream with the truffle salt and set aside.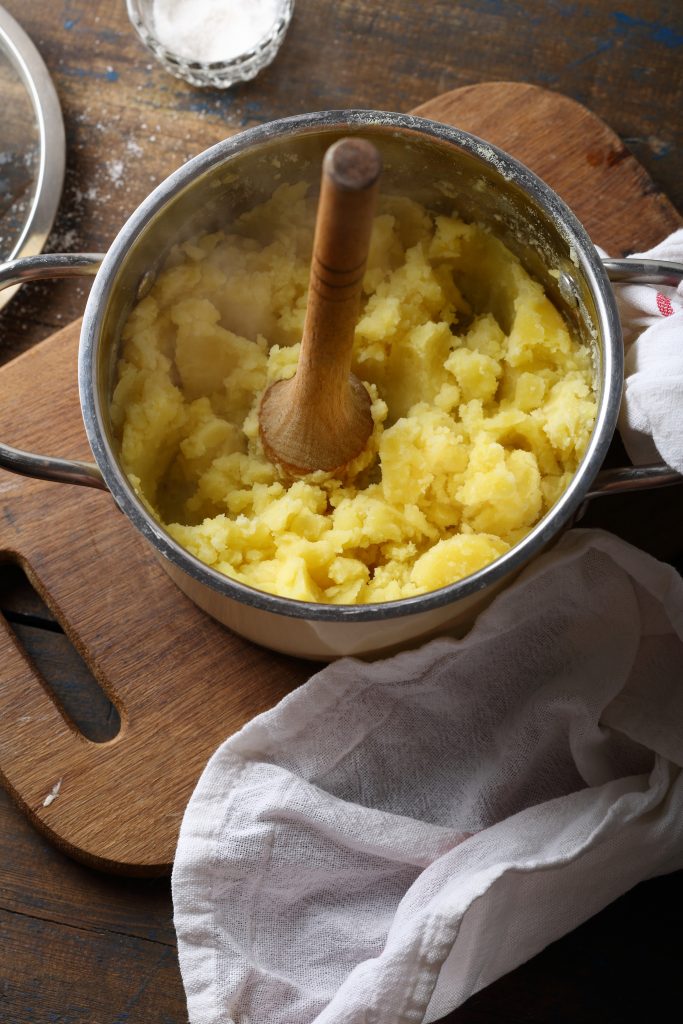 When the potatoes are cooked, drain well and discard the garlic cloves. Transfer the potatoes right away to the bowl of your stand mixer. Add 3/4 of a stick of butter, a splash of cream, and your truffle-salt sour cream mixture. Squeeze the contents of your roasted head of garlic into the bowl as well, using your fingers or a pair of tongs. Mix on a low speed, adding more moisture as needed. The potatoes should be fluffy but not gummy, so make sure not to over mix.
Transfer the potatoes to a casserole dish. Slice several pieces of butter longways and stick them around the sides of the dish and on top of the potatoes. About 30 minutes before you're ready to serve, put the potatoes in a 400-degree oven. The butter will melt into the mash and crisp up the top into a golden brown peak. Bake for about 30 to 35 minutes, keeping an eye on the color. Serve with more truffle salt, if desired.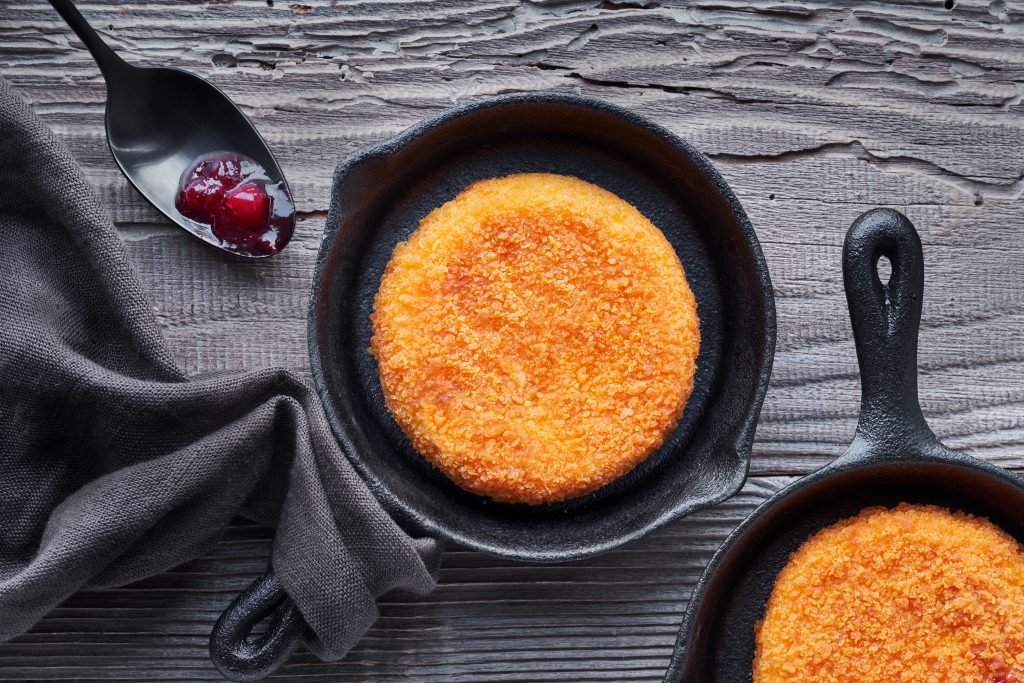 Baked Manchego
Serves 4
The gooey mac 'n' cheese is already on the table, and the rolls are buttered up and ready to go. But if you who want to dive right into some baked-cheese goodness, with no noodles standing in the way, this is the way to do it. We love this recipe so much, we turned it into a pintxo. But it's just as good on its own. Serve this as an appetizer, or as one of your sides. Just make sure to have plenty of warm, crusty bread to go with it.
Ingredients
1 block of manchego cheese, cut lengthwise into halves
1/4  cup of good olive oil
3 tbsp of breadcrumbs (panko or regular)
1 egg
3 tbsp of slivered almonds, lightly toasted
3 tbsp of flour
Salt & pepper
3 cloves garlic, minced
2 tsp of aged sherry wine
1 baguette, sliced into crostinis
Directions
In a shallow bowl, combine the breadcrumbs, almonds, flour, salt, and pepper. In another bowl, mix the egg with 1 tsp of water. Brush the egg wash over the piece of manchego, covering the whole surface. Evenly coat the block of cheese in the flour breadcrumb mixture. You may need to use your hands to press the coating into the cheese.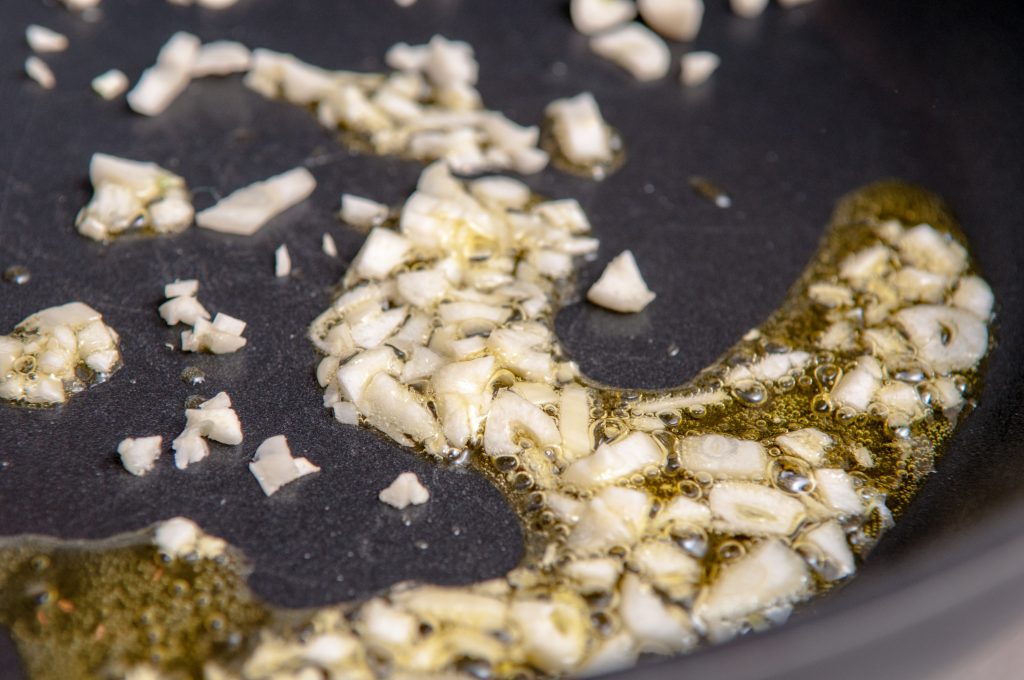 In a wide skillet over medium-low heat, add ¼ cup of olive oil. Once hot, add garlic and cook until golden brown and fragrant, about 2 to 3 minutes. Whisk in the sherry vinegar. Place the cheese in the skillet, frying for four to five minutes on each side. Once golden brown and crispy, remove the cheese and place it on a paper towel-lined plate to drain excess oil. Plate with extra garlic vinaigrette mixture drizzled over the top, and serve alongside crostinis.