There seems to be a holiday for everything nowadays. but when you have the chance to celebrate an essential in life, why not? In honor of National Coffee Day (yes, that really is a thing), here are three recipes that show that coffee has a whole lot more range than just your morning wake-up call.
The Espresso Martini
First things first, and that's a coffee recipe for your aperitif. The espresso martini has made a comeback recently, and we're not talking about a version that's watered down by Baileys. Instead, this coffee recipe for the classic espresso martini is pure espresso and vodka and, of course, it's in the perfect proportion. We like to begin the evening with the espresso martini versus end it because 1) we're getting old. That caffeine will keep us up all night. And 2) It's a fun way to set the tone for the evening.
Makes 2 Drinks
Ingredients
2 shots of Espresso
3 ounces Tito's vodka
1 1/2 ounces Bittermans or Kahlua coffee liquor
a pinch of Fleur de Sel
6 coffee beans
Cocktail shaker full of ice
Directions
This coffee recipe is an easy one. Take the espresso, vodka, Bittermans or other dark coffee liquor, and the Fleur de Sel. Place in your cocktail shaker full of ice and shake well, for at least 45 seconds. You want to ice skate on your martinis, with that perfect sheet of ice when you pour it into your glass. Garnish with 3 coffee beans in each martini and enjoy.

Vegan Bolognese
I've had hardcore carnivores over at my house, and this vegan bolognese is a sleeper hit. A few of these guys even admit that they don't miss the meat with this recipe. The secret ingredient is coffee in the ragù which gives the whole dish a deeper and heartier profile. This is a coffee recipe that most people don't even realize that the coffee is why it tastes so darned good.
I never understood ragù or the effort it takes to make just red sauce until I had the satisfying experience of making this dish one Saturday afternoon. I think I must have been an Italian grandmother in a former life. It's not the ingredients that are complicated or the method, but rather it's the 3+ hours required to properly, slowly, cook this dish so that the flavors create an intense heartiness. You'll sauté, sweat the soffritto, boil, braise, and simmer. I'm actually looking forward to doing it all over again and making this more of a weekend ritual, like a real Italian grandmother.
I don't eat meat, so I made this version alongside the traditional meat ragù Bolognese. It was so good that the meat eaters actually left most of the traditional version and indulged in the vegetarian.
P.S. Soffritto. That may be my new favorite word.
Serves 6
Cooking Time: 3 hours

Ingredients
2 cups fresh chopped fennel
2 cups chopped carrots
1 large onion, chopped
2 cups chopped celery
1 ½ cups roughly chopped walnuts
1 cup red wine, preferably a spicy Zinfandel
20 ounces crushed San Marzano tomatoes
3/4 cup high-quality finely ground coffee
1-2 tablespoons red chili flakes
1 cup pecorino cheese
4 tablespoons fresh chopped basil
3 tablespoons fresh chopped oregano
Parmesan cheese to finish
Olive oil
Fleur de sel
Fresh egg tagliatelle 
Directions
In a large, deep sauté pan, pour a generous amount of olive oil to cover the pan. Heat for about 3 minutes on medium-high, and then add in the carrots. Sautee for about 3 minutes, then add in the fennel and onion, continuing to stir and sauté for another 4 minutes. Add in the celery and continue to cook over medium heat for about 2 minutes more. Fold in the walnuts and cook for another 2 minutes. Season with salt and pepper to taste.
Crank the heat up to medium-high and pour in the red wine. Cook until the wine is almost entirely evaporated. Add in the San Marzano tomatoes and turn down the heat to low. Next, stir in the coffee. Add salt as necessary, and if not using San Marzano tomatoes, add about 1 tablespoon of sugar. Stir in 1-2 tablespoons of red chili flakes to taste. Cook for about an hour covered, stirring and checking on the sauce occasionally. At about an hour, add the basil and oregano. Cover again and continue to cook over low heat, checking and stirring occasionally.
After the second hour, add in the pecorino and stir well. Add in 4 tablespoons of basil and more oregano to taste. Continue to cook over low heat for another hour.
It's Time to Make the Pasta
About 10 minutes before your sauce is ready at the 3-hour mark, bring a pot of very salty water (like the Mediterranean Sea salty) to a boil. Add in the fresh egg tagliatelle and cook for about 4 minutes, longer if using dry pasta, testing the noodles to make sure they are still firm but soft enough to eat. Drain the noodles, reserving about 2 cups of the pasta water. Add about ½ cup of parmesan to taste.
Add about ¾ cup of the pasta water to your ragù, about 4 minutes before the 3-hour mark, and crank up the heat to medium until absorbed. Place a bed of tagliatelle on a large serving platter and spoon the sauce on top, leaving a border of noodles. Garnish with a few sprigs of fresh basil. Serve immediately.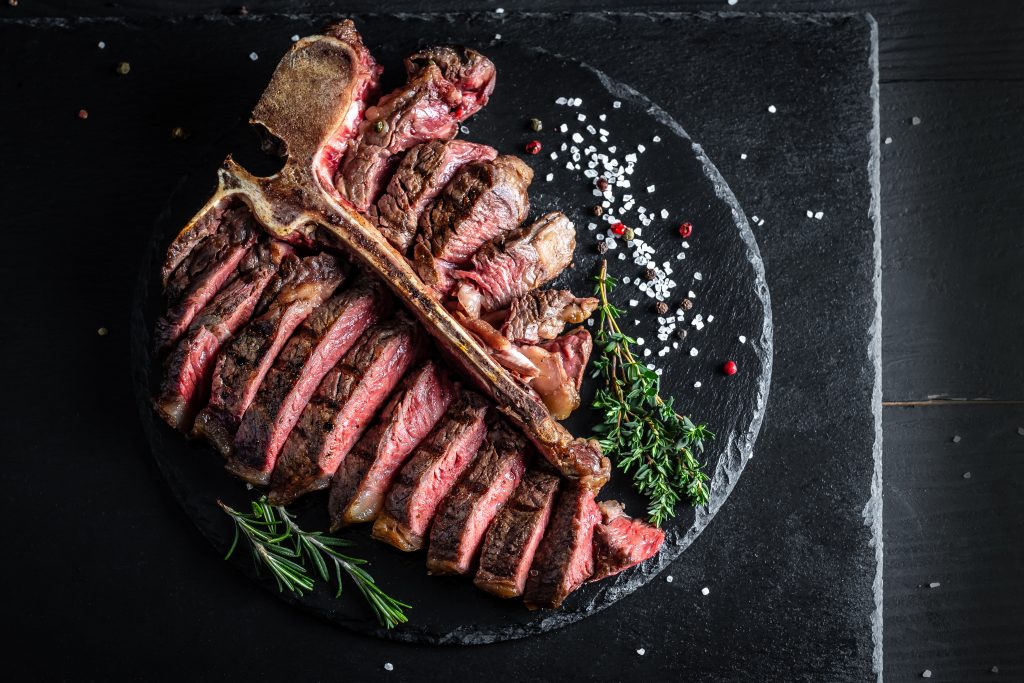 Grilled Porterhouse Steaks 
Yes, the grill makes everything taste better, but porterhouse steaks are especially well suited to this cooking method; their lovely slice of fat, which caramelizes and chars on the grill, plus the additional flavor of the bone, make them ideal for serving a crowd.
Yield: 4 servings
Ingredients
4  (1 ½-inches thick) Porterhouse steaks, preferably grass-fed
1 cup finely ground coffee
Olive oil
Fleur de Sel and black pepper, to taste
Directions
The night before, wash your steaks and pat dry with paper towels. Place each steak in a separate large ziplock bag. Marinate the Porterhouse steaks with coffee, olive oil, Fleur de Sel, and black pepper. Place in the refrigerator overnight.
Remove steaks from refrigerator 20 minutes before grilling. Heat grill to 350˚F. Place steaks on a hot grill and allow to cook for 3 minutes. Rotate steaks about 90˚ and cook for another 3 minutes. Flip steaks and repeat the process. Using a meat thermometer, check the temperature of the center of the steak, which should be medium-rare. (Steaks should be 120 ˚F for medium-rare, 125 ˚F for medium, and 140 ˚F for well done.) Remove from the grill, dot each steak with a tablespoon of butter, and allow the meat to rest for 10 minutes before serving. 
Other Recipes You'll Like
The Caviar Baked Potato 
Linguine with Grilled White Clam Sauce 
SanBrite's Famous Sourdough Bread