This is what they call taking it to the next level. Yes, linguine with white clam sauce is a staple. When done especially right, even that 99-cent pack of noodles shows like a million bucks. Break out the grill, add those clams, and you have yourself a feast. Here's one of the best recipes we know for making your summer a memorable one.
It's the kind of dish that's served to you oceanside at a fabulous coastal resort. Maybe paired with a crisp glass of rosé. Maybe Ina Garten is there. (Don't laugh — we can dream). This linguine with grilled clams and sauce is all at once decadent, impressive enough to serve to guests, and simple enough for a weeknight meal. And the best part? It's made with a grand total of 8 whole food ingredients. One bite of a smoky clam drenched in garlicky white-wine sauce, and you'll forget you're not dining beachside with Ina. 
Serves 6 as an appetizer, 4 as a main course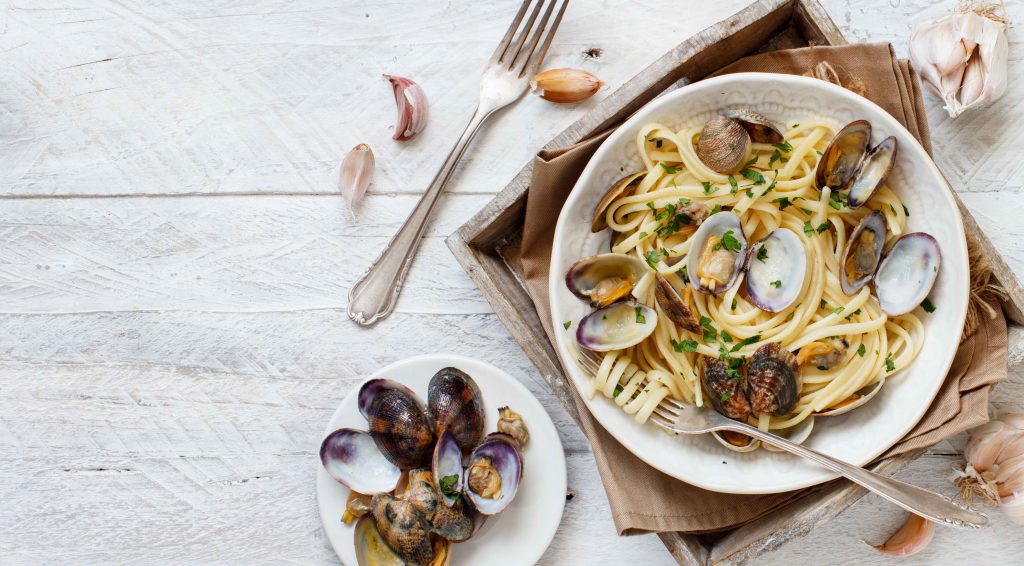 Ingredients
2 pounds raw clams, shelled
1 pound linguine
¼ cup quality olive oil
Salt
One bunch of parsley
1 ½ cups white wine (Chardonnay or something oaky)
*4-6 cloves of garlic, minced (optional)
1 tsp red pepper flakes (optional)
The juice of half a lemon (optional)
*If you want a hyper-simplified version of this recipe, you can stop your ingredient list at the white wine. Instead of creating a sauce, simply pour the wine over the clams in their foil lined pan and grill. When ready to plate, toss your linguine in some olive oil and spoon over the wine from the pan. Add clams and garnish with parsley. 
Directions
One of the best parts of summer is the grilling. It's not just for steak and fish. Clams shine on the grill.  To start, set your grill to a high heat, around 445. While it's heating up, wash your clams. 
Preparing The Clams
Give your clams a good preliminary scrub, using a dish towel or clean sponge to wipe off any dirt. Then, place the clams in a bowl (not a colander) in your sink and let cold water run over them continuously for 20-30 minutes. The clams will begin to open slightly and spit out any sand that is trapped in the shell. If you're worried about water waste, you can keep the pressure at a very low drizzle. The goal is just to have continuously running water to clean the clams properly. Don't skip this step as not scrubbing your clams will ruin the grilled white clam sauce. It's so important as no one wants dirt in their food.
The Sauce
Heat the olive oil in a saucepan over medium low heat. Add garlic cloves and red pepper flakes. Once fragrant, add the white wine and bring it to a boil over high heat. When it begins to boil, reduce to a simmer for about five minutes. The sauce should reduce in volume and thicken only slightly. Take off the heat and stir in lemon juice. Set aside.
Grilling The Clams
Place the cleaned and dried clams in a deep dish lined with foil. Pour the sauce over the clams. 
*If following the simplified version, this is where you would pour over just the wine rather than the sauce. 
Place the pan on the barbecue, then cover the grill. Let cook covered for 7-8 minutes. Then, uncover and cook for an additional 5-7 minutes. 
While the clams are grilling, boil a pot of water and salt generously. Add your linguine and cook for 10-11 minutes or until al dente. 
Once the clams have opened, take them off the grill. Discard any clams that have not opened, and any that you're iffy about. You have two pounds, so it's better to be picky here.
Plate your linguine and spoon over the sauce from the pan of clams. Place 3-4 clams on each plate of pasta. Garnish with chopped parsley and serve with lemon wedges.