At some point, you're going to find yourself in Los Angeles. And, from there, you're more likely than not going to have a reason to be in Beverly Hills. So that's where the new-ish Mexican spot Mírame comes into play, which opened during the pandemic right on North Canon Drive. Is it worthy of being on your list? Here's our take on Mírame Beverly Hills.

Overview
We give major props to all the restaurants that survived the pandemic, and Mírame Beverly Hills had it especially tough. Mírame opened in 2020 as one of the hottest new spots and three weeks later all restaurants were shut down in LA. So, "buzzkill" was an understatement. But, lucky for them, the project is backed by experienced restauranteurs/chefs Matthew Egan and Joshua Gil, who hustled to make it all work. Today, Mírame is a solid spot to pop in to for lunch or dinner for top-notch tacos and elevated Mexican cuisine in Beverly Hills.

Atmosphere
They nailed it on the design of Mírame Beverly Hills, which combines a Mexican hacienda with California contemporary decor. This is the former Cafe Gratitude space, but there's no remnant left. Instead, there's a nice bar area if you drop in for drinks before or after dinner, or even just for drinks and apps at the bar. Mírame has an extensive list of tequilas and mezcal, along with bartenders who know what they're doing. The vibe is warm. And when the dining room is full, it's exactly where you want to be on a Friday night. As far as elevated casual Mexican restaurants go, Mírame is as good as it gets for decor and atmosphere.

Food
They have darned good tacos here, where everything from the Baja fish, crispy pork belly, and the fried-chicken taco stand out. Mírame makes their mark by focusing on the precision of flavors and toppings on each taco. We would say the tacos are dressed to the nines. You'll have micro greens, spices, salsa, and whatever else the chef imagines, piled high in precise proportions on your dish. The shells are homemade blue corn that are just moist enough (not dry) to serve as the vessel for your tacos. Mírame is about the attention to detail when it comes to the food, and the passion of the chef shines through.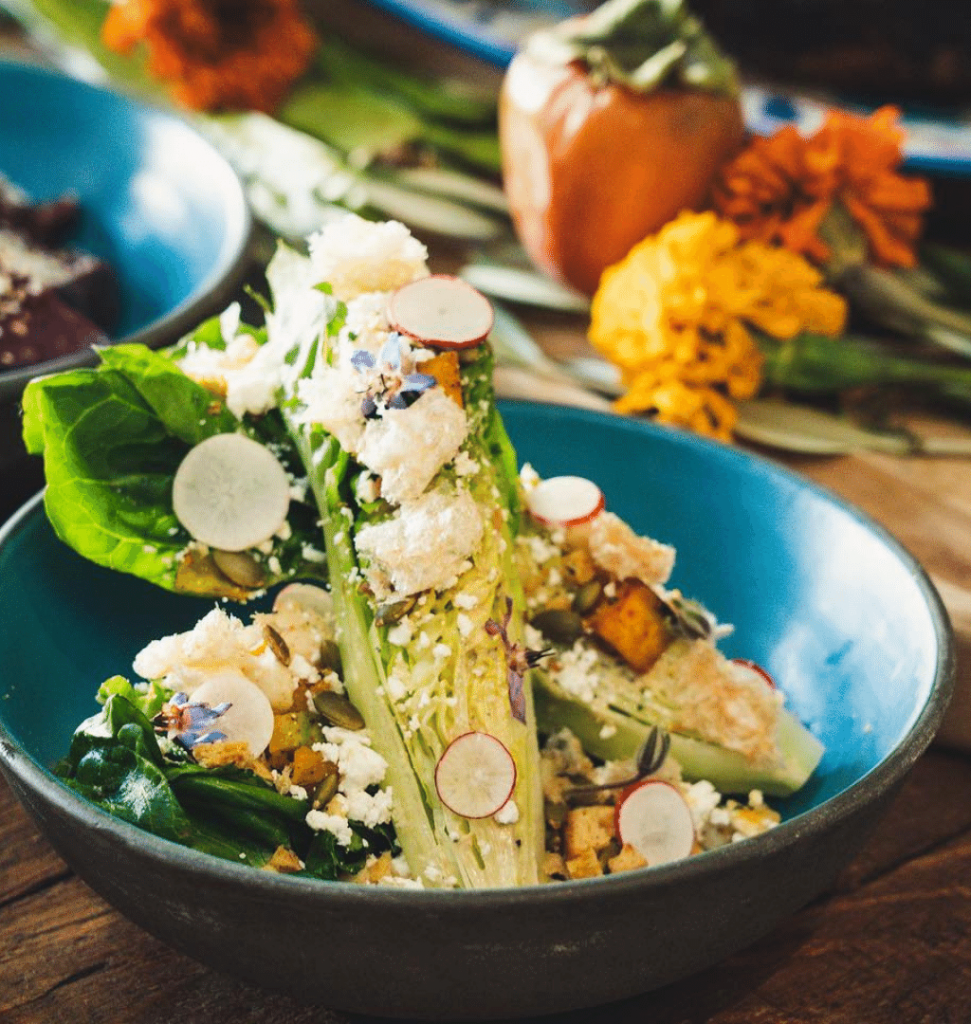 The lunch menu is very limited; normally just three taco choices or so and a handful of sandwiches and mains. Mírame Beverly Hills doesn't shine for lunch, but its location and chill atmosphere for the day still make it a worthwhile stop. Skip the salads though; they tend to be overdressed. The caesar in particular has way too many tomatoes—even for tomato lovers—and was drenched in dressing.
Service
Mírame Beverly Hills gets high marks for service: It all runs like clockwork here. You'll get your warm California welcome and be seated promptly if you have a reservation. They have a strong representation of industry veterans versus those waiting tables on the side of an acting or modeling career. The waitstaff knows the food and generally makes solid recommendations. We're not saying that you will be blown away or that the waitstaff will do cartwheels and perform for you during dinner. However, the beauty is there's no drama here. Food arrives as you order it, and the team is attentive.
Overall 7.5/10
FAQs
Q: Is Mírame a formal restaurant?
A: You're in LA, and while the food at Mírame is elevated, the atmosphere is casual. Eat, relax, and enjoy.
Q: Is Mírame good for families?
A: Absolutely, especially for lunch during the week, brunch on weekends, and early dinners.
Q: Do you need a reservation for Mírame?
A: It's always good to have a reservation, but for lunch during the week you can generally walk in. For evenings and weekend brunch, a reservation is recommended if you don't want to wait.