When you think of classic Paris, do singing waiters, frescoed ceilings depicting war and love, and ornate gold gilding come to mind? If so, Le Train Bleu has you covered on all accounts. What makes it even more unique is that it's located in the Gare de Lyon train station — the ideal place for hellos, goodbyes, and feeling like your life has suddenly transformed into a romantic movie. What else makes Le Train Bleu completely irresistible, even by Parisian standards? Here's the review.
Overview
Le Train Bleu was originally constructed as a train station buffet for travelers in 1900. In 1963, it became known as the gourmet restaurant that it is today. The ornate interior has hardly changed since the late 19th and early 20th century, transporting you into a bygone era with depictions of French history and geography painted on the ceiling. With chef Michel Rostang directing the kitchen, the dishes are as opulent as the décor, taking inspiration from classic French cuisine and the best of in-season ingredients.
Atmosphere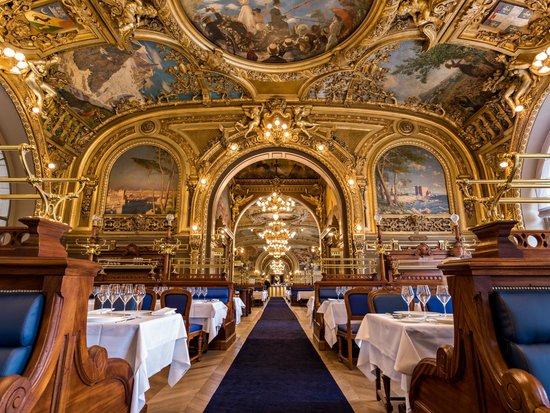 There's a grandeur that's evident to all who dine at Le Train Bleu. It's the epitome of dinner and a show. A server comes out into the middle of the grand dining room to serenade patrons during the meal with a French song and tell a story. In some moments the theatrics may feel a bit Disney, but the atmosphere remains elegant. Certain dishes also take center stage, prepared in front of you over a flame, furthering Le Train Bleu's theatricality.
Food
Le Train Bleu certainly has its priorities right. Sashimi of bass was presented in a nest of crab, served with peas, fava beans, asparagus, and three delicate sauces that offered a nutty and clean finish to the flavors of the fish. There was nothing on the menu that we wouldn't have liked to try, and everything we did try was super-satisfying both in presentation and flavor.
Service
When it comes to a fine-dining experience, the servers are the makers and breakers. The waiters at Le Train Bleu, in true French style, know the dance of serving well and perform it with aplomb. Their slight movements throughout the meal ensure that no fork slides out of place and no one goes without bread for too long. They don't often stop to chit chat, but you'll have your every need taken care of without ever having to ask.
Overall
9/10.  One of the most unique restaurants in Paris, and a worthwhile experience.
FAQs
Q: When is the Lounge Bar open?
A: The Lounge Bar at Le Train Bleu is open from 7:30a.m.-10:30p.m.
Q: Does the Lounge Bar serve breakfast?
A: Le Train Bleu Bar is open for breakfast from 7:30-11a.m. daily.
Q: Where can one view the menus?
A: Le Train Bleu provides PDFs of the various menus on its website.
Le Train Bleu Information
Address: Pl. Louis-Armand, 75012 Paris, France
Restaurant/ Kitchen Hours:
Sunday                       11:15a.m.-2:30p.m., 7-10:30p.m.
Monday                      11:15a.m.-2:30p.m., 7-10:30p.m.
Tuesday                      11:15a.m.-2:30p.m., 7-10:30p.m.
Wednesday                11:15a.m.-2:30p.m., 7-10:30p.m.
Thursday                    11:15a.m.-2:30p.m., 7-10:30p.m.
Friday                         11:15a.m.-2:30p.m., 7-10:30p.m.
Saturday                    11:15a.m.-2:30p.m., 7-10:30p.m.
Phone number:  +33 1 43 43 09 06
Map: