Christine Drinan, Founder
Spring is in the air, big-time, and that's our cue to start practicing those BBQ skills. This seafood paella recipe, with its presentation and culinary goodness, is guaranteed to be a crowd pleaser. So break out the Weber, and light that big charcoal flame. Here's the ultimate seafood paella recipe on the grill.

In a Spain Frame of Mind
I started 2022 out in an unlikely place: on the island of Ibiza. I know it's counterintuitive to be in Ibiza in the middle of winter, but I can say it was the best time for me. The core of Ibiza is that it's a center for energy and spirituality. You see that shine through when there are not a lot of people on island. Though honestly, that part didn't quite work out. The Six Senses Ibiza was essentially fully booked when I was there. The hotel was chockablock with impossibly beautiful and chic people who looked like they came from the Cirque Gitane camp at Burning Man. And while I was there, I became obsessed with Spanish food. At that time, the Beach Caves had Bond Street and local Spanish food on alternating nights. The seafood paella was everything. I purposefully now have larger dinner parties so I can try to recreate that seafood paella recipe.

Playing with Fire
Traditional paella is cooked over fire, and if that can be over charcoal on the grill, even better. Paella has a natural smokiness to it with the paprika, but this seafood paella recipe on the grill takes it to the next level. Also, real paella has that perfect socarrat. Socarrat is the crunchy slightly burnt bottom of the paella. When you make paella correctly, the top layer remains luscious and just slightly creamy. You combine the crunchy parts with the rich top, and it's heaven.
The secret to socarrat is something that's hard to do but yet so simple; you leave the paella alone. Unlike risotto, you don't tend to your paella. Once you have the ingredients assembled, you let the paella do its thing. Just make sure you have the right paella pan. It's not only important for presentation, but practically speaking, to cook the rice properly for this seafood paella recipe.
A Note on the Ingredients
Traditional paella has peas and garlic, and if you're going old school Valencia-style, chicken as well. Often in Spain, your shrimp will have the head and shells on. However, in my seafood paella recipe, the lobster tails are halved and the shells have come off the shrimp: no hands required. If you want to use your hands, I won't judge.

Before Spanish-born critics claim inauthenticity, the disclaimer about this seafood paella recipe is that it's my adaptation. I love flavor, which is why even for my personal tortilla Espagnola recipe, I take creative liberties and caramelize the onions and fry the potatoes. That's important about cooking; have fun with it and make it your own. This seafood paella recipe is a good base, but feel free to add meat, monkfish or whatever your heart desires. Just enjoy and share with friends, which is the point of paella.
Serves 6 as a meal, 10 as a side dish
Ingredients
8 4-ounce lobster tails, steamed and cut in half
1 1/2 lbs mussels
24 clams, scrubbed clean
18 shrimp, peeled and deveined
1 medium Spanish onion, finely diced
4 cups Calasparra rice
8-9 cups rich chicken or vegetable stock
2 chicken or vegetable bouillon cubes
1 bunch parsley, finely chopped
8 small Meyer lemons, cut in quarters
White wine
Spanish olive oil
Paprika
4 threads of saffron
Maldon sea salt
Smoky Spanish salt
Piquillo peppers
4 cloves garlic (optional)
Chile flakes (optional)
Directions
Pre-heat your charcoal grill for 30 minutes. If you're using a gas grill, heat to 350 degrees and add some water-soaked cedar planks ready when you begin to cook the paella. The idea with this paella recipe is to make it smokey.
Organization is the Key
The key to a successful paella is to organize the processes. First, there's the pre-cooking, which involved the lobster and clams. These are steamed separately from the paella itself. The mussels and the shrimp will cook with the paella on the grill. If you want to add additional smokiness, you can also pre-steam the lobster then grill it for just a minute or two. This paella recipe then becomes easy because the actual cooking is just combining ingredients. The grill will do the rest.
Make Some Parsley Oil
In your blender, combine 6 tablespoons of the finely chopped parsley, Maldon sea salt to taste and 1/2 cup of picual Spanish olive oil. If you like heat to your food, you can also add chili flakes or hot peppers. Set the parsley oil aside.

Steam Your Clams
In a pan at least 3 inches deep, heat two cups of white wine, two tablespoons of salt, two tablespoons of parsley, a clove of garlic, and red pepper chile flakes to taste over medium high heat. The garlic and chili flakes are optional, for those who want to add some additional flavor to this seafood paella recipe. When it begins to boil boiling, reduce the heat to simmer and add your clams. Cover with a lid and steam until the clams open. Immediately remove the clams and pour the remaining broth over the cooked clams. Set aside until you are ready to add them to the paella.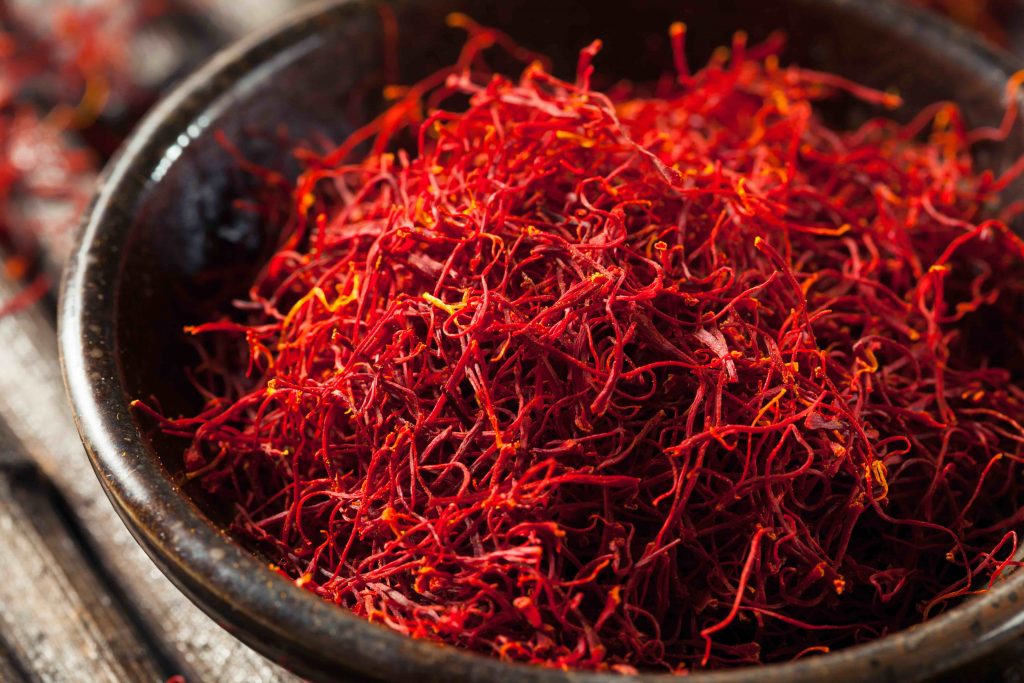 Make the Broth
For me, the broth is make or break in this seafood paella recipe. I like things flavorful. If I'm not using a specific paella broth from Jose Andres' Spanish market in NYC, I add two extra bouillon cubes. Heat your broth for about five minutes, add your paprika, and use additional smoky Spanish salt and Maldon sea salt to taste. Continue to heat for another four minutes. Take the broth off the heat and add your saffron threads, and three tablespoons of parsley. Set aside.
It's Time to Make the Paella
On your stove top, heat three tablespoons of olive oil in your paella pan over medium heat for about one minute. Add the diced onion and sauté for about two minutes. Next, add your rice and continue to cook for an additional two minutes. Add about one cup of white wine to deglaze the pan. Stir for about two minutes. Take off the heat and head outside to the grill.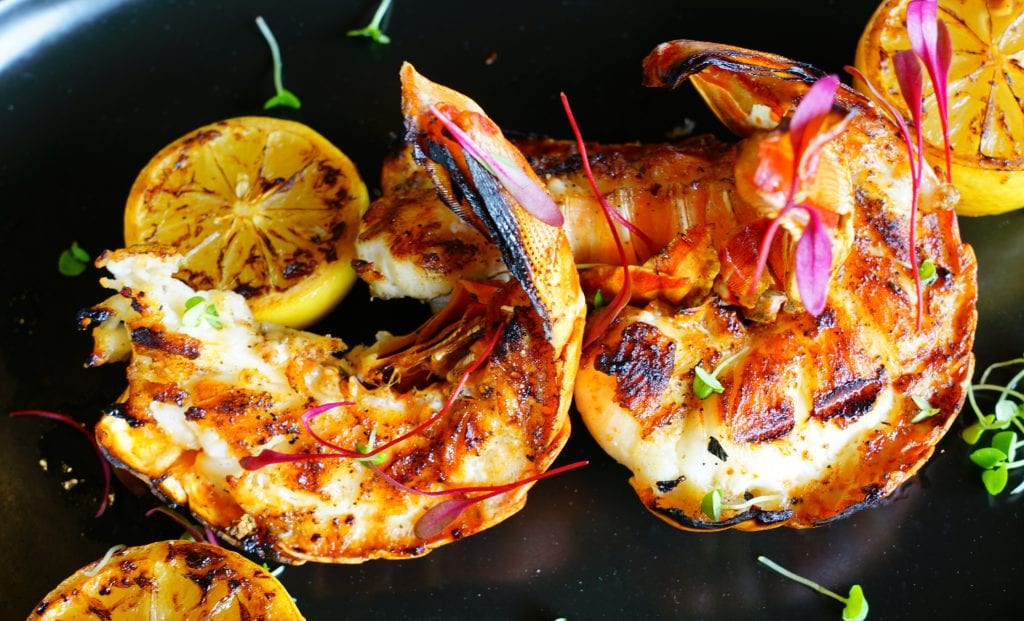 Grill Time
Transfer your paella pan to the pre-heated grill. Add in your broth mixture and stir evenly throughout the rice. Make sure that the broth covers the rice around 1/4″. Put the lid on the grill and set a timer for 10 minutes. Check the rice at 10 minutes, to make sure it's not burning. Do not stir; if you need a little more liquid, add more broth. At 15 minutes, add your mussels and clams, nestling them into the paella. Still do not stir the paella, as you want that crunchy socorrat I mentioned. However, make sure that the paella is not burning all the way through. That socarrat should just be a thin layer of crispiness on the bottom of the paella. Close the lid of the grill and continue to cook for about 8-10 minutes, until the rice and seafood is cooked through. About two minutes to completion, this is when you can throw your lobster tails brushed with olive oil on the grill to amp up the flavor. It also looks nice when the lobster is grilled.

The Presentation
Take your paella pan off the grill. Artfully arrange the lobster and clams through the paella. As an option, drizzle the parsley oil for some additional color and flavor on top of the lobster and throughout the paella. Now it's time for those piquillo peppers. These red strips will delineate the portion of the paella, which is cut like a pie. Add a lemon wedge between each of the paella "slices". Alternatively, you can use the lemon wedges to separate the portions of paella. Either way make sure each plate has one lobster tail, one lemon, and that crispy socarrat.

Now you're ready to serve your labor of love. With a pie server, cut the "slices" between each of the peppers with a lemon wedge for each guest. Don't forget the crunchy socorrat; it's the best part.