The holidays are right around the corner, and you plan to eat a lot of pie. So, to get yourself in shape for the eating extravaganza, you want to dial it back and eat clean for a few weeks. Well, we have a recipe that will make you feel like you're splurging but it's actually vegan, and as healthy as can be. Because you can have it all. This is your go-to mushroom soup recipe anytime of year.
Serves 6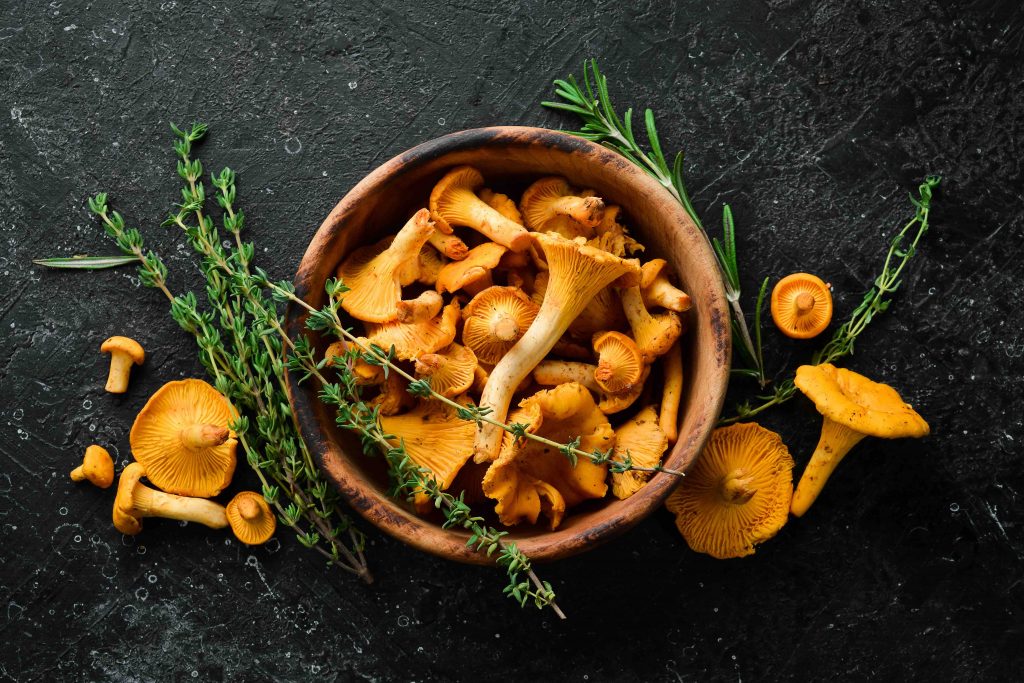 Ingredients
3 lb Button or cremini mushrooms, cleaned
1/2 large Onion chopped
3 stalks of Celery chopped
1 Carrot, peeled and chopped
1/2 cup Parsley, finely chopped
6 cups Bottled water or your favorite broth
1/2 cup Sherry
1/2 cup Olive oil
1 1/2 or 2 tablespoons Fleur du sel, to taste
Pepper to taste

To Serve:
6-8 ounces Chanterelles or Maitake mushrooms
Chives
Edible flowers
Picual olive oil or white or black truffle oil, for finishing
Directions
This mushroom soup recipe could not be easier, as it's really about assembling the ingredients. In a Dutch oven or stock pot, heat enough olive oil to lightly coat the pot over medium heat. Add in your chopped onion and sauté for about 3 minutes. Stir in the chopped carrots and continue to cook for about 2 more minutes. Next, add your celery and continue to cook for 2 minutes over medium heat.
Chop up your mushrooms and add to the onion, celery, and carrot in the pot. Sprinkle in your salt and mix well into the ingredients. The mushrooms will release their liquid and continue to cook for about 4-5 minutes until the mushrooms are soft. Add in the water or stock and reduce the heat to medium-low. Cover your soup and cook for 12-15 minutes more until the ingredients are soft but not mushy.
Time to Blend
Take the soup off the oven, and transfer it in batches to your blender, preferably a Vitamix. In this case when you're making a dairy-free soup, your blender will impact the quality of your mushroom soup recipe. It's the blending actually that makes the soup creamy and what replaces the need to add dairy to this mushroom soup recipe.
Once your soup is blended, add it back to your Dutch oven or pot. Heat over medium flame and stir in the sherry and parsley. Adjust the seasoning with salt and pepper to your personal taste. Also add in a little more olive oil to taste, which will add a richness to your mushroom soup recipe, without the dairy. Cover and reduce heat and simmer for another 5 minutes.
Presentation is Everything
While your soup is simmering, in a skillet heat olive oil over medium flame. Saute your chanterelles or maitake mushrooms and lightly salt. Continue to cook undisturbed, until the mushrooms are brown. Set aside.
Ladle your mushroom soup into six bowls. With a tweezer, artfully arrange the chanterelles or maitake mushrooms in each bowl. Next, carefully place the edible flowers on top, and garnish with chives. You can add a few sprinkles of Fleur du Sea to each bowl, and a drizzle of olive or truffle oil. Serve warm with brioche toast points.
Other Recipes & Articles You'll Like
Green Cookware for Healthy Eating 
The Six Senses Pad Thai Recipe 
The Perfect Chopped Salad Recipe