One of the best parts about Thanksgiving dinner is that it's the meal that keeps on giving. Leftovers are just about as mission-critical as the celebratory meal itself. Because when else is it totally cool to make a turkey sandwich that's topped with stuffing, mashed potatoes, cranberry sauce, and gravy? These are the recipes you need to keep the holiday going.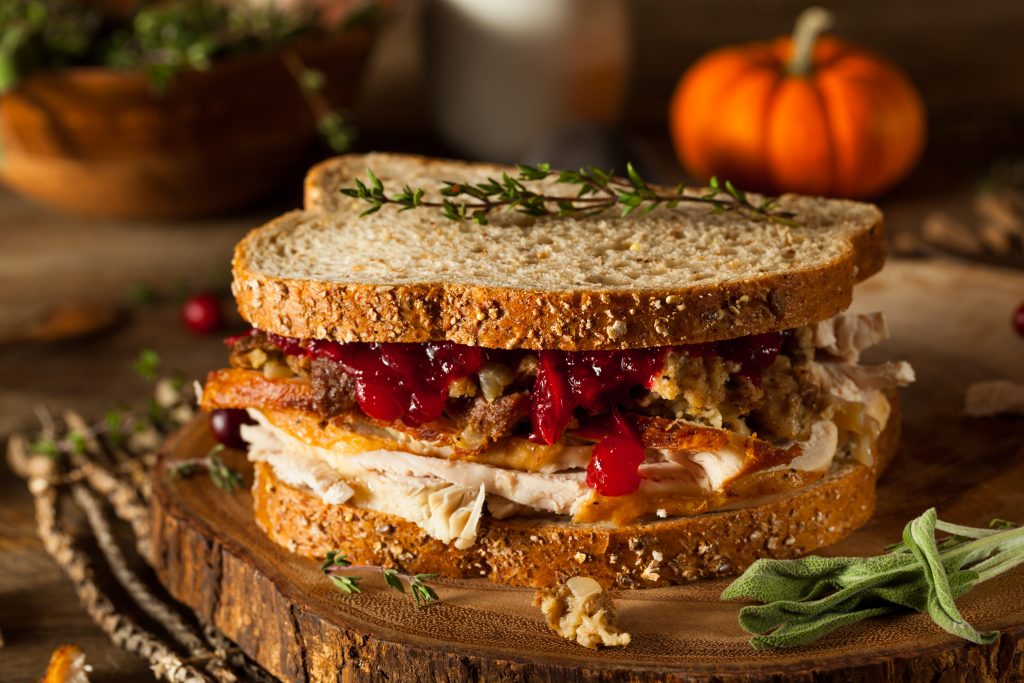 The Leftovers Sandwich 
You may have heard of the Thanksgiving leftovers sandwich. Maybe you've even stuffed some turkey and mashed potatoes between two pieces of bread and called it a day. But we promise, you haven't truly experienced the glory of Thanksgiving leftovers until you try this combo. Seriously — we start dreaming about this sandwich while we're still preparing the turkey. Crispy, fried stuffing and tangy cranberry mayonnaise elevate the classic from sloppy seconds to a satisfying, hearty meal.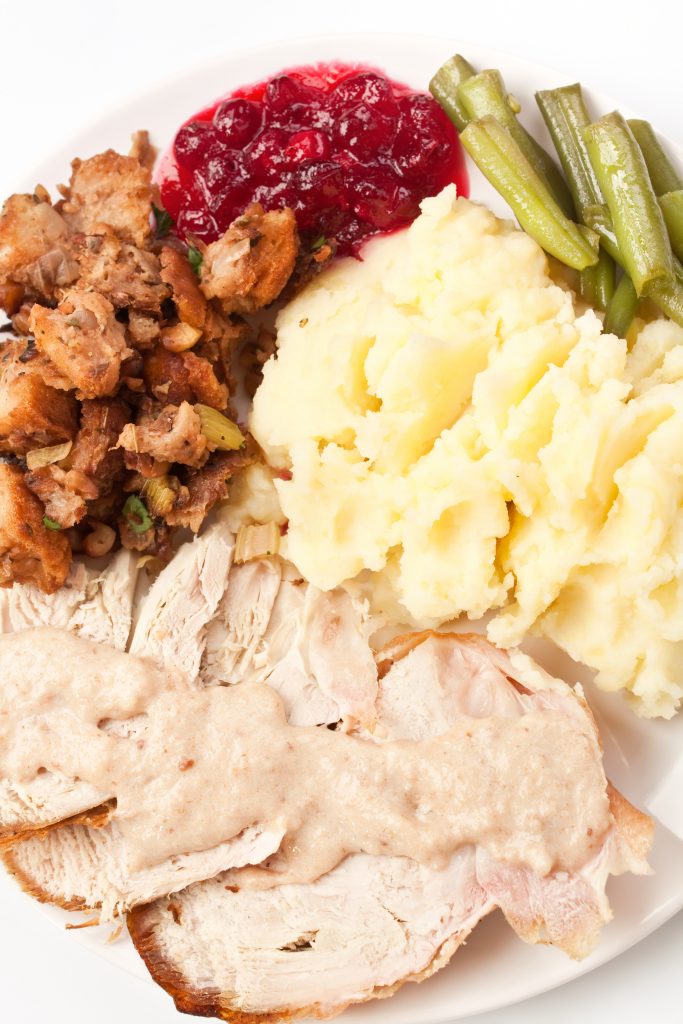 Ingredients:
Yields 4 sandwiches
Any leftover stuffing (ideally about 4 cups)
½ cup of mayonnaise
½ cup of cranberry sauce
2 cups of leftover shredded turkey meat, a mix of dark and light
½ cup of leftover gravy
Kosher salt and freshly ground black pepper
2 cups of mashed potatoes, warmed
8 slices of your bread of choice (we like sourdough)
2 tbsp of unsalted butter
4 tbsp of neutral oil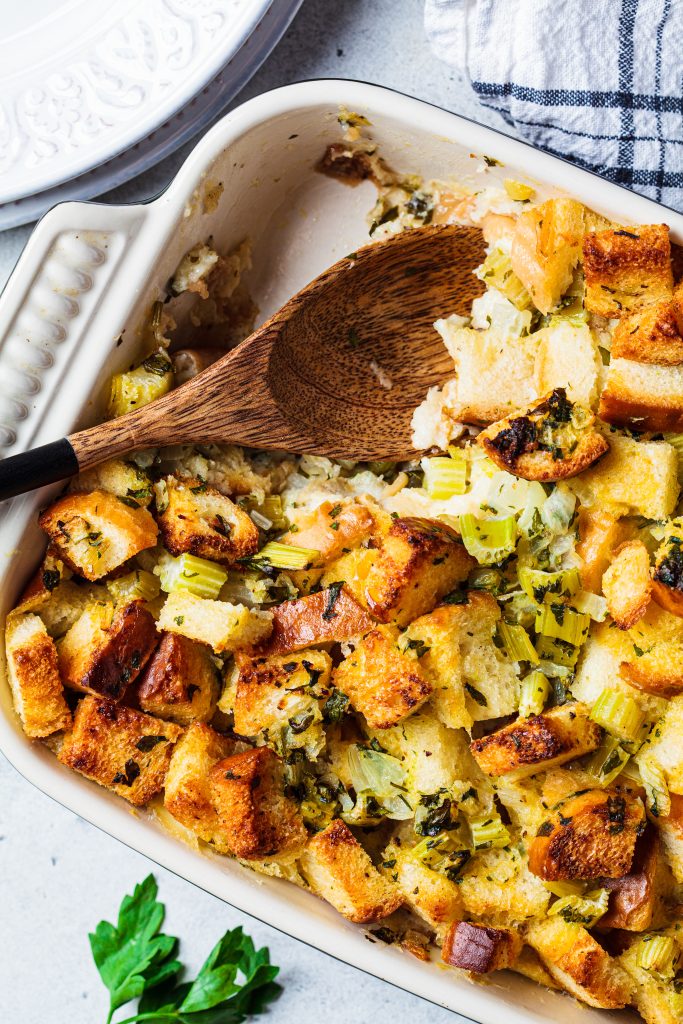 Directions:
Leftovers Prep
Begin your preparation the night of Thanksgiving while you're putting the leftovers away. Transfer your stuffing to a small baking pan greased with butter and lined with parchment paper. Press the stuffing into an even layer, using a top sheet of parchment paper to press down firmly and compact the stuffing tightly. Place in the refrigerator and chill overnight, preferably with a heavy object on top to weigh down the stuffing.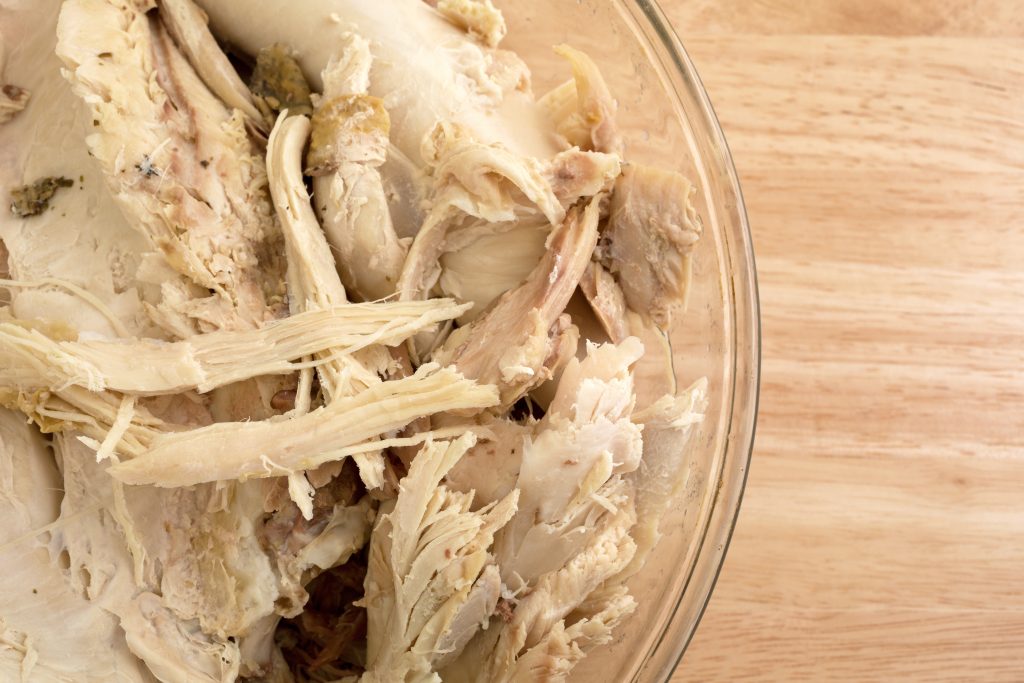 Sandwich Prep
The next day, prepare your sandwich fillings. In a small saucepan, combine the turkey and gravy. Heat over medium-low heat and stir occasionally for about five minutes, or until warmed through. Season to taste with salt and pepper. Next, mix together the mayonnaise and cranberry sauce in a small bowl and set it aside.
To fry the stuffing, heat the oil in a large skillet over medium-high heat. Make sure the oil is hot and shimmering or else the stuffing will fall apart while cooking. While the oil heats, remove the stuffing by lifting the parchment paper out of the pan and cutting the stuffing into four squares. 
Add the stuffing to the oil, frying until browned and crisp on one side. Using the base of the pan you chilled it in, press down on the top of the stuffing while it fries, about one minute. Quickly flip the stuffing and fry the other side for an additional minute. Transfer to a paper-towel-lined plate.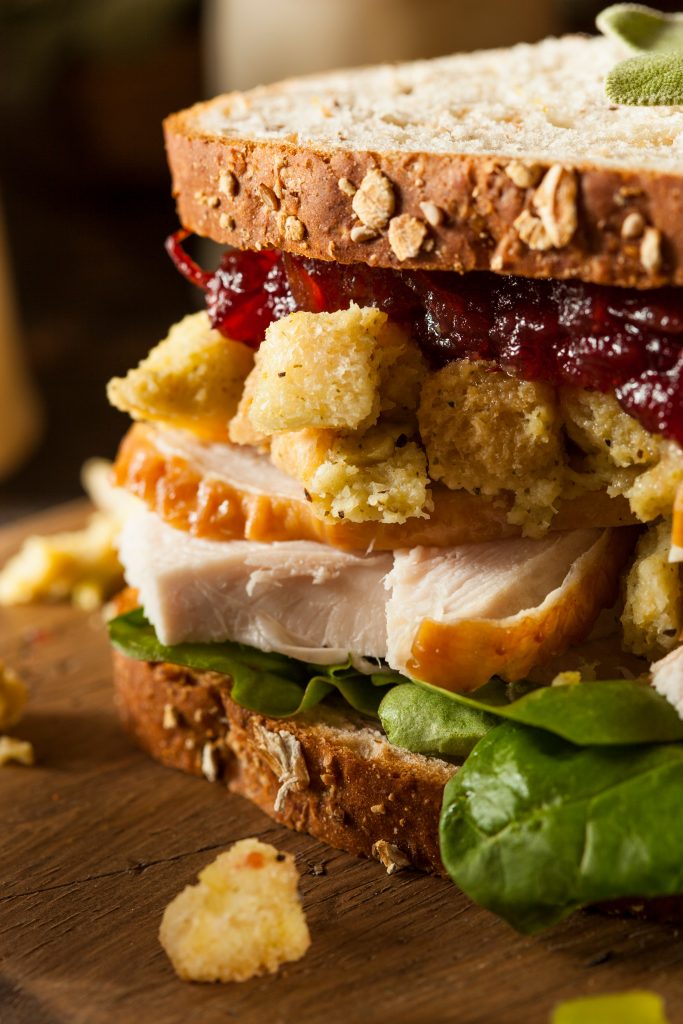 Assembly:
To assemble the sandwiches, spread your desired amount of cranberry mayonnaise on each slice of bread. Divide half of the turkey and gravy mixture evenly over four slices, then divide the leftover warm mashed potatoes on top of the meat. Top each sandwich with a slab of the fried stuffing, then add the remaining turkey and gravy mixture. Finish each sandwich with the remaining slices of bread, slathered in cranberry mayonnaise. Cut using a sharp serrated knife (preferably on the diagonal) and serve right away. For even more fun, serve with a side of gravy to dip your sandwich in.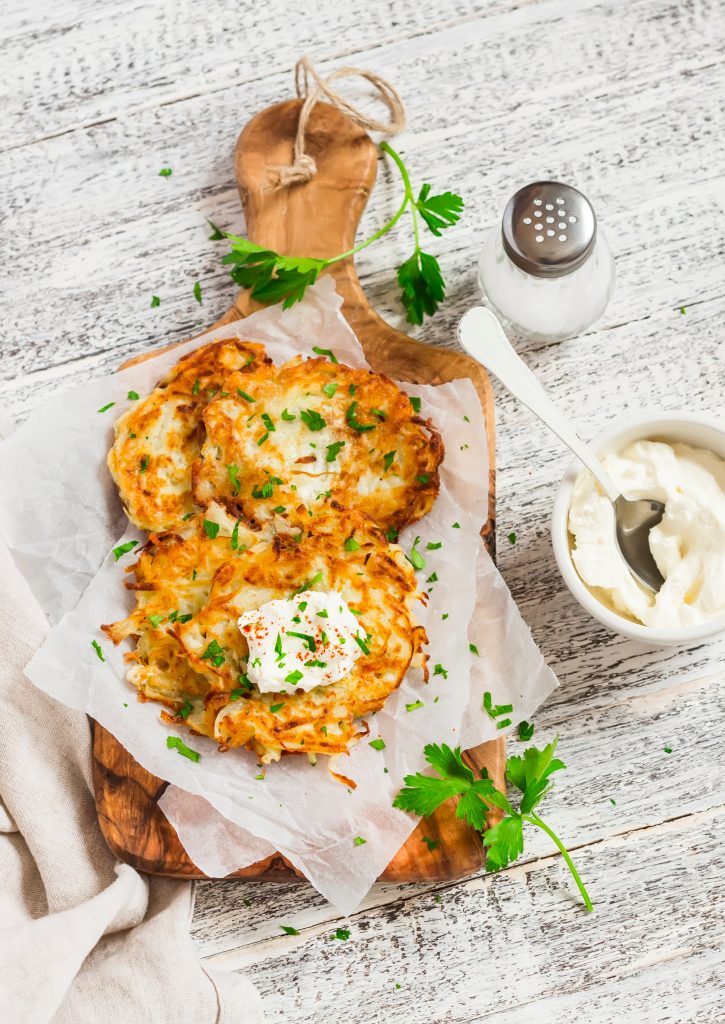 Potato Pancakes
Here are a few hard truths about Thanksgiving dinner. First, it's a marathon, not a sprint. Second, you can skip the green bean casserole. And lastly, when you make mashed potatoes, you're having potato pancakes for breakfast the next morning. It's just a given. These are truly the holy grail of Thanksgiving leftovers. They're crispy, gooey, cheesy: everything you love about mashed potatoes, but in breakfast form. We recommend making more than you think you'll need — they go fast.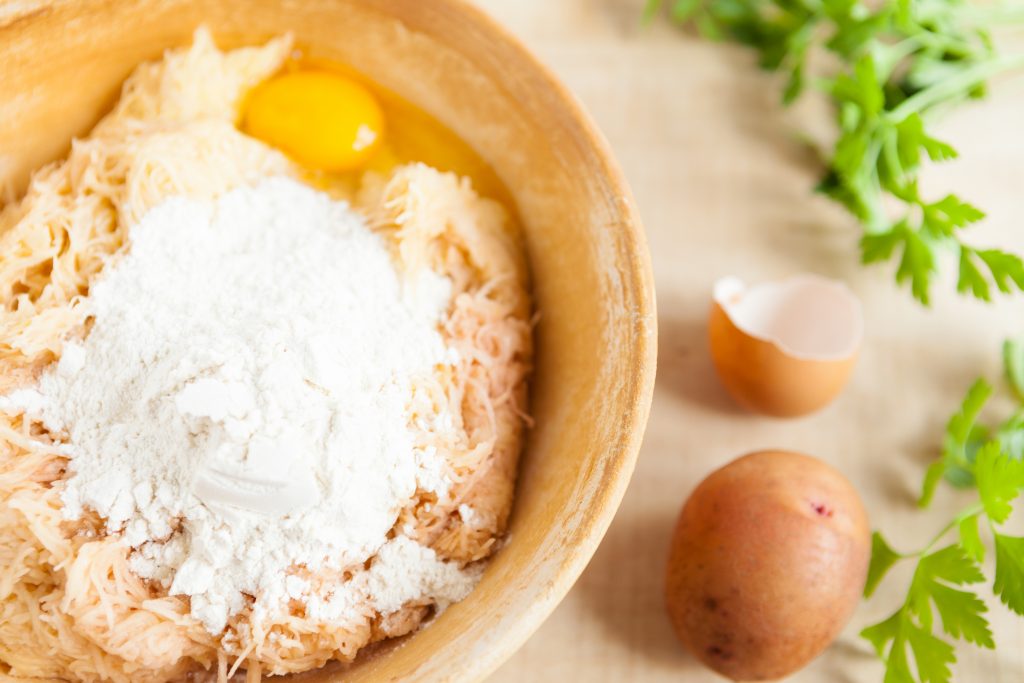 Ingredients
3 cups of leftover mashed potatoes
1 egg
Shredded cheddar cheese
⅓ cup diced chives or green onions
3 tbsp of flour & ½ cup flour
Vegetable oil
Sour cream
Flaky salt
Directions
In a large bowl, combine the mashed potatoes, cheese, chives or green onions, egg, and three tbsps of flour. Mix until combined, then divide into 12 to 15 portions. Roll into compact balls, then flatten into discs about ½-inch thick. Dredge the discs in the remaining ½ cup of flour.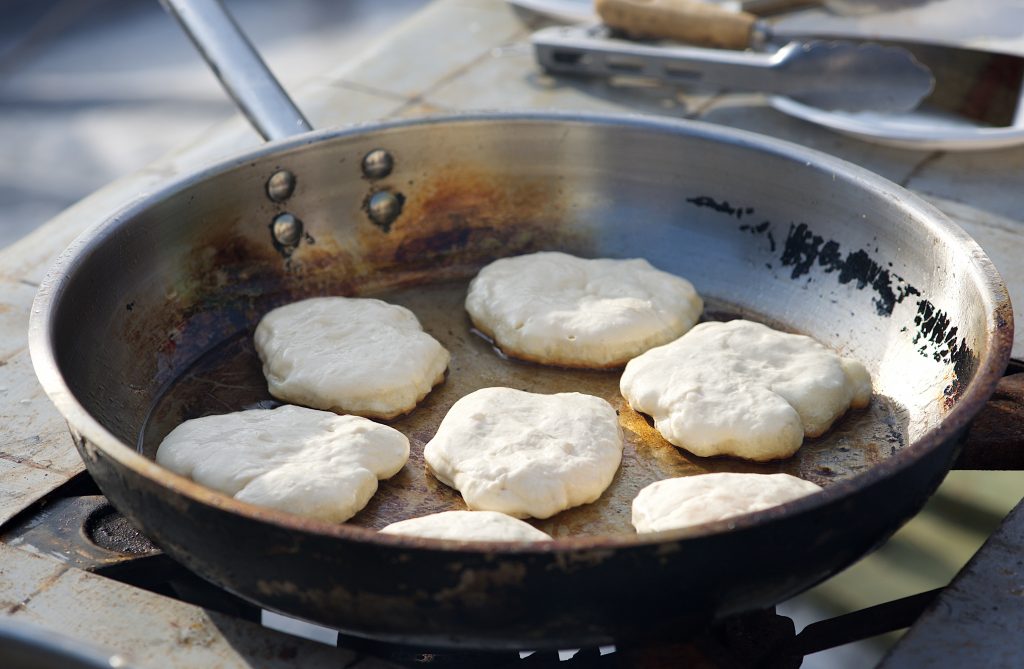 Heat 2 to 3 tbsps oil in a large skillet over medium heat. Make sure not to use too much oil, just enough to coat the pan well. Fry your potato pancakes in batches, flipping once crisp and golden brown. Each pancake should take about 3 to 4 minutes. Transfer to a paper-towel-lined plate and sprinkle immediately with salt. Serve while hot with plenty of sour cream, chives, and flaky salt. 
Related Articles
Best Restaurants for Thanksgiving Dinner