There's no judgement here if your oven functions as a sweater storage space or hasn't been turned on in years. Because whether you live in New York or are just visiting for the holidays, the city has some of the best restaurants in the world. This is the list of where to get Thanksgiving dinner out in the city.
It might be time to throw your chef's hat to the wind and try some of what New York City's restaurants have to offer for Thanksgiving dinner out. With our list you don't have to worry about meal prep, and you'll also have a delicious meal that will keep you happily full until the next day. So whether you venture out into the city and get inspired by the holiday atmosphere, or stay home and indulge in a multiple-course Thanksgiving meal, there's something here for you. Here are seven options for an unforgettable turkey day (some without the turkey): 

Dine in: Jean-Georges
Jean-Georges Vongerichten is a household name in the culinary world. He is both an award-winning chef and a savvy businessman who's created many restaurants throughout the country. That includes 13 restaurants in New York alone, and each has a special Thanksgiving menu this year. Jean-Georges Restaurant will be offering three special tasting menus for a Thanksgiving dinner out. Choose from the $318 ten-course omnivore menu, the $258 six-course omnivore menu, and the $188 six-course vegetarian menu.
Address: 1 Central Park West, New York, NY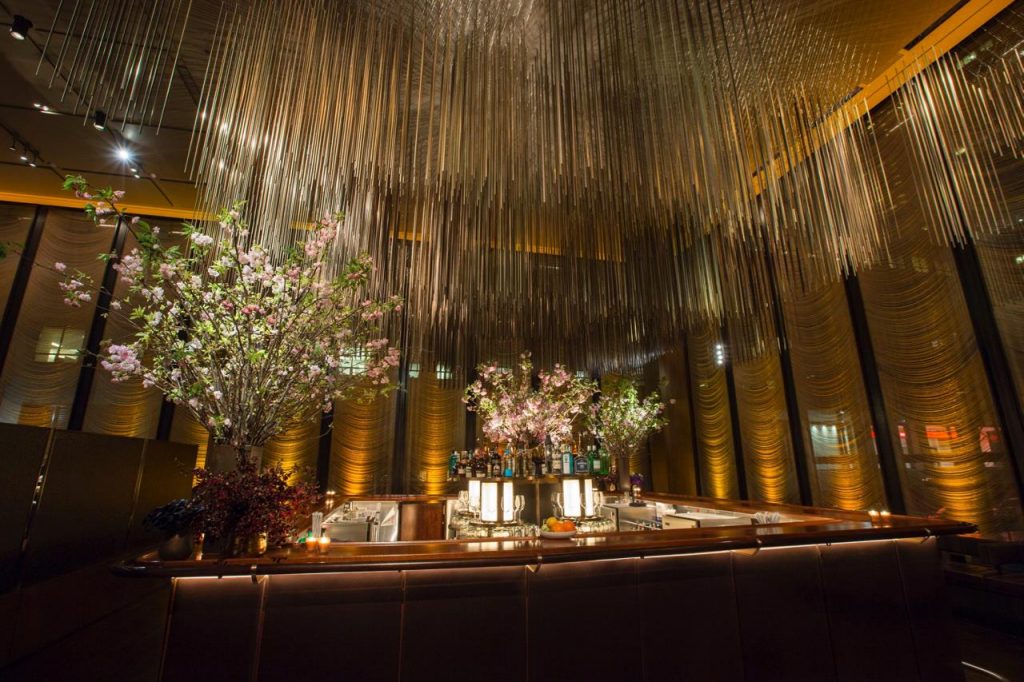 Dine in: The Grill
The Grill is an American chophouse influenced by a mid-century New York aesthetic. It is the epitome of elegant dining with an old-school New York feel. The restaurant specializes in meats and seafood primarily cooked on the grill (hence the name). This Thanksgiving, the staff will be serving a $195 menu that's packed with heavy hitters. Some of the starters are the pumpkin soup, a selection of American hams, and a delicate wild pheasant terrine. The main course is turkey with bourbon gravy accompanied by six side dishes. Finally, for dessert, there's an apple stack, pumpkin pie, and pecan tart.
Address: 99 East 52nd St., New York, NY

Dine in: DANIEL
DANIEL is a French eatery that has made a name for itself in the New York City dining scene. The restaurant is known for its award-winning wine cellar, its hospitality, and, of course, its seasonal menu that highlights the best of French cuisine. For Thanksgiving dinner out, DANIEL is offering a $295 three-course fixed menu with inspiring interpretations of classic Thanksgiving dishes. For $125, there's also a fixed menu for children under 10. In addition, they have a full vegetarian menu. You can choose to sit either in the main dining room or the lounge.
Address: 60 East 65th St., New York, NY

Dine at Home: Wayan
Wayan is the first venture of chef Cédric Vongerichten (the son of the previously-mentioned Jean-Georges Vongerichten). With Wayan, Cédric has created a restaurant that serves Indonesian cuisine in a sleek, dimly-lit decor. For Thanksgiving, the restaurant offers what it calls "Wayan at Home." A twist on the traditional, this Indonesian- styled Thanksgiving is available for pick up or delivery. Choose from a $228 menu that serves two to four people or a $448 menu that serves six to eight people. The food comes with heating and serving instructions. Optional add-ons include an ube pie and cocktail mixers. 
Address: 20 Spring St., New York, NY

Dine in: Marea
Marea is an award-winning Italian restaurant that has become a New York City dining icon. It brings the flavors of the Italian coast to the swagger of New York City streets, creating an atmosphere and menu that are both authentic and chic. For Thanksgiving dinner out, Marea offers a four-course menu for $185 per person. It features some of the restaurant's signature appetizers, handmade pastas, and, of course, turkey. There's also an option to add a wine pairing for $120 per person.
Address: 240 Central Park South, New York, NY

Take Out: Le District
Le District is a large French dining hall and market with upscale restaurants, market stalls, and stations for pre-made food. This means you can have a casual meal, or cocktails, or even order from a Michelin-starred menu. One restaurant in particular, Liberty Bistro, has a great Thanksgiving deal: a "Thanksgiving Feast ToGo" — a $395 menu that serves six to eight people. Get a huge selection of starters, mains, sides, and desserts. Liberty Bistro also offers a $85 dine-in prix fixe menu that features Thanksgiving classics.
Address: Brookfield Place, 225 Liberty St., New York, NY

Dine-in Vegan: abcV
Turkey is not the center of it all for everyone. A list of Thanksgiving dining options wouldn't be complete without a vegetarian option for a Thanksgiving dinner out. And once more, this choice comes to you courtesy of Jean-Georges. abcV, a Jean-Georges kitchen, has quite a feast planned. For $148 you get a family-style offering of cipollini onion tatin, risotto with white Alba truffle and hearts of palm, celery root Milanese with Perigord truffle, and vegan pumpkin pie. Vegetarian or not, you can rejoice.
Address: 35 East 18th St., New York, NY
Related Articles
Thanksgiving on Blackberry Farm
Where to Travel for Thanksgiving