There's nothing like sharing meals with your family during the holidays. And Hanukkah is almost here — otherwise known as the perfect excuse to load up on comfort foods and doughnuts. The beauty is that you don't have to celebrate Hanukkah to get your latke and caviar on this season.
Actually Good Brisket
We know. The brisket can be a bit intimidating when planning a Hanukkah meal. But trust us when we say it doesn't have to be. This dish is nothing like the tough, stringy brisket you may be used to (and scarred by). This foolproof braising technique will result in a juicy piece of meat every time. And your guests will never know how easy it was. The best part about this recipe is that it's relatively hands-off. That is, you can let the brisket do its thing in the oven for three hours while you tend to other Hanukkah dinner tasks (or just chill out on the couch with a drink. You deserve it). Preparing this dish a day in advance is recommended for both the brisket's flavor and the stressed-out host. The meat's overnight stay in the fridge only makes it better.
Ingredients:
1 4-6 pound of beef brisket
2 tablespoons of dried thyme
2 tablespoons sof weet paprika
Kosher salt and freshly-ground black pepper
2 tablespoons of dried sage
3 tablespoons of vegetable oil
4 large, sweet onions, thinly sliced
10 garlic cloves, smashed and peeled
3 fennel bulbs, cut into 1-inch wedges
12 ounces of cremini mushrooms, thinly sliced
12 sprigs of thyme
3 sprigs of fresh rosemary
4 sprigs of sage
2 whole cloves
1 cup of red wine
2 cups of beef stock
1 bay leaf

Directions:
Preheat your oven to 450 degrees. Season all sides of your brisket well with salt, pepper, paprika, and the dried thyme and sage. Then, in a large dutch oven, heat the vegetable oil over medium-high heat. Sear the brisket until golden brown all over, turning as needed for 15 to 20 minutes. Transfer to a platter when done.
Reduce the heat to medium-low, then add the onions and a pinch of salt. Stir often until the onions are softly caramelized, about 15 minutes. Then add the garlic and continue to cook until the garlic is fragrant and golden. Deglaze the pan with a splash of red wine, scraping up any of the browned bits with a wooden spoon. Next, add the mushrooms and fennel and cook for an additional 10 minutes until the vegetables are soft and golden brown. Return the brisket to the dutch oven. Add the rest of the wine, beef stock, cloves, a bay leaf, fresh thyme, sage, and rosemary, and season with an additional pinch of salt and pepper. Bring to a simmer, then cover the pot and transfer to the oven. Cook for 3 to 3 ½ hours until the meat is tender when pierced with a fork. You can't over-pierce your brisket, so feel free to check in as it's cooking. Remove from the oven and let sit at room temperature until it's cooled completely. Then refrigerate overnight. 
About an hour before you're ready to serve, remove the brisket from the refrigerator and discard the herbs and bay leaf. If desired, you can also skim off and discard any unwanted fat. Transfer the brisket to a cutting board and carve it into ¼-inch-thick slices. Return the meat to the braising liquid and vegetables, and heat over medium until warmed through. Taste, and adjust seasoning with salt and pepper before serving. 
The Best Latkes
We have a few non-negotiables when making latkes for a Hanukkah celebration. First: have plenty of sour cream and applesauce on hand. Second: throw in a fun protein like lox or caviar for extra-festive toppings. Third (and most important): make more than you think you'll need. This recipe yields about three dozen latkes, but feel free to double it. Because nothing flies off the Hanukkah dinner table quite like fried potatoes. Here's how we make ours, with a few expert tips on achieving the most shatteringly crisp texture.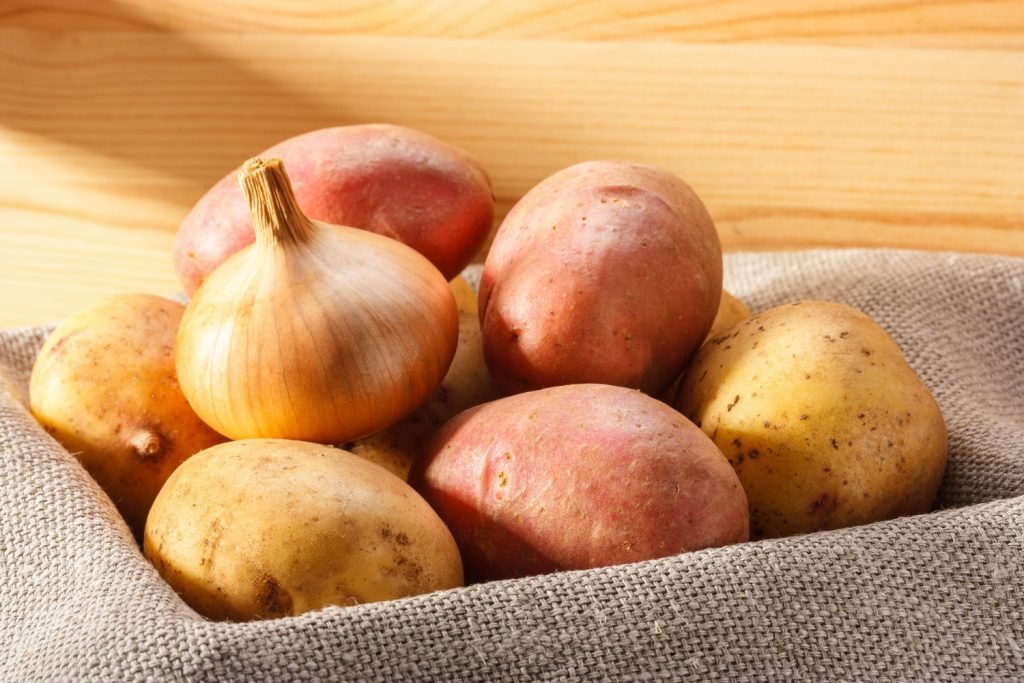 Ingredients
2-3 large russet potatoes (about 1 ½ pounds), scrubbed, peeled and cut into quarters
1 large onion, peeled and quartered
2 large eggs
½ cup of matzo meal or all-purpose flour
2 teaspoons of kosher salt, and more for topping
1 teaspoon bof aking powder
½ tsp freshly ground black pepper
Neutral oil for frying

Toppings:
Caviar
Lox
Sour cream
Applesauce
Chives
Dill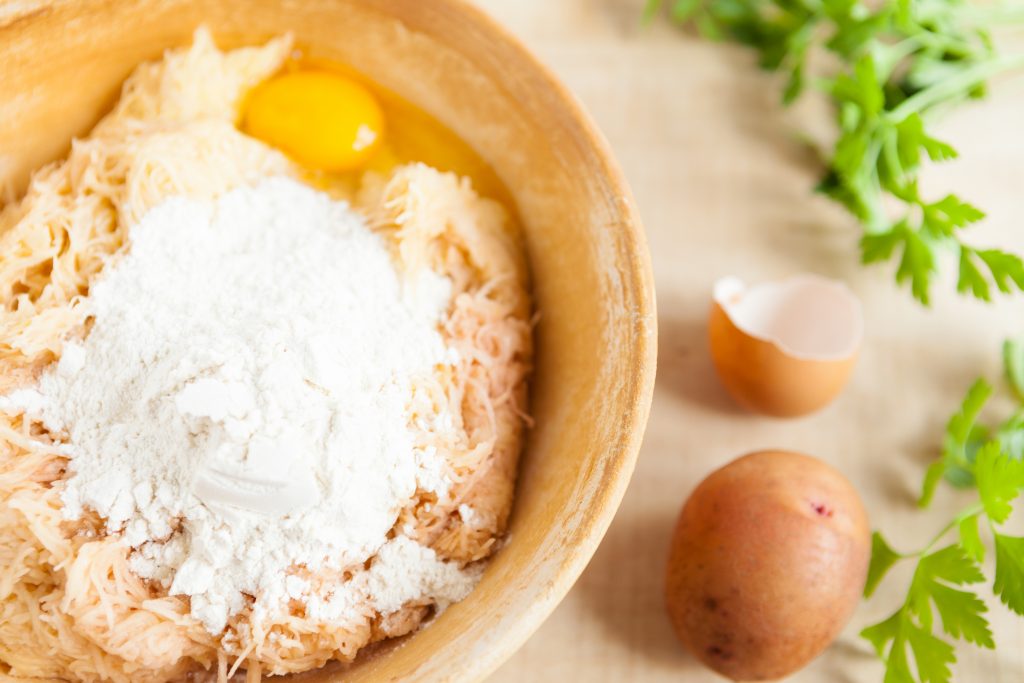 Directions
Coarsely grate the potatoes and onions in a food processor or with a box grater using the coarsest side. Transfer the mixture to a clean dish towel or paper towel and squeeze out as much of the liquid as possible. Then, transfer the mixture to a salad spinner to squeeze out any excess liquid. If you don't have a salad spinner, place the mixture in a colander and then place the colander over a bowl, allowing the liquid to drain slowly. 
Once your potatoes and onions are as dry as possible, transfer the mixture to a large bowl. Add the eggs, flour, salt, baking powder and pepper, and mix until well combined. 
In a medium heavy pan over medium-high, heat about ¼ inch of oil. You'll know it's hot enough when a drop of batter placed in the oil sizzles rapidly. Cook the latkes in batches, dropping in heaping tablespoons at a time. Use a spatula to flatten the drops into discs, and flip after about five minutes or once the edges of the latkes are brown and crisp. 
Cook for an another five minutes until the second side is fully browned. 
An additional method is to shape the batter into discs and place them on a parchment-paper-lined baking sheet. Brush each side with oil and bake at 425 degrees for 25 to 35 minutes, flipping halfway through.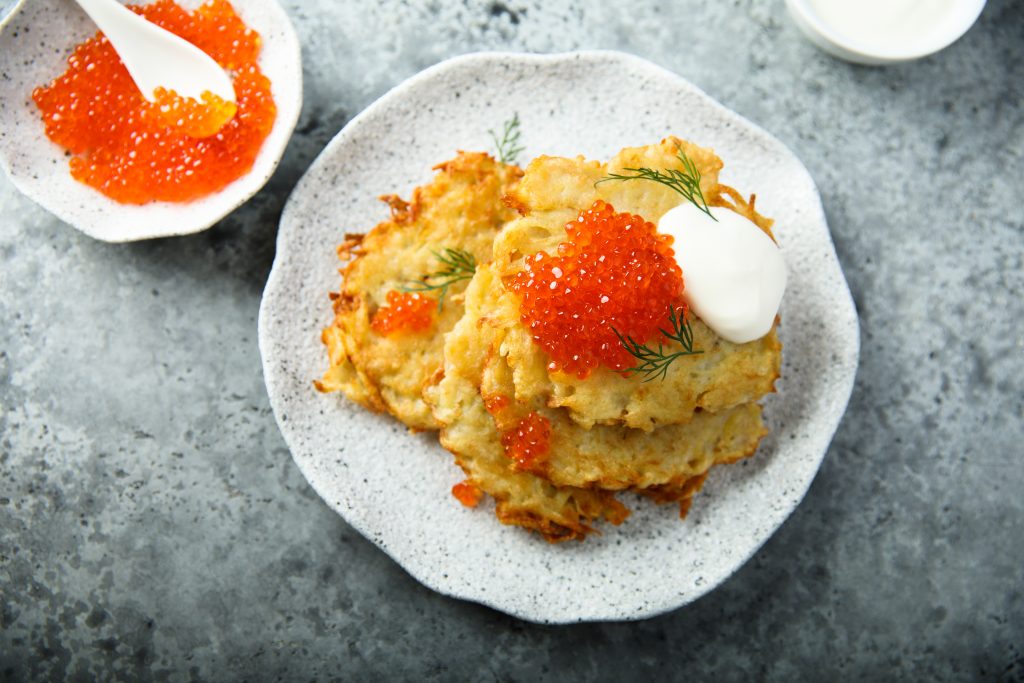 Transfer the latkes to a paper-towel-lined plate and sprinkle with salt immediately. Serve with sour cream, applesauce, chives, dill, caviar and/or lox.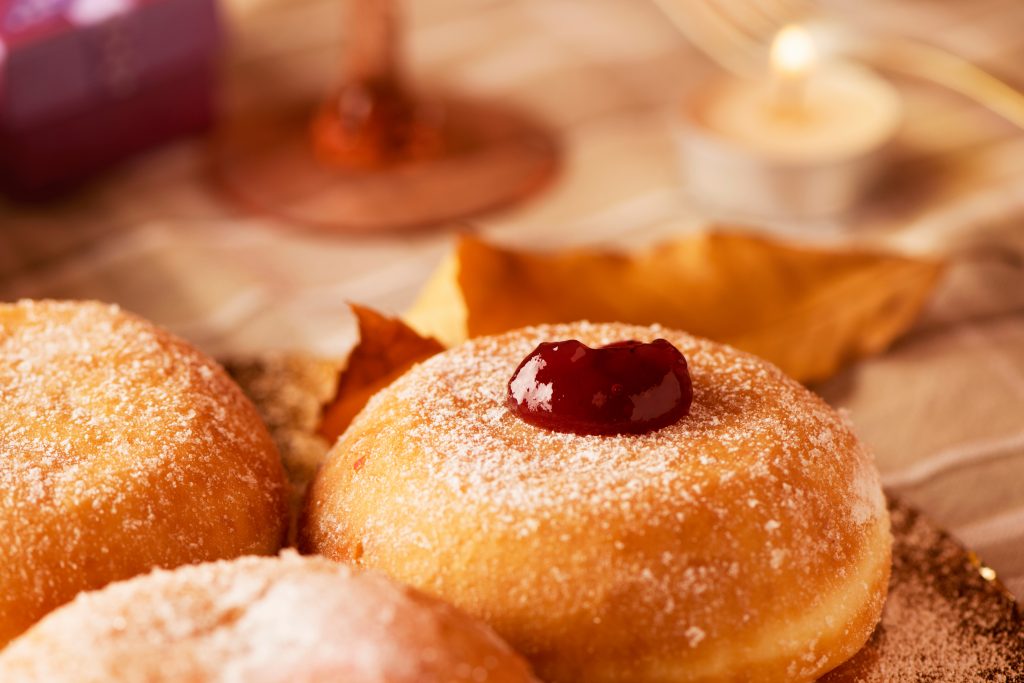 A Hanukkah Delicacy: Sufganiyot
We simply couldn't cover Hanukkah recipes and not include this quintessential dessert. There are donuts, and then there are sufganiyot. This fluffy, gooey, jelly-filled fried treat is a must for any Hanukkah celebration. And while the process is certainly a labor of love, your guests will be forever grateful. They taste just as impressive as they look, and you can even get creative and swap the jelly with other sweet fillings. Chocolate, custard, lemon curd: whatever your heart and stomach desire. 
Ingredients

Yields 10-14 donuts
1 packet of active dry yeast
¾ of a cup of lukewarm water
¼ cup of white granulated sugar, divided
¼ cup of canola oil
2 large eggs, room temperature
1 teaspoon of vanilla extract
500 grams all-purpose flour
1 tsp salt
1 tablespoon of vodka or brandy
3 pints of neutral oil with a high smoke point (avocado, grape seed, and canola work well)
1 ¼ cup of fruit jelly or jam (if using a berry jam with seeds, double the amount of jam and strain through a sieve before using)
½ cup of powdered sugar
Directions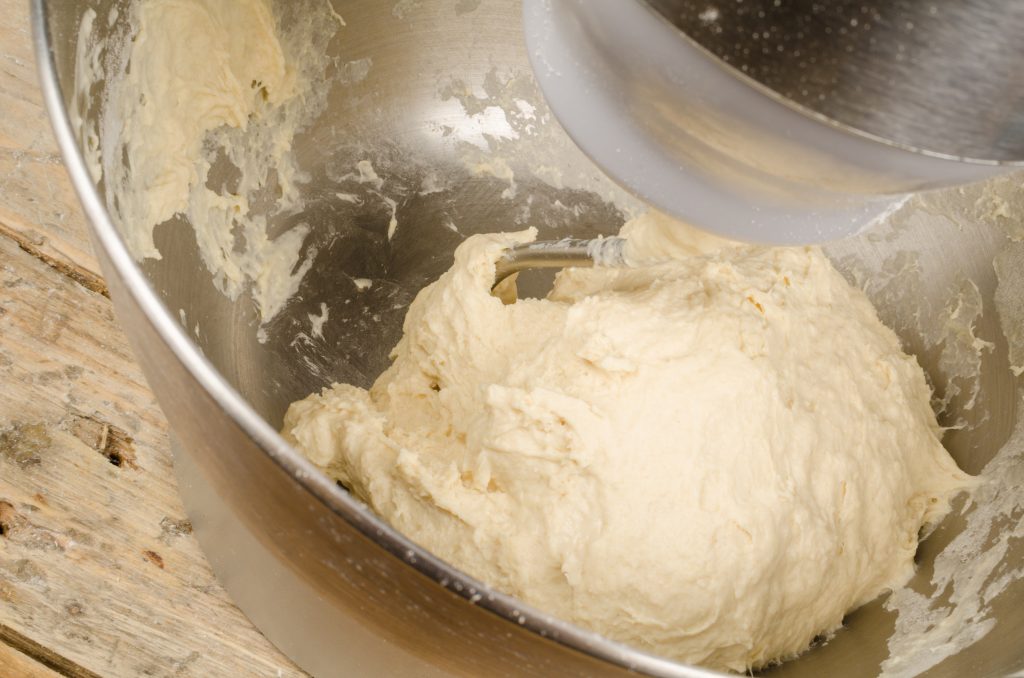 Making the Dough
In a medium mixing bowl, whisk together the active dry yeast, a ¼ cup of lukewarm water, and 1 tablespoon of granulated sugar. Let sit for 10 minutes, allowing the yeast to expand and become foamy. 
Next, whisk in the remaining ½ cup of lukewarm water, 3 tbsp granulated sugar, ¼ cup canola oil, 2 eggs, and vanilla extract. Set aside.
In a stand mixer with the dough attachment, sift together the flour and 1 teaspoon of salt. Pour in the wet ingredients and set the mixer to low speed. Mix for 10 minutes until you have a very sticky dough. 
Add 1 tablespoon of vodka or brandy and continue to mix on low for two to three minutes. The dough should be sticky but not overly wet. Next, grease a large mixing bowl with a little oil and add the sticky dough to the bowl. Cover with a slightly damp towel and let the dough rise for two hours or until it's doubled in size. Lightly flour and baking sheet and set aside.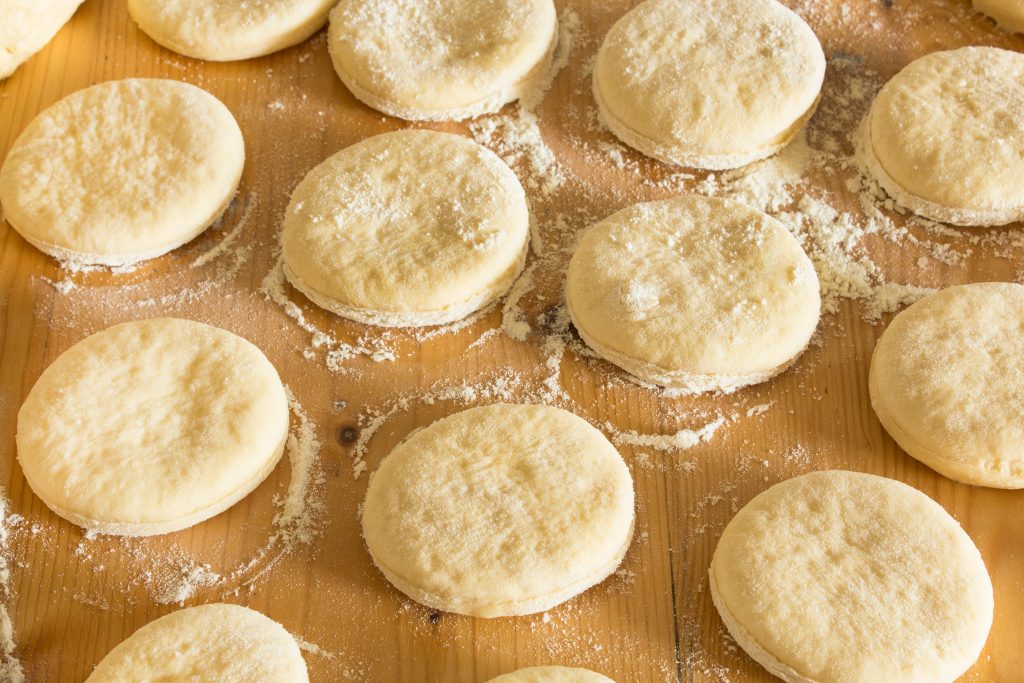 Shaping
Next, flour a flat surface. Once the dough is fluffy and doubled in its size, place it on your prepared surface and lightly flour the dough. Using a rolling pin, gently roll the dough into a ½-inch-thick circle. Make sure to use plenty of flour to work gently, as the dough will be sticky and delicate.
Dip a cookie cutter into flour. Beginning at the outer edge of the dough, press the cookie cutter down firmly and twist slightly to cut the circle. Scoop each circle out with a spatula and place them on the baking sheet. Once you've run out of room on the dough, re-roll it into ½ inch-thickness. Repeat the process until the dough is gone.
Lightly dust the tops of your dough circles with flour. Cover with a clean, dry towel and let rise for 45 minutes.
While rising, add your jam to a squeeze bottle. If using a fruit jam with seeds, strain over a sieve. Make sure to remove all seeds and pulp before transferring to a bottle.
Frying
In a large pot, heat the oil to 325 degrees. Test the heat with a candy thermometer to ensure the oil doesn't get too hot.
Transfer the dough circles to the pot, frying up to four at a time. Flip them gently as you place them in the pot so the puffy side is facing down in the oil. Fry on the first side for about 90 seconds, allowing the bottom to become golden brown. Gently flip, then continue frying for another 90 seconds. Each batch of sufganiyot should take about 3 minutes total. 
Transfer the cooked sufganiyot to a paper towel-lined plate to drain. Continue the process until all the sufganiyot are cooked. 
Filling
Let cool slightly before beginning to fill with jelly. Use a straw to create a narrow opening in the top center of each pastry. Using the squeeze bottle, squeeze jam into the center of each sufganiyot until the jam is slightly overflowing the hole.
Dust each pastry with powdered sugar just before serving. Serve while hot for the most decadent end to your Hanukkah celebration.