That is not a typo missed by our fastidious editor; in our work in Afghanistan, we've met a group of women at the American University of Afghanistan in Kabul and know 100% in our hearts that at least one of them is a future president. In a country where only 6% of females have any education at all, this seemingly impossible feat is what we are here to make happen. Yes, there will be some food along the way (and you know how much we love to eat), but our show is about making real, quantifiable change in the world, and introducing you to people who linger in the attic of your mind forever. Be part of our project here.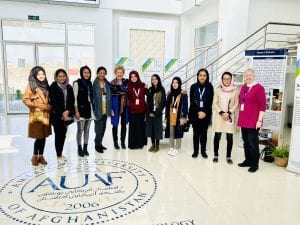 Here's where are funds are going, to be able to bring awareness as well as joy all – especially you, our audience of The 195:
$1,000 – A full day of our Director of Photography on set
$2,500 – A full day of our camera crew who will tell the stories of the women, children and families we are helping around the world
$5,000 – Our Post Production Color Correction Editor, who will take our beautiful footage and make it even more beautiful for the big screen
$10,000 – Our Motion Graphics Editor who takes the episode we will create to the next level so that we can share the story with the most people to raise awareness and inspire us all to be citizens of the world.
$25,000 – The cost of our Editor who will take several months to take the beautiful footage we're going to film, and to make it into an episode to share the stories around the world
$50,000 – The cost of our filming crew's salaries while we are on the ground telling stories and teaching, mentoring and  inspiring the young people who will make the change in their countries
Learn more here about our journey to make this dream of The 195 come true. 
Disclosure:  No raffles, sweepstakes, giveaways, or returns on investment are offered in exchange for any donations made to our GoFundMe campaign.  Your donation is about supporting our work to make this world a better place, and to always have our deepest gratitude as we work to share stories, improve lives, promote cultural understanding through travel.