Los Angeles is a prime, go-to destination from now until May. So, a go-to destination needs a go-to restaurant. You may have ordered wine from Wally's online, but who knew that it was such a hotspot staple? Maybe it's the wine. Or, the ready-to-mingle crowd. Or maybe it's the truffle brie with honey. This is the review of the food menu at Wally's .

Overview
I first heard of Wally's because of my online wine shopping addiction. The place has access to some of the top labels from California to France (especially my go-to, the Château Grand-Puy-Lacoste). The pricing is always fair, too. However, I didn't think of Wally's as a restaurant, because why would I want to eat at a Binny's or a Sherry-Lehman? My friends in LA, though, anywhere in age from 28 to 68, insisted that it was a good time. Wally's has two locations; one in Beverly Hills and the other in Santa Monica.

Atmosphere
Wally's reminds me of the casual Italian wine bars you find in Rome that have cheese and meat counters. It has that atmosphere where people sit at communal tables and share food, wine, and conversation. During the day, it's a casual place you would drop by for a light lunch or to stock up on food for a party. At night, though, the people who fill Wally's are what creates the atmosphere. On a weekend, if you don't have a reservation at the Beverly Hills location, good luck. There's a bouncer outside and a line out the door. The Santa Monica location is usually not such a production to get in, though still a scene. It also has a larger bar area to try to snag a seat, and trends slightly younger with the majority of people in their 20s to 40s. Though both locations run the gamut on age. In a phrase, people who come to Wally's are single and ready to mingle.

Food and Wine
I knew the wine would be good at Wally's. Any place that will do wines like Lynch-Bages by the glass is tops in my book. But what surprised me was the food menu at Wally's. I don't get excited about brie on bread, but at Wally's it's on a perfect baguette that's crispy on the outside and soft on the inside. The brie is then melted with honey topped with shaved truffles, which is as good as any rendition I've had in Florence. I later learned that the secret was toasting the baguette with truffle butter, which certainly explains it.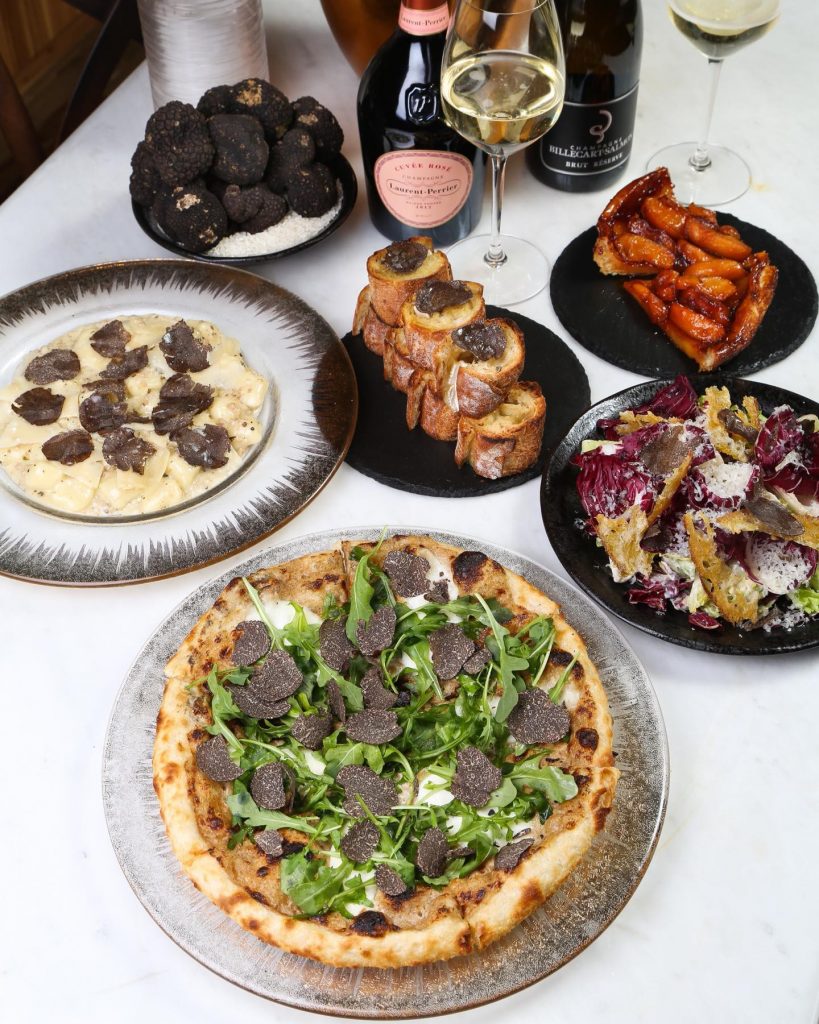 The food menu at Wally's has solid selections of salad that are hearty meals. The chopped-chicken salad is a thoughtful combination of pumpkin seeds, avocado, goat cheese, and winter squash, with a delicious cilantro-lime vinaigrette. This one is seasonal, but the avocado gem salad is a staple no matter what time of the year it is.

Also on the food menu at Wally's are a nice selection of pizzas, and the chef isn't shy with the truffles on the truffle pizzetta. The carbonara pizzetta is also a standout, with crispy bacon, farm egg, fontina, crème fraîche, and caramelized onions. Shave button mushrooms are added on top, which makes a big difference.
Service
Besides the bouncers outside who are totally unsympathetic to your plight of waiting in line, everyone else is as laid-back and friendly as the atmosphere at Wally's. Even on a packed night, waitstaff try their best, and hustle to keep your food and drinks coming.
Overall: 7/10
This is a solid stop at both the Beverly Hills and the Santa Monica location.
Related Articles
Review: Asterid Los Angeles 
Tommy's Los Angeles Review
Katsuya: Where to eat in Los Angeles 

FAQs
Q: Is Wally's good for families?
A: During the day, it's fine for you to stop by Wally's with the kids for a casual lunch. But at night, it's firmly an adult scene. So get a sitter.
Q: What are Wally's business hours?
A: Wally's Beverly Hills is open seven days a week from 1o a.m. to 1 a.m.
Q: What type of foods does Wally's serve?
A: Wally's serves elevated American and California-inspired cuisine.