Good news: it's zucchini season. While you can typically find this vegetable year round, you'll see it at its peak from late June to late August. And although there are plenty of traditional ways to pay tribute to zucchini, we plan on getting a little more creative this summer. That's why we're sharing two zucchini recipes that prove just how versatile this veggie can be. Because how many foods are just as delicious raw as they are fried? This one is. 
Zucchini Carpaccio
Serves 4-6
We love zucchini in all shapes and forms. Deep-fried, pan-seared, grilled, even baked into bread. But in its raw form, the vegetable has an incredibly refreshing flavor that can get lost when cooked. That's why we love this zucchini carpaccio. Not only is it stunning — and stunningly simple — but there's no heat required. Instead, a bath of lemon juice and salt "cooks" the zucchini before it gets dressed with a tangy, herby vinaigrette. And even better, keeping the zucchini raw allows it to retain all of the vegetable's impressive health benefits.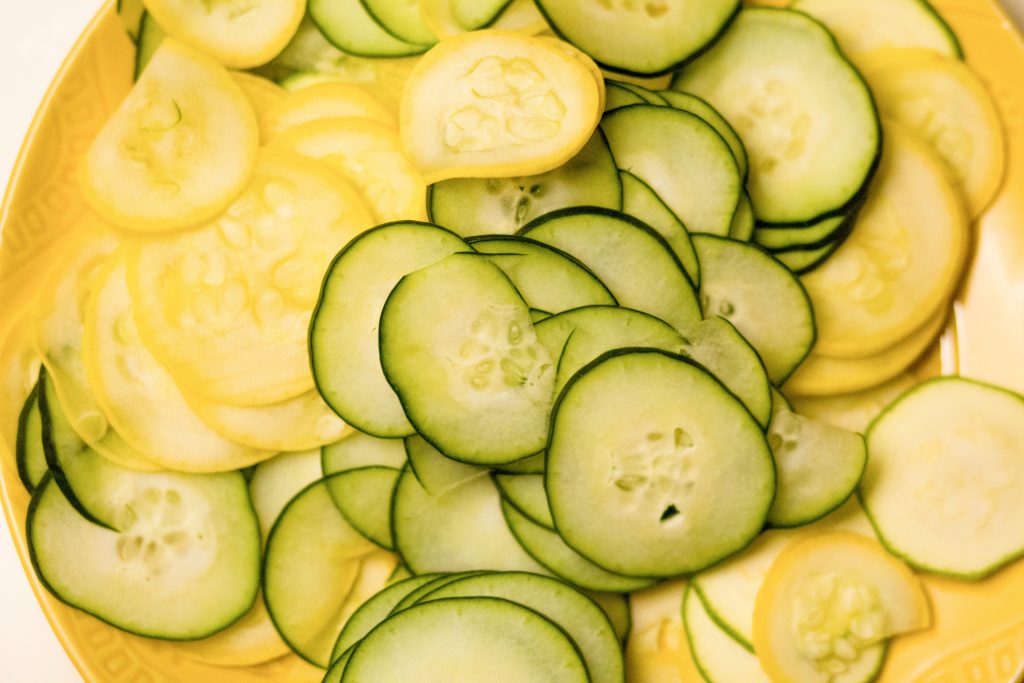 Ingredients
2 green zucchini
1 yellow zucchini
1 cucumber
juice of 1 ½ lemons
1 tsp sea salt
6 oz baby tomatoes, cut in half
¼ cup shaved pecorino romano
edible flowers (optional)
flaky sea salt, for serving
For the vinaigrette:
¼ cup olive oil
1 ½  tsp white wine vinegar
3 cloves minced garlic
1 tbsp lemon juice
4 tablespoons minced chives
1 ½ tsp pepper
1 tablespoon pesto
4 tablespoons minced dill
Directions
Using a mandoline slicer, cut the zucchini and cucumber into paper-thin rounds. Pat dry on a paper towel before laying out on a plate. We chose to layer in a circular pattern, but have fun with your own design! 
Mix the juice of 1½ lemons with 1 tsp of salt. Drizzle the mixture over the plate of vegetables, making sure to coat as many pieces as possible. Cover the plate tightly with cling-wrap and chill for 30 minutes to an hour. 
In a small bowl combine olive oil, garlic, pesto, white wine vinegar, lemon juice, pepper, chives, and dill. 
Season your baby tomatoes with salt and pepper before placing them over the mandolined veggies. Drizzle the vinaigrette over the entire dish, then top with shaved pecorino, flaky sea salt, and edible flowers.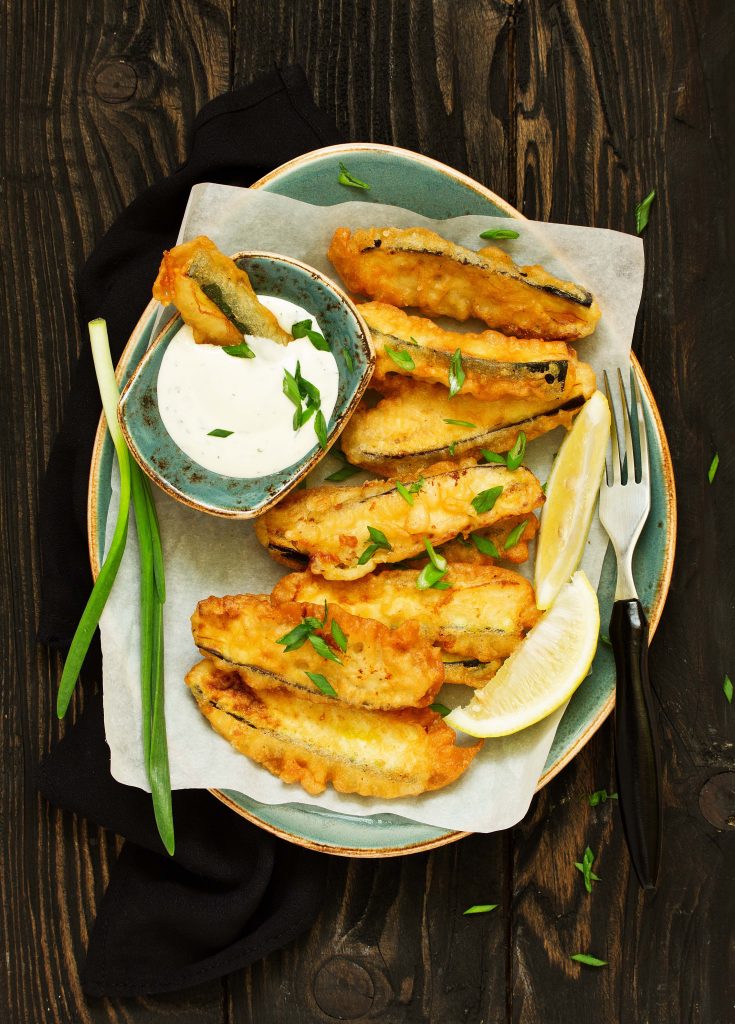 Zucchini Tempura
Serves 4-6
If you're not totally sold on raw zucchini, don't worry. Remember the vegetable's key word: versatile. This tempura is a crowd favorite: always impressive, always delicious, and always devoured in minutes. And while this fried treat is great on its own, the dipping sauce takes it to the next level. Also make it next time you have dumplings, sushi, or just about anything else. 
Ingredients 
1 lb zucchini
5 tablespoons flour
5 tablespoons cornstarch
1 tsp baking powder
1 ½ tsp baking soda
½ tsp sea salt
½ cup sparkling water or club soda
ice cube
vegetable oil
For the dipping sauce:
¼ cup soy sauce
1 tsp sesame oil
1 tsp oyster sauce
2 cloves garlic, minced
1 tsp rice wine vinegar
2 tsp sesame seeds
A pinch of salt
3 tbsp green onions, chopped
½ tsp red pepper flakes
1 tbsp vegetable oil
Directions
Cut your zucchini into ¼-inch pieces, a mix of sticks and rounds.  
In a medium sized bowl, mix together the flour, cornstarch, baking powder, baking soda, and salt. Add sparkling water, mixing until the batter is smooth and the consistency is similar to heavy cream. If you find the batter getting thicker as it sits, add one ice cube and stir until it melts. 
In a medium-sized saucepan, heat two inches of oil to 350 degrees Fahrenheit. 
Working in batches, coat the zucchini in the tempura batter. Make sure to drip off excess batter over the bowl before carefully lowering the vegetables into the oil. Only fry a few pieces at a time to ensure the oil temperature doesn't drop. Turn occasionally until the pieces are golden brown, approximately 1 to 1 ½ minutes. Drain on a paper-towel-lined plate and season with salt. 
To make the dipping sauce, heat your vegetable oil over medium-high. In a small bowl, combine the soy sauce, sesame oil, oyster sauce, garlic, rice wine vinegar, sesame seeds, salt, green onions and red pepper flakes. Once your oil is hot, pour it over the soy sauce mixture and stir. Serve immediately.