The trend nowadays is fine dining in New York City, with the opening of one grand restaurant after another.  A fine dining restaurant that opens mid-pandemic though and pre-vaccine is a gutsy place. But when you have a good product, especially one this pretty, nothing can stand in your way. How does Vestry measure up?  Here's our review of Vestry, which brings fine dining back to New York City.

Overview
I creep on your Instagram, especially if you post about food.  Vestry has been around for awhile, but it was off my radar.  That is, until I saw a friend's Insta story, and I was immediately hooked on his reel of beautiful canapés.  It was enough to prompt me to make a reservation.  One plus one still did not click on the address though, until I rolled up to the former Trump Soho, now the Dominick.
Who to Bring
Vestry is a versatile restaurant.  You can come in for date night, a catch up with friends and dine solo at the bar.  It's elevated food but has a selection you can make all occasion.
Atmosphere
In the former Koi space, Vestry still has the same scene-y, sleek vibe.  Except they warm it up with foliage throughout the restaurant and an area rug, which gives off a designed, high-end apartment feel.  You can tell a lot when into the interior design of the room, where every light fixture and materials is tastefully coordinated.  Vestry achieves elevated yet approachable, which I thought was the theme throughout.  The room is usually packed and lively, though it's not an impossible reservation if you plan ahead.

Food
Well, there's not a dull moment, which is what you would expect from Michelin-starred Chef Shaun Hergatt.  He previously helmed the kitchen at 2-star SHO and Juni, as well as the more casual Surf Lodge. Let's set the table first to level set what you're in for at Vestry.  The food here makes you think.  It doesn't matter if every dish resonates with you; Vestry gets an A for creativity. Bread and butter come out, but it's seaweed butter and fluffy sourdough bread.  The menu is set up as bites, small and large plates.  Everything is meant to share, which is why they larger the group, the more you can try.  This is a menu that you can easily order one of each.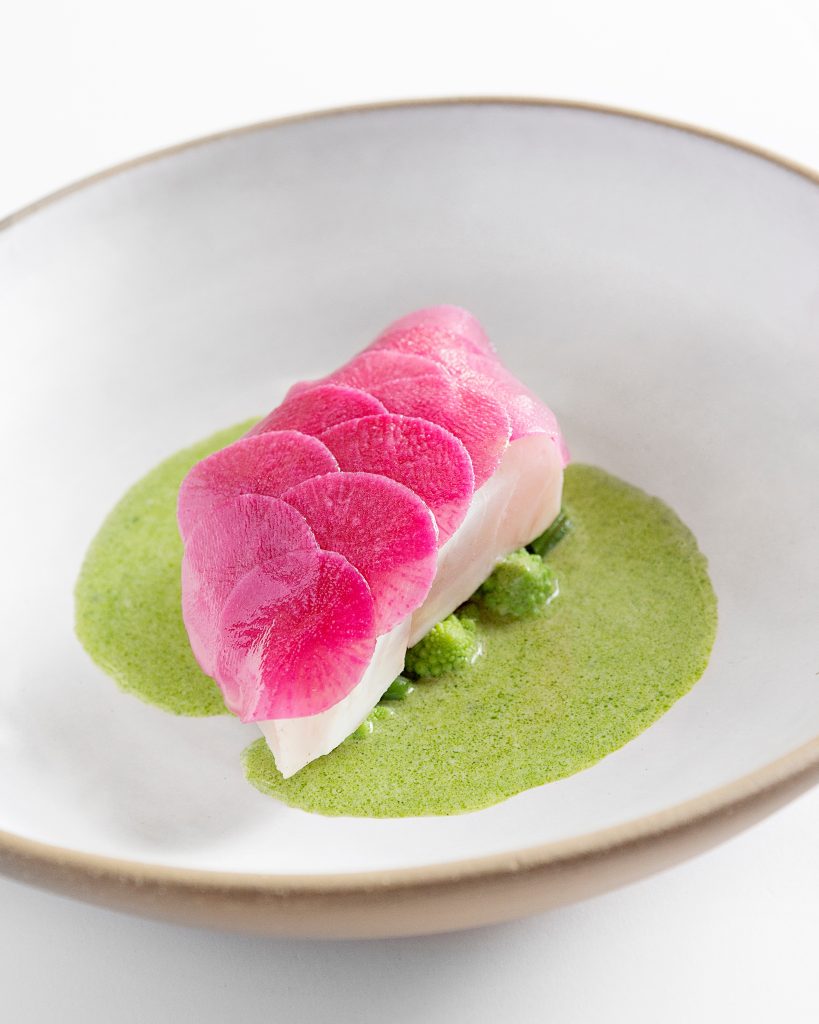 Art on a Plate 
The bites are art on a plate.  The shiitake handroll was presented on a shiso leaf with sushi rice and mushrooms that you eat like a taco.  The oyster crisp is served in a creamy oyster dip.  I found the dip overwhelming as it overflowed out of the shell.  It would have been more impactful had there been just a dollop on top, but I still don't regret the order.  The nori chip was a crisp piece of nori filled with tobiko and salmon roe.  This was the winner of the bites for my palate.

Small Plates = Comfort Food 
The small plates are more home-y and more casual than the bites or the main courses.  In this tier of selection, the sushi rice with fish and cured egg yolk stood out from the pack and was pure comfort food.  I would come back solo and eat that on a week night at the bar with a glass of wine.  You can also never go wrong with squash blossoms or the hamachi crudo.

They Like to Flex 
The entrees are where they flex on their presentation.  I love a place that pours the sauce table side. The fish dishes I think were dressed the most to impress.   The salmon is impossibly symmetrical and just barely cooked.  The cod had perfectly mandolin-ed radish set perfectly on sauce that you just want to drink like soup.  While this is a fish-focused restaurant, they serve both chicken and Australian Waygu.  These were heartier dishes but still brought it on the presentation.  To note though, the food is different.  It may not be the best you've ever had, but it sure will be memorable.  With that mindset I appreciated the culinary skill that went into every dish, even if it wasn't my favorite in the world. However for fine dining they hit the marks.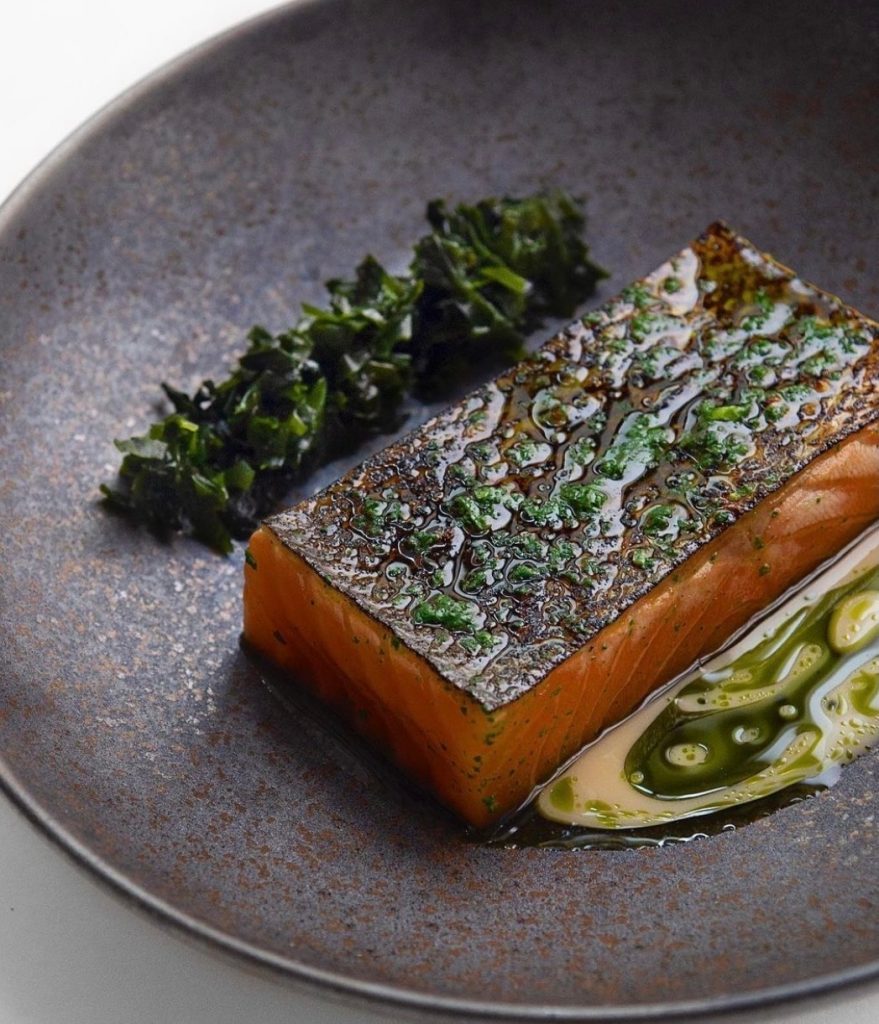 Service
The Vestry team achieves both Michelin-level service while keeping it real.  The interaction with the team is warm.  They don't take themselves so seriously but they know their stuff. Food comes out at the perfect clip, wine is refilled and you shouldn't need to chase anyone down.  If you're the kind of person who likes to talk, they genuinely engage you and roll with all your questions.
Overall:  8/10.  I would go back again.
FAQs
Q: Is Vestry open on weekends?
A: It is open from 5:30-11:30p.m. on Saturdays but it is closed on Sundays.
Q: What should I wear?
A: The dress code is smart casual — avoid shorts, tank tops, and flip flops.
Q: What is the rating of Vestry as per Galavante?
A: Galavante rates this restaurant 8/10 for its impressive yet creative food presentations. This restaurant deserves multiple visits!
Vestry Information
Address: 246 Spring St., New York, 10013, United States
Opening hours:
Sunday               Closed
Monday              5:30-10:30p.m.
Tuesday              5:30-10:30p.m.
Wednesday        5:30-10:30p.m.
Thursday            5:30-10:30p.m.
Friday                 5:30-11:30p.m.
Saturday             5:30-11:30p.m.
Phone number:   2127841350
Contemporary, Modern Cuisine