Summer cookouts are trending high. 'Tis the season of hot dogs, burgers, and brats. It's also the season of getting seconds, thirds, and fourths of that one really great side on the buffet table. Sure, you can just throw a piece of meat on the grill, but it's the side dishes that take a good BBQ to the next level. And with everything from tomatoes and corn coming into season, the farmers' market is a real cornucopia now. So here are some sides to add to your table this summer.

Watermelon Salad
Serves 6–8
If you want to get invited back to a cookout, bring this as a side. Seriously, we could eat it for dessert. Or dinner. Or breakfast. OK, we might have had it three times in one week. It's sweet, salty, tangy, and refreshing. And the best part? There's minimal cooking involved. Because who wants to stand over a hot stove in the middle of summer? Basically, you'll never look at a simple salad the same way again (don't say we didn't warn you).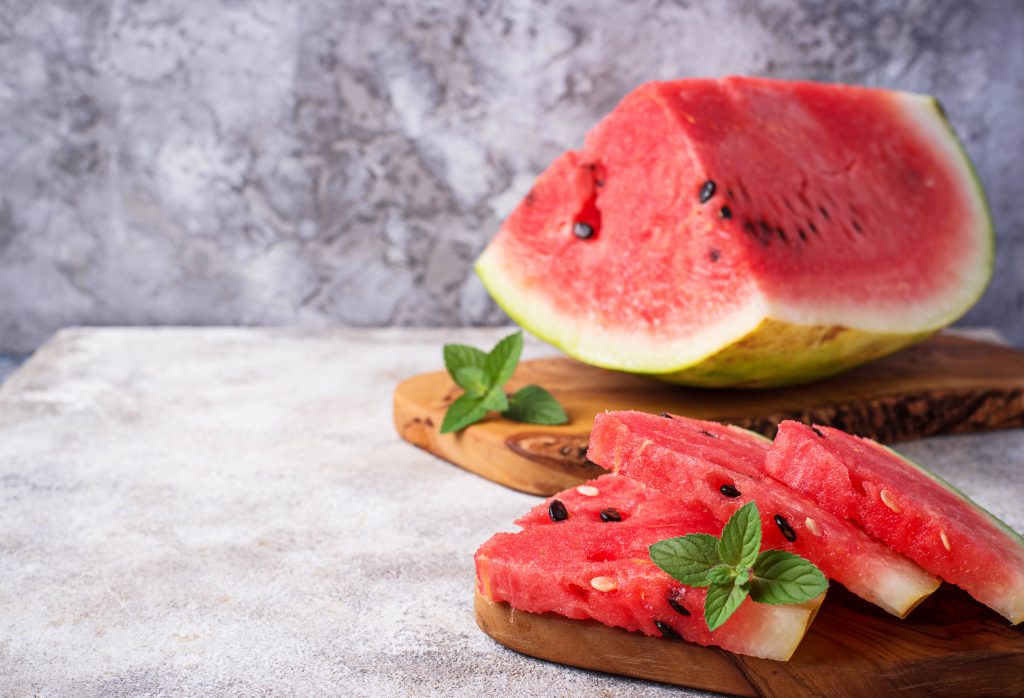 Ingredients
½ of a seedless watermelon, cubed
½ cucumber, cut on a diagonal into ½-inch pieces
1 green onion, cut on a diagonal into very thin slices
⅓ cup crumbled feta cheese
⅔ cup crumbled goat cheese
1 shallot, julienned
¼ cup olive oil
2 tbsp fresh mint leaves
For the Dressing:
3 ½ tbsp lavender honey (regular honey will work as well)
the juice of 4 limes
the zest of one lime
2 tsp olive oil
2-3 tsp salt
½ tsp lightly dried basil, or 2 tbsp fresh basil
Directions
Heat ¼ cup olive oil over medium-high heat. Once hot, add the shallot. Stirring occasionally with a fork to separate the strips, fry for about five minutes or until just golden brown. Remove shallots and drain on a paper-towel-lined plate, seasoning immediately with salt. Set aside.
In a small bowl, combine your lime juice, honey, olive oil (feel free to use the shallot-infused oil), and salt to taste. You may need to pop this in the microwave for about 5 seconds to thin out the honey, but be sure to watch it carefully.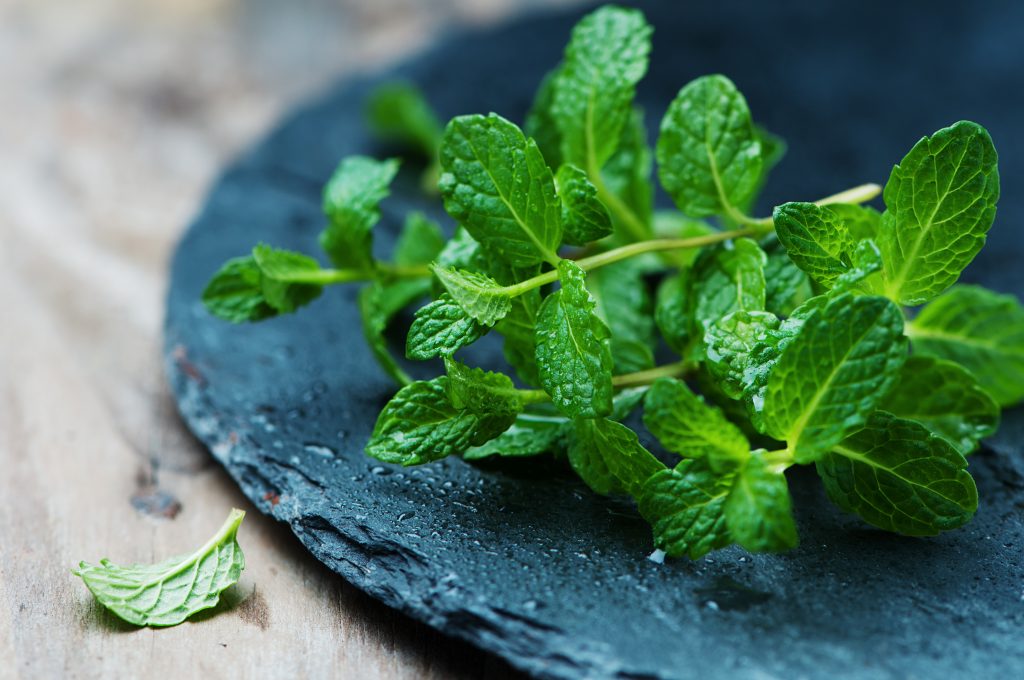 To assemble the salad, place the cubed watermelon and cucumber in a large but shallow salad bowl. Pour over the dressing, tossing to coat the fruit evenly. If you're using fresh herbs, roll both the basil and mint between your hands for a few seconds to bring out the flavor. Tear into small pieces and sprinkle over the salad. Top with green onions, feta, and fried shallots. 
Mexican Street Corn Dip
Serves 4–6
Every host needs a personal cookout philosophy. Ours is a simple equation of side dishes: you need one salad, one vegetable dish, and one dip. But we're quick to admit that except for the basics of guac and hummus, dips can be tricky. Sure, you can throw a tub of sour cream, some mix-ins and some cheese into a bowl and call it good, but where's the fun in that? This Mexican street corn dip is our ideal elevated side dish. Adding crema in the elote-inspired sauce gives it a creamy and decadent taste, but keeps it light enough for second helpings…and thirds.
Ingredients
6 cobs of corn (about 6 cups of kernels)
4 tbsp butter
2 jalapeño, diced & seeds removed
5 cloves of garlic, minced
1 red onion, minced & soaked in ice water*
⅓ cup Mexican crema or sour cream
⅓ cup mayo
the zest and juice of 1 lime
1 tsp chili powder
½ tsp paprika
2 tsp salt
1 tsp pepper
¼ cup chopped cilantro
¼ cup cotija cheese
1 bag of tortilla chips
*Soaking raw onions in ice water will soften their intensity and leave a milder flavor.
Directions:
Remove the kernels from the cobs of corn. In a large skillet, heat butter over medium-high heat. Add four cloves of garlic, jalapeño and corn. Stirring occasionally, toast for 10–15 minutes or until the corn has a slight char to it. Set aside and let cool slightly. 
Mix together the mayonnaise, crema, lime juice and zest, chili powder, paprika, and salt and pepper. 
To assemble the dip: In a large bowl mix the corn, garlic and jalapeño with the cilantro and red onion. Add 3–4 heaping tablespoons of the sauce and mix, coating all of the ingredients evenly. It shouldn't be too wet of a dip. Once satisfied with the consistency, top with shredded cotija, more cilantro, and a final drizzle of sauce. Serve with tortilla chips.

Honey-Roasted Carrots
Serves 4–6
You want your side dish to speak for itself. You want it to say "I put in effort, but I didn't overdo it,""I know how to have a good time." Maybe: "I definitely didn't forget I had to bring something last-minute."
So, good news: this recipe says all of those things. The tart complexity of the vinegar and dijon mixed with the sweet honey and rainbow carrots result in a taste that says "I spent more than 30 minutes on this." We won't tell if you don't.


Ingredients
2 pounds rainbow carrots
1 tablespoon butter
2 tablespoons olive oil
2 tablespoons honey
1 tablespoon dijon mustard
½ tablespoon white wine vinegar
3 cloves of garlic, minced
A few sprigs of thyme
A few sprigs of rosemary
2 tsp salt
1 tablespoon parsley, chopped
Directions:
Preheat your oven to 400F. Wash your carrots well and cut them in half vertically.
In a skillet over medium-high heat, combine the butter, oil and honey. Once hot, add the garlic, rosemary and thyme. Cook until fragrant. Mix in the vinegar, mustard, and salt just before taking off the heat. In a large bowl, toss your carrots in half of the dijon honey mixture, saving the other half for serving.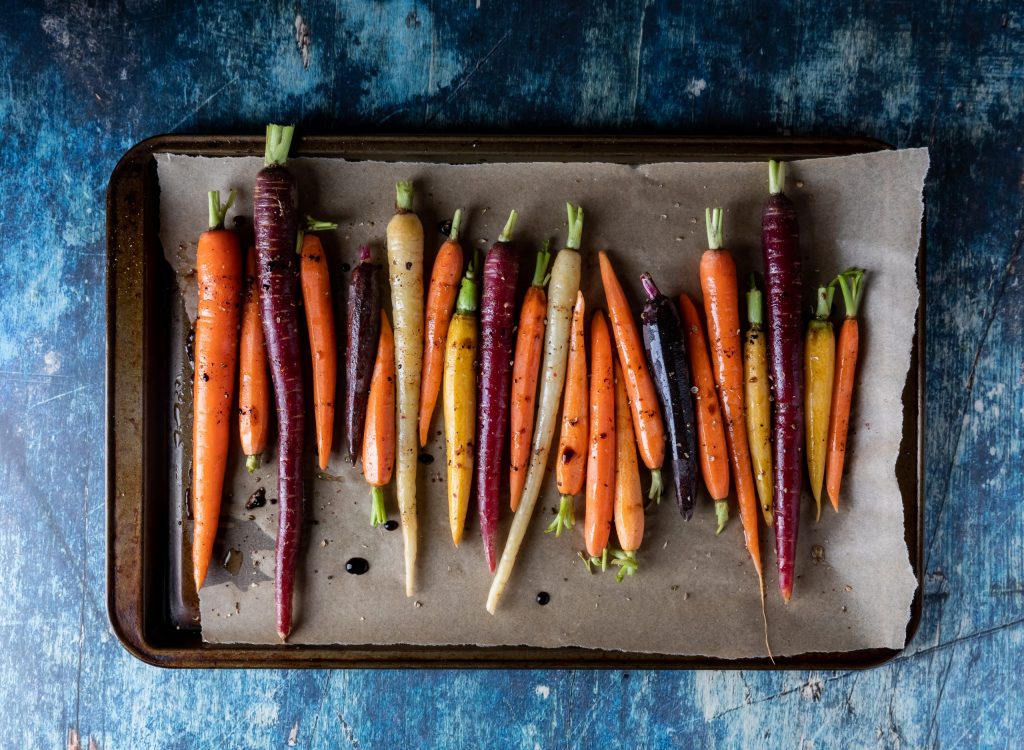 Arrange the carrots on a parchment-paper-lined baking sheet. Bake for 10 minutes, then turn the carrots over. Bake for 10-20 more minutes or until the carrots are tender and golden brown. 
Plate the carrots and drizzle the remainder of the glaze over the top. Garnish with parsley, then serve.