Christine Drinan, Founder
If you can cut up a few oranges, shave some fennel, toast some pistachios, and add some olives, you can make this salad. It's as healthy as it gets, and it's also so visually appealing that you don't even need flowers to decorate your table. So in other words, this recipe with oranges ticks all the boxes when you entertain at home. This is the recipe that will make you look like a culinary god or goddess.
A Colorful Plate
When I do Spanish night at my house, this recipe with oranges is one of my go-to dishes. It's not that this is necessarily a Spanish recipe, but it is considered the salad course of my meal, along with smoked salmon loin on romaine hearts with avocado cream. The blood orange and fennel salad plate is so vibrant that it sets a tone for the rest of the meal. Practically speaking, this recipe with oranges, a fresh and light starter, goes well with heavier dishes like tortilla Espagnol, patatas bravas, and seafood paella.
Serves 6
Ingredients
3 blood oranges
2 ara or Valencia oranges
1 bulb fennel
15-20 bright green olives, pitted and sliced in half
3/4 cup pan-roasted pistachios sprinkled with Maldon sea salt
Spicy Spanish olive oil, to taste
Microgreens to garnish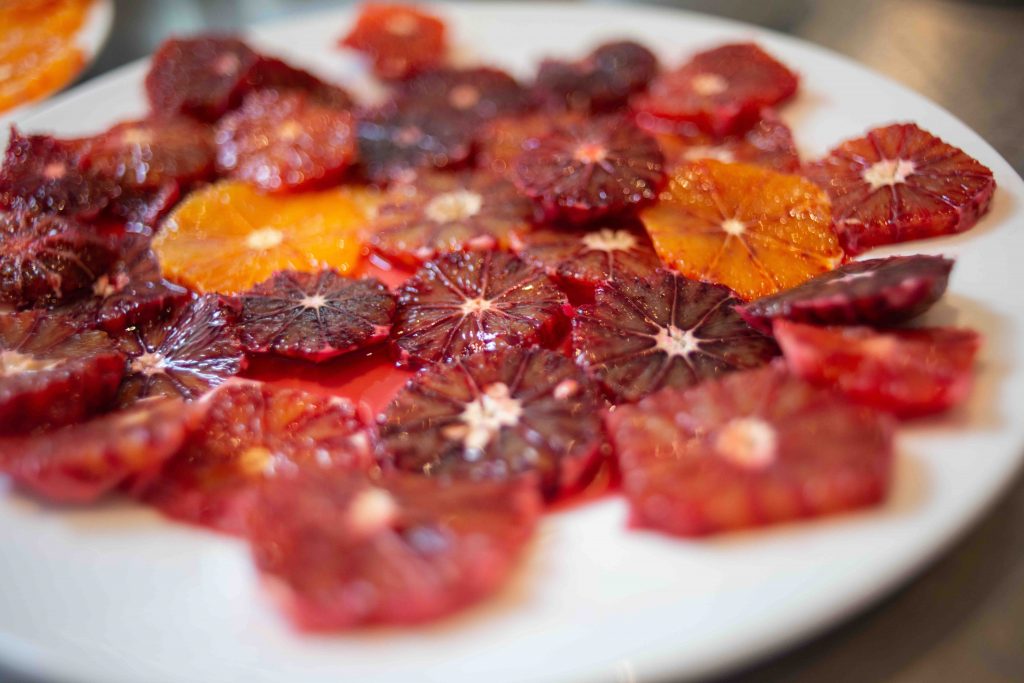 Directions
A Life Skill – How to Supreme an Orange
When I said this was easy, I meant it. The greatest skill needed is knowing how to supreme an orange. I don't have the video anymore (though I'm sure someone does), but a tutorial on how to supreme an orange was the first footage I shot for Galavante. I was inspired by a Martha Stewart segment; after all, Martha was the pioneer in the lifestyle space. We shot this first video on an iPhone, with no sound equipment, off the West Side Highway back in 2012. Those were the days! Essentially, supreming an orange is the method of cutting  away all of the white parts of the orange skin. This white is the most bitter part, which you don't want in this dish. Aesthetically, it also looks prettier when you supreme your oranges. For this recipe, once you supreme the orange, cut it in round horizontal rounds, across the orange. Set aside on a plate.
The Art of Presentation
On a large clear serving plate, first place the Valencia or Cara orange rounds as the base of your dish. Next, shave your fennel with a thin vegetable peeler, so you have light and airy slices. Artfully arrange about 1/3 of these in small mounds around the Valencia or Cara oranges. Now, place the smaller blood orange on top of each Valencia or Cara slice. Add a little mound of the remaining fennel on each orange stack. Sprinkle the green olives and then the pistachios over the full dish. Garnish each stack of orange and fennel with some micro greens. Finish the dish with some spicy (picual) Spanish olive oil. Our version is vegan, because it's meant be a light starter to the more rich Spanish food to come. If this is your meal, you can add goat or blue cheese to the recipe.