It's not easy to pick a favorite thing about Summer. But if you asked us, we'd say we love how experiential food feels in these warmer months. There's something special about biting into a vegetable that you know is in its ripest season, or traveling upstate to harvest your own produce. And if we're talking about quintessentially Summer foods, we need to talk about strawberries. Debatably the fruit of the season, strawberries hit their peak season at the beginning of June. While that means we have a few more months of this golden window, it also means you need fabulous strawberry recipes to last you through the Summer. So we're sharing two of our favorites: one savory and one sweet. As versatile as their star player, these dishes are easy enough for a weeknight and impressive enough for a dinner party.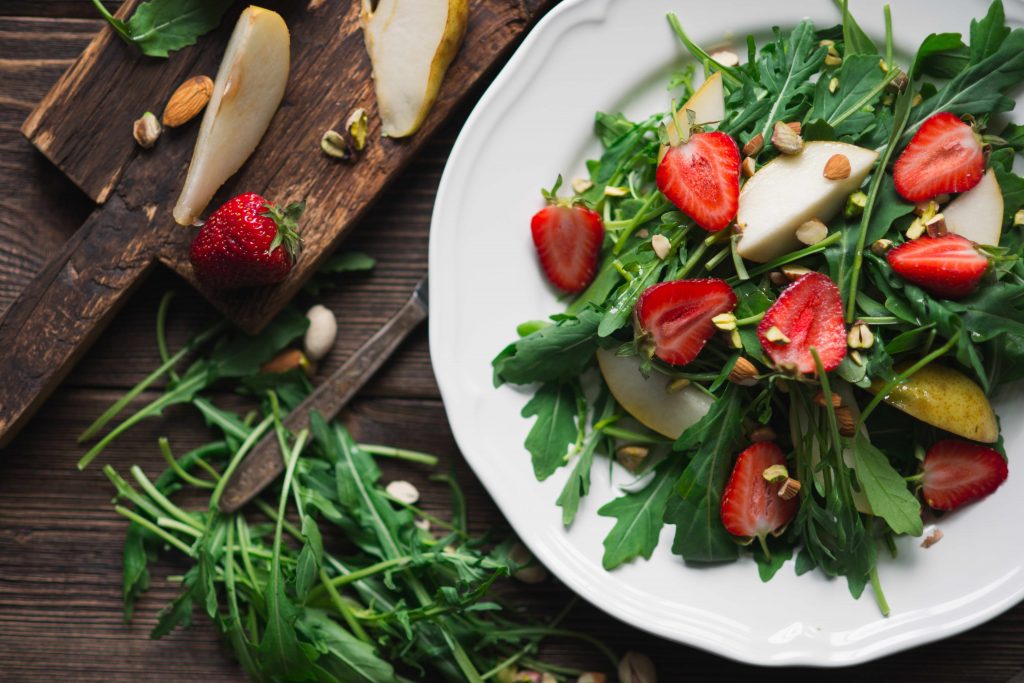 Strawberry & Pear Salad
Serves 4
A dream salad, for us, might not follow conventional salad rules. By that we mean it needs something fried, something sweet, a substantial carb, and a killer dressing. This strawberry pear salad crosses off every one of those boxes, and then some. Shallots and almonds get fried in a bath of aromatics, leaving you with an infused olive oil to use for the dressing. It's one of our favorite cooking techniques to help minimize food waste and make you feel like a pro chef at the same time. See? We told you this salad does it all. 
Ingredients
5 oz arugula
1/4 cup olive oil
8 oz strawberries, tops removed and sliced
1 shallot, julienned
1/4 cup slivered almonds
2 pears, sliced
1/4 cup crumbled goat cheese
1 lemon, peeled
2 scallions, minced (just the whites)
5 smashed garlic cloves
1/2 a loaf of sourdough bread, preferably day old
For the dressing:
1/4 cup reserved infused oil
3 tbsp orange juice
2 tsp white whine vinegar
1 tbsp honey
1/4 tsp red pepper flakes
2 tbsp dijon mustard
1 tsp onion powder
Directions
In a medium saucepan over medium-high heat, add olive oil. Once hot, add almonds, shallot, scallion whites, lemon peels and smashed garlic. Cook for about 6 minutes or until the shallots and almonds are fried and golden brown. Stir often and watch closely, as these can burn very quickly. Once toasted, drain almonds and shallots on a paper towel-lined plate. Save the smashed garlic and scallion whites, but discard the lemon peels. Reserve the infused olive oil.
In the same pan, pour back in 3-4 tbsp of the oil and heat over medium-high. Prepare your croutons by either cutting or hand shredding the sour dough into bite-sized cubes. Add the bread to the pan, cooking for 7-10 minutes or until the croutons are crispy and golden brown. Set aside.
To make the dressing, combine the rest of your infused olive oil, orange juice, dijon mustard, white whine vinegar, honey, red pepper flakes, and onion powder in a jar. Using the side of a knife, smash the fried garlic from earlier into a paste. Add the smashed garlic and scallion whites to the jar, and shake thoroughly to combine.
In a large bowl, add your arugula and season with salt. To assemble, add the fried almonds, fried shallots, strawberries, pears, croutons, and goat cheese. Pour over dressing and toss to combine.
Deconstructed Strawberry Basil Shortcake
Serves 6
Strawberry shortcake is one of those no-brainer dishes. It's Summer in a dessert: timeless, refreshingly sweet, loved by all. It's also- we're willing to admit- a bit of a pain to make for a crowd. Creating single-servings of layered shortcake can be stylish but tedious when you're plating for over 10 people. That's where our deconstructed strawberry basil shortcake comes in. The shortcake gets crumbled into fluffy chunks, acting as a bed for your strawberries and whipped cream. Just scoop, plate, and serve. We promise your guests will be just as (if not more) impressed.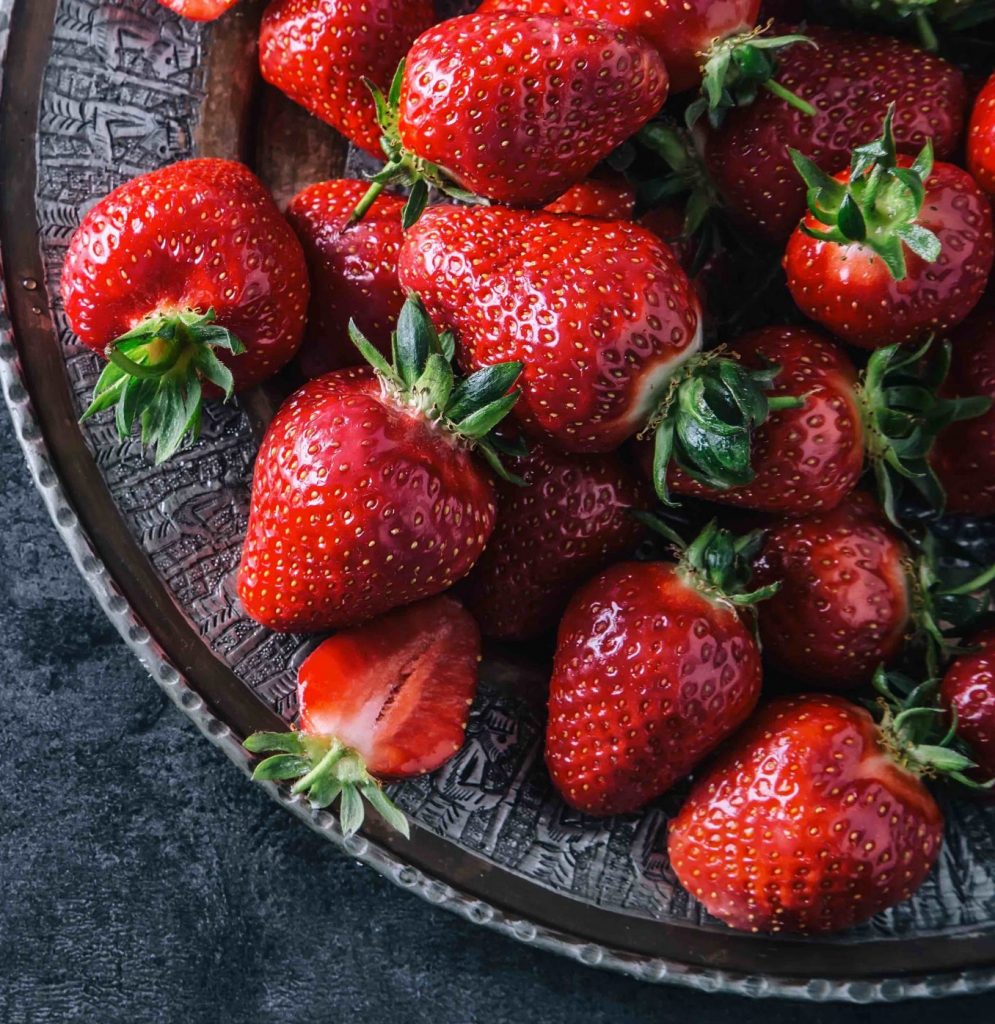 Ingredients
For the strawberry mixture:
4 cups of strawberries, tops removed & sliced
7-8 leaves of fresh basil
Splash of Grand Marnier
1/4 cup sugar
For the shortcakes:
2 1/3 cup Bisquick Mix
1/2 cup milk of choice
2 tablespoons sugar
3 tablespoons melted butter
For the whipped cream:
1 cup heavy whipping cream
1 tablespoon of vanilla extract
Directions
Preheat Oven to 425. Reserving a few leaves for garnish, stack 4-5 basil leaves on top of each other. Roll, then slice into ribbons. 
Combine strawberries, sugar, basil Ribbons and Grand Marnier in a large bowl. Give it a good mix and set aside to let juices macerate for at least 30 minutes. 
In a medium bowl, stir Bisquick™ mix, milk,  sugar and the butter until soft dough forms. On an ungreased cookie sheet, drop the dough by the spoonful into 6 mounds. 
Bake 10 to 12 minutes or until golden brown.
To make the whipped cream, add vanilla extract and heavy cream to a large bowl. Beat with a hand or stand mixer until soft peaks have formed. 
To serve, crumble shortcakes into large pieces. Lay out on a plate, brushing a bit of Grand Marnier over the top. Add a few spoonfuls of the strawberry mixture (including some of the juice) over the shortcake. Top with a healthy dollop of whipped cream. Garnish with crumbled shortbread, a few more strawberries and basil.