TikTok must be on its way out now that non-millennials are totally feeling it too. But there really are some useful life skills. Case in point: the tuna crispy rice that's all the craze. Unlike the Jennifer Aniston salad, this is the real deal. With fresh ahi tuna and a secret technique to crisping up the rice, this is your new go-to recipe. And because we always have to take it to the next level, we've veganized the beloved dish as well, using marinated tomatoes to mimic the texture and flavor of tuna. The veggie-based option is approved by pescatarians and vegans alike.
Crispy Rice & Tuna Bites
Serves 4-6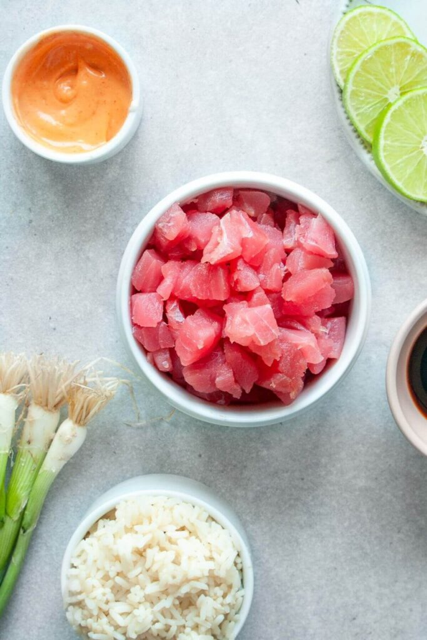 If it has the word "bite" in it, you can expect it to be devoured within seconds. That's our philosophy at least, which is why we figured out how to make this classic appetizer at home. Keep the servings coming and the bites endless, because sometimes Nobu's portions just don't cut it.
Ingredients
500 grams sushi rice, cooked and cooled
3 tbsp rice vinegar
2 tbsp white sugar
1 tsp salt
neutral oil
200 g sushi grade tuna
1 lime
1/2 cup chopped green onion
2 tbsp masago
1 avocado
2 tbsp light soy sauce
1 tsp salt
2 tbsp kewpie mayo
1/2 tbsp lime juice
1 tsp honey
2 tsp sriracha
1/2 tsp wasabi
sesame seeds

Directions
Prepare a square or rectangular baking dish by lining it with plastic wrap. Combine the rice vinegar, sugar, and salt in a small bowl and microwave for about 30 seconds until the sugar is dissolved. Fold the mixture into your cooked and fully cooled sushi rice in a large bowl. Transfer the rice into the prepared dish, pressing down with the excess plastic wrap to ensure the rice is dense and evenly distributed. Cover and freeze for at least 2 hours. 
While the rice is freezing, prepare the fish. Finely mince the tuna. Combine the tuna, the zest of one lime and the juice of 1/2 a lime, and the masago. Mix gently and refrigerate until assembly.
In a heavy-duty pan, heat neutral oil over high heat. Remove the rice from its plastic wrap and cut into bite size rectangles. Fry each piece for about two minutes or until golden brown, flipping once.
In a small bowl, combine the soy sauce, remaining lime juice, honey, and wasabi. In another bowl or squeeze bottle, combine two tbsp kewpie mayo and two tsp sriracha. Brush the soy sauce mixture over each piece of rice, then top with the tuna mixture. Garnish with a few thin slices of avocado and green onion, drizzle over the spicy mayo, and finish with a sprinkle of sesame seeds.
Vegan Spicy "Tuna" Bites
Serves 4-6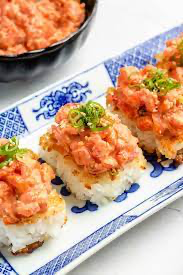 We'll be honest, our ideal dinner party doesn't necessarily include a vegan meal. But as any good host knows, your guests deserve options and an inclusive menu. That's why this dish is your new best friend. Yes, it's delicious enough to impress non-vegans. But thoughtfulness of offering it won't go unnoticed by your plant-preferring guests, and we bet they'll even ask for the recipe.
Ingredients
500 grams sushi rice, cooked and cooled
3 tbsp + 1 1/2 tsp rice vinegar
1 tsp salt
neutral oil
2 roma tomatoes
2 tbsp + 1 tsp soy sauce
1/2 tbsp mirin
1 1/2 tbsp sake
2 tbsp vegan mayo
1 sheet roasted nori, ripped into smaller pieces
2 tbsp white sugar
1 tbsp white miso
2 tsp sriracha
1 tsp garlic powder
1/2 tsp white pepper
3/4 tsp sesame oil
1/2 cup chopped green onions
sesame seeds
Directions
Slice a cross shape on the top of the tomatoes. In a medium sauce pan, boil water. Add tomatoes, boil for 60-90 seconds. Place immediately in an ice bath. Once cooled, gently remove the skin and discard.
Cut tomatoes into quarters, scooping out the seeds and flesh. In an airtight container, mix the soy sauce, 1 1/2 tsp rice vinegar, mirin, sake, oil, nori, miso, pepper, and garlic powder. Add the tomato quarters and seal. Refrigerate for at least two hours, or overnight.
Following the same instructions as the non-vegan recipe above, prepare to fry the rice.
Remove the tomatoes from the marinade and dice them finely. Strain any excess liquid. In a medium-sized bowl, combine the chopped tomatoes, vegan mayo, sriracha and sesame oil.
To assemble, spoon the "tuna" mixture over the rice, then top with green onions and sesame seeds.