If there's one place you are almost guaranteed to celeb spot, Carbone in NYC is your restaurant. The scene here has only continued to get hotter, even though the restaurant is over 8 years old.  We were in the midst of a pandemic in 2020, and when Carbone opened for takeout, there was a run on penne a la vodka.  Seriously; we'll never forget the photo of the Caviar guys so not social distancing for delivery.  It got so intense, one night they just shut the doors and turned of all the lights, leaving New Yorkers without their $30 pastas. That's ok; they're Carbone, they can get away with that. And we'll still keep going back.  This is why.
Good for:
Family dinners, anniversaries, and any night that you're craving a classic Italian splurge in a setting out of a scene from The Godfather – in a good way.
Atmosphere: 
It's always a scene at Carbone, which is part of the reason you go. It's where the coolest of New Yorkers go to load up on carbs, and eat pasta with red sauce.
Why we like it: 
We love anything Major Food Group – these guys pretty much walk on water. There's a reason why seven years after the opening of Carbone, it's still one of the hardest reservations to get in town. Located on one of our favorite quaint streets in the Village, Carbone is a throwback to the Italian restaurant.  It's the kind of place you would have gone to as a kid, except the food is lightyears better. The Carbone crew understand the art of the savory. Everything that comes out is power-packed in flavor, from the parmesan wheel, to the bread. And no one does bread better than Major Food Group.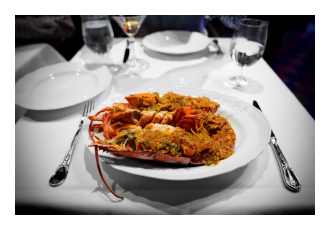 What to order: 
The Assorted Baked Clams, the Lobster Ravioli, the Linguini Vongole, and the Spicy Rigatoni Vodka. And for days when you're not carb-loading, the move is the Whole Branzino or the Prime Porterhouse for two.
FAQs
Q: When is Carbone open for lunch?
A: Carbone's lunch hours are 11:30a.m.-2p.m. Wednesday-Sunday.
Q: What makes Carbone stand out?
A: Carbone's secret weapon is its pasta dishes, but it also serves savory seafood and meat, elevating its reputation as the coolest spot in town.
Q: Is it open for dinner everyday?
A: Yes, Carbone's dinner hours are 5-11:30p.m. seven days a week.
Carbone Information
Address: 181 Thompson St, New York, NY 10012
Hours:
Sunday                      11:30a.m.-2p.m., 5-11:30p.m.
Monday                      5-11:30p.m.
Tuesday                     5-11:30p.m.
Wednesday               11:30a.m.-2p.m., 5-11:30p.m.
Thursday                   11:30a.m.-2p.m., 5-11:30p.m.
Friday                        11:30a.m.-2p.m., 5-11:30p.m.
Saturday                   11:30a.m.-2p.m., 5-11:30p.m.
Contact: [email protected]
All reservations exclusively on Resy.