We've waited for two hours to get in at brunch or dinner as a walk-in.  Two months to get a 10:30pm reservation.  And two years to get any reservation at all (here's looking at you, Carbone).  But with all restaurants currently closed for dining in, you have a rare chance to get a taste of these NYC hot spots at home.  As for Carbone, it's still a long shot. After all, it's only in NYC that you'll have Caviar couriers lined up so not social distancing for pickup of $30 pasta dishes.  These are our top 4 spots for where to order delivery in NYC this week, in the greatest city on earth.  Stay safe, stay home, NYC.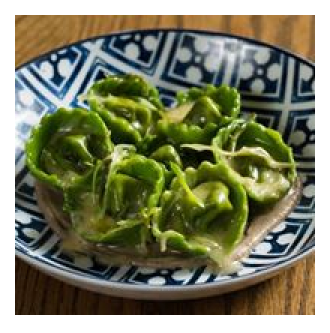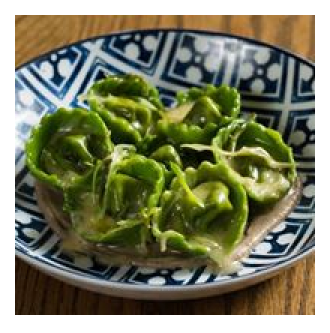 Rezdora  
When we said we had waited two months for a 10:30pm reservation, it may have just been at Rezdora.  Now, even the nether regions of the Upper West Side through Caviar can get Rezdora's homemade pasta delivered.  That in itself makes Rezdora where to order delivery in NYC this week. Standouts include the Agnolini de Parma which are fresh egg pasta like-raviolis filled with prosciutto and pork in a creamy parmesan sauce.  There's also the cleverly named Grandma Walking Through The Forest.  These are your pockets of spinach pasta filled with leeks and roasted mushroom puree deliciousness.  Order two.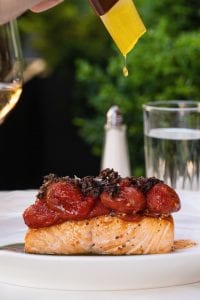 Sant Ambroeus 
There's a reason Sant Ambroeus has been around since 1936, and in NYC, since 1982.  This is a place that will never go out of style, as long as there are fashionable, beautiful people in this world.  Their locations around the city are open for takeout and delivery, so chances are you will zone into one of them.  The food here is just about being simple and straightforward. The classic Cacio e Pepe and the Tagliatelle all Bolognese never disappoint.  The Dover Sole at $69 is a little rich for the pocket for where to order delivery in NYC.  But you're not going out 5 nights a week anymore so a pleasant treat.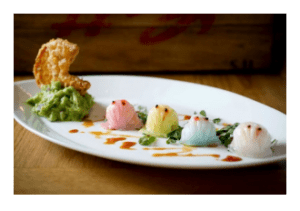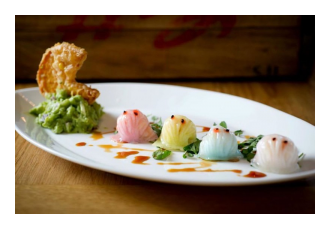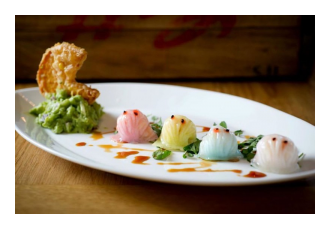 Red Farm
Even if you're not so into Chinese food, you will be into Red Farm.  Red Farm is a healthy, modern and inventive take on classic dishes.  However Red Farm somehow manages to still be authentic Asian cuisine.  Yes, Pac Man dumplings may not be traditional in concept.  However in execution,  you won't find dough more on point than in Hong Kong dim sum parlors.  The Katz's pastrami egg rolls are an homage to NYC.   And the soft and crunchy vegetable rice always make their way into our orders.   Just make sure to include main dishes like grilled sea bass and lobster with chopped pork and egg.
Carbone 
There's a reason why Carbone is essentially still a friends and family spot.  This is true, even after being open for over seven years.  It's not like the food is the best Italian you'll ever have. Or the atmosphere the most chic, or even the service superlatively attentive.  It's the combination of all of those factors in the perfect proportion, though, that makes Carbone great.  That and the coolest crowd of people you want to be part of.  And also, the spicy rigatoni vodka is not so bad either.  If you can snag a coveted delivery spot on Caviar, it's still not 100% certain you'll get your order given the demand.  But Carbone gives us certainly something to look forward. Think of it as a taste of what normal life used to be like in NYC.  Don't' worry, we will all be back.