Le Bernardin
Good for:
Celebration lunches and dinners, and any night that you're feeling like a splurge. And while it's a special occasion kind of place, you can also drop into the lounge for a drink and appetizers – that way you can stop by more frequently, and without needing to have an excuse.
Atmosphere:
The vibe is lively, with people enjoying themselves, and no one pretending to be someone they aren't. It's a classic place with modern vibe, and they have the food to back it up. There's a reason it's packed every single night.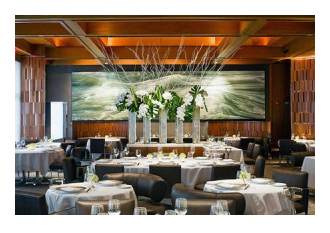 Why we like it:
When you're celebrating something big – whether it's the closing of a deal, the birth of a kid, an engagement, or you're just feeling like a baller, Le Bernardin is the spot where native new Yorkers go. And what has made Le Bernardin have staying power, is that it's not your stuffy French restaurant. Everything from the presentation of the Bernardaud china that they serve food on (which is modern and fresh, but classic and beautiful), to the tower of amuse bouche with which every meal begins, plays into the way Le Bernardin has managed to combine in itself a modern vibe, impeccable yet down-to-earth service, and an environment that may have white tablecloths, but it's fun as far as three-Michelin-starred tasting course menus go.
What to order:
The seafood is flawless – you will struggle to find better prepared seafood anywhere else in the city (which makes sense given that in 1972, when the restaurant was started, they initially only served fish for a long time). A highlight of the menu is the salmon, in every form of preparation (available as Almost Raw, Barely Touched, and Lightly Cooked) as well as the Merluza, and the Caviar Tartare. The 'Vegetarian Tasting' part of the menu is also surprisingly amazing. The menu changes all the time, but the standard always remains impeccable.
FAQs
Q: What is the age requirement at Le Bernardin? 
A: The restaurant serves guests age eight and older.
Q: What is a classic dish at Le Bernardin? 
A: A classic dish at this restaurant is raw tuna atop foie gras.
Q: When is lunch available? 
A: Lunch is served noon-2:30p.m. Monday-Friday.
Reservations can be made on resy.
Le Bernardin Information
Address: 155 W 51st St, New York, NY 10019
Hours:
Sunday                         Closed
Monday                        12-2:30p.m., 5-10:30p.m.
Tuesday                       12-2:30p.m., 5-10:30p.m.
Wednesday                  12-2:30p.m., 5-10:30p.m.
Thursday                      12-2:30p.m., 5-10:30p.m.
Friday                           12-2:30p.m., 5-11p.m.
Saturday                       5-11p.m.
Phone number:   2125541515
Map: