Ever since we were at Tasca by José Avillez in Dubai, we haven't been able to stop thinking of the bulhão pato clams. The dish sounds simple, and it is — which is the beauty of it — because it's really just steamed clams in garlic and cilantro. However, when you place it on grilled toast, that's a flavor party waiting to happen. We have the recipe here.

Serves 2 as a meal
Ingredients
2 1/2 pounds Manila clams
1/2 bottle dry prosecco or sparkling wine
1/2 bottle Riesling or other sweet wine
Finely chopped parsley
Finely chopped cilantro
Thinly sliced red peppers, optional
Red pepper chili flakes, optional
1 clove garlic, optional
Olive oil
Fleur du Sel
Meyer lemon
Focaccia or Ciabatta bread
Directions
We'll say it again: the beauty of this recipe is its simplicity. You can have a beautiful meal for two people in ten minutes flat. The dish is healthy and high in protein, but it tastes full-on decadent. This clam toast recipe is about making the individual ingredients and the clams shine.
Rinse your clams well, and make sure to scrub all the dirt and sand from the shells. Next, finely dice your garlic and set aside. In a large deep saucepan, combine the white wine, prosecco, garlic, a touch of salt, garlic and juice of a half lemon and the half lemon itself. Add in the clams and spread in an even layer. Sprinkle in the parsley and drizzle with a generous amount of cooking olive oil. Add in red pepper flakes to taste if you want to add some spice and heat. Bring clams in the wine and prosecco to a boil, then reduce heat to medium and cover. Steam the clams until they're all open, about 4 minutes. Remove from heat.
While the clams are steaming, cut your ciabatta or focaccia in half, and generously spread olive oil and a touch of fleur du sel. In a skillet, toast the bread face side down first until golden brown, about 3 minutes over medium to medium low heat. Flip over and warm for another 1-2 minutes. Set aside.
To serve, you can either scoop clams into a bowl, garnish with the cilantro, peppers and additional olive oil, and a generous amount of broth. Alternatively, I like to take the clams out of the shell and toss them in olive oil, red pepper chili flakes, cilantro and red pepper. Spread the clams in a generous layer on your bread, and garnish with lemon and more olive oil and cilantro. Spoon broth generously over the clams and toast and serve immediately.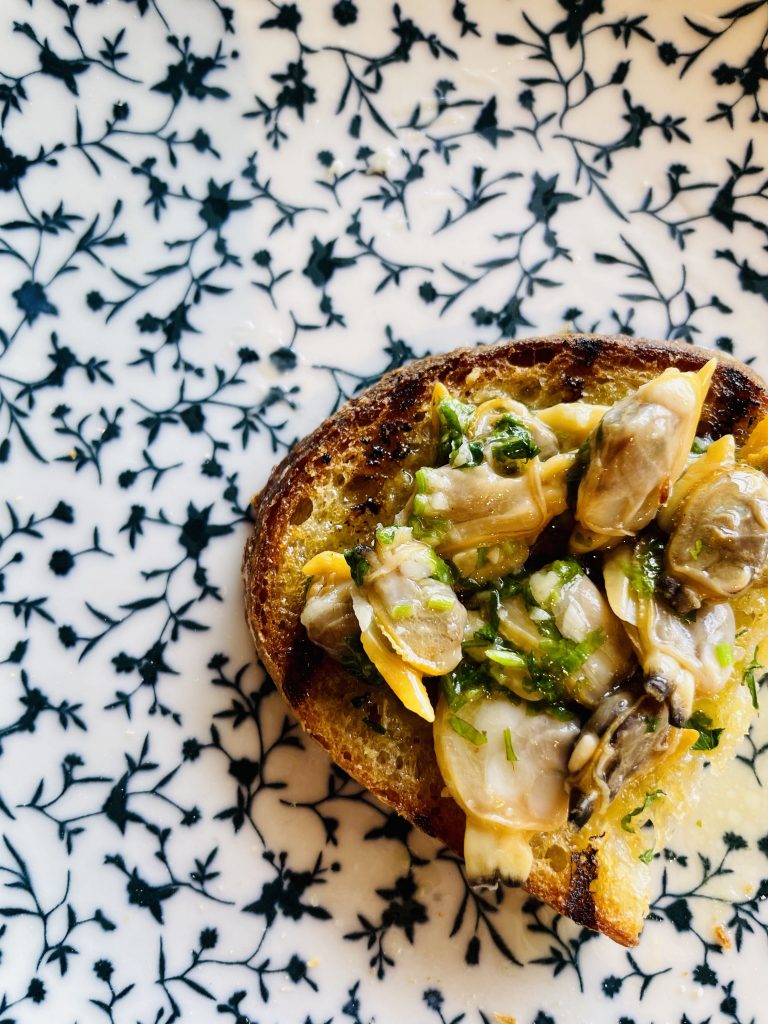 Related Articles:
A Pocket Guide to Lisbon
Linguine with Grilled White Clam Sauce