Everyone and their grandma is traveling this summer. This means that virtually everywhere is overrun and over-booked and even throwing money at the problem doesn't work. But yet you still want in on the action, with specific stipulations. You're looking for somewhere just a little off-grid, yet lively and fun. The best in food and drink. Top-notch hotels. Good people-watching. Maybe learn a little something on the way. Last but not least, you want flights to be easy. In that case, Portugal may be for you, and any trip there should include at least a few days in the Grand Dame city of Lisbon.
Overview
Portugal's capital of Lisbon is known for old-world charm and authenticity.  There's not nearly the foot traffic of London, Paris or Rome, which is part of the reason to come. Lisbon is a European destination where you can soak up the sights, history culture and food and lose yourself for a few days – in the best way possible. The best of Lisbon is all around you; some of the oldest architecture in Europe, charming neighborhoods and an up and coming restaurant and bar scene. This city has an elegant soul, where the crumbling facades and streets that are frozen in time, all tell a story.
Suggested Stay: 4 days
The Lisbon Hotel List
For awhile there, the only real luxury option to stay in Lisbon was the Four Seasons. To put it delicately though, the rooms could use a refresh, and at that, not up to the international standards of luxury. New boutique luxury hotels though have started to pop up around the city, like Memmo and Sublime Lisboa. You still may not come to Lisbon solely for the hotels, but the Four Seasons and boutique options have made it a whole lot more comfortable.
Four Seasons Ritz
Lapa Palace
Memmo Alfama Hotel
Sublime Lisboa
Sublime Lisbon
Hot off the presses, Sublime Lisbon just opened in the Amoreiras neighborhood. Although this is a new hotel, Sublime's hotel group includes Sublime Comporta, one of the best hotels in Portugal  In their new city hotel, they offer 15 suites, all individually decorated in uniquely Portuguese fashion.  The hotel is home to Davvero, an Italian haute cuisine eatery.
Four Seasons Ritz
The Four Seasons Ritz is the most luxurious full-service hotel in town.  With an art-filled interior and exterior views of Lisbon's hills, you'll get a taste of the city before even stepping off premises.  To rise to the occasion of the culinary scene in Lisbon, their Michelin-starred restaurant CURA is one of the top fine dining options in town.
Lapa Palace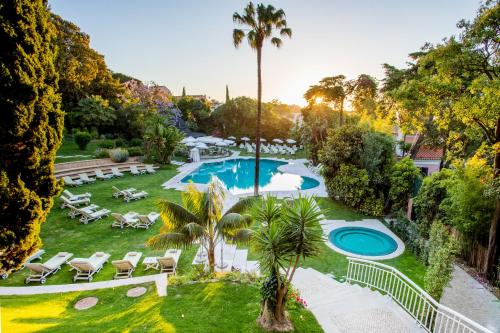 The Lapa Palace is classic hotel in Lisbon, that's beloved by the locals. It isn't the Four Seasons and it could use a refresh, but its grounds are beautiful. Teatime on the terrace is a long-honored tradition, and worth a stop if you're not staying on property.
See
When hitting the best of Lisbon, the DNA of the city are its neighborhoods. Each has their own distinct personalities and feel, but all are so distinctly, authentically, Portuguese. Here's the overview.
Chiado District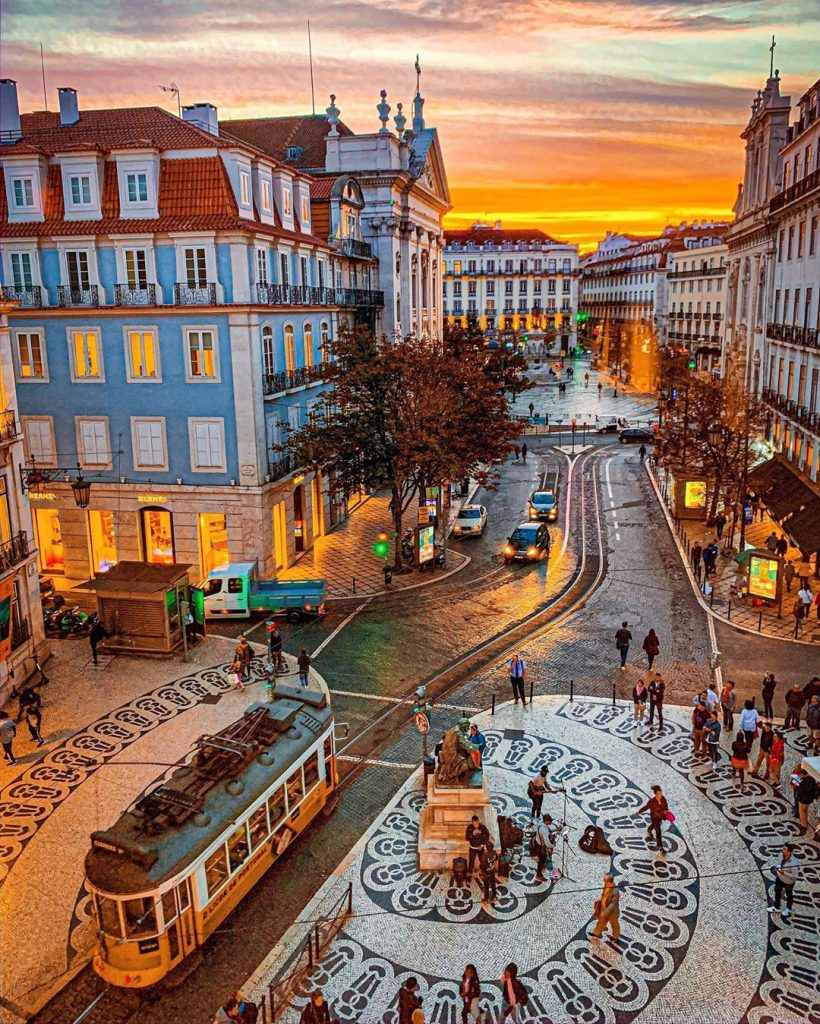 The Chiado District is the SoHo of Lisbon.  So, you can expect luxury boutiques, cutting-edge jewelry and fashion, and a hint of academia. Insider tip: you'll want to keep an eye out for the locally owned luxury brands to take a real piece of Lisbon home. In Chiado, don't forget to stop at the acclaimed Café a Brasileira, one of the oldest cafes that serves up Brazilian-style coffee.
The tourist route continues from here, but the good news is that the city is not overrun with tourism like other European cities.  The city's best view is at the Santa Justa Elevator, where you take it to the top to see Lisbon in its full glory.  Along the way, make sure to stop by the major sites along this route, which include the unmissable Torre de Belém, and Mosteiro dos Jeronimos.
While in the area, you'll also want to make sure to take a walk on the Docas, aka the docks. By the water's edge, you'll also discover Ponte 25 de Abril, a bridge that commemorates Portugal's independence.  This area is where to wind down after your day of playing tourist in Lisbon, and is full of waterfront restaurants and bars.
Alfama District
The Alfama District is all about slipping backward in time, fast. We like to think of this as the East Village of Lisbon. Alfama is frozen in time, with its cobbled streets, clotheslines, and antique shops. This area is reminiscent of what Lisbon was in decades past.  For the cool and creative, Bairro Alto offers a youthful art scene and trendy boho bars. This is also where you'll hear the famous Fado, (more on that below) so grab a cocktail and get ready to sing the blues.
Two Tourist Spots
We know you pride yourself in traveling like a local, no matter where you are in the world. But if this is your first visit to Lisbon, these are two spots that are a rite of passage.
Antiga Confeitaria de Belém
This pastry shop is home to the best custard cakes, known as the pasteis de nata, in Lisbon. The pastries are served up straight from the oven, and as we like to say, you never forget your first pastels de nata. There's a reason why the cafe is always crowded with both locals and tourists.
Casa de Linhares
Considered the spot where Fado originated, Casa de Linhares is where you go to be a tourist. Fado is the Portuguese equivalent of the blues, where the culture has a thing for heart-wrenching sadness. To add to the mood, Casa de Linhares is set in an old palace, that was damaged in an earthquake and retained much of the original rooms.
Side Trips
No trip to Lisbon is complete unless you head to the charming fishing village of Cascais and to the castle town of Sintra. In Cascais, plan to wander through town and eat at a local seafood restaurant. Restaurante Mar do Inferno is a destination itself, and one of the top in Cascais.
Sintra is like the Garden of Eden, where you wind through the forested roads to the Pena Palace. There's also a Moorish castle, the Castelo dos Mouros, to walk along and take in some of the best views of Sintra.
The Lisbon Restaurant List
We don't mean to bury the lede here, but eating is a highlight in Lisbon. Lisbon is one of the buzziest food scenes in Europe right now, in part because of Chef Jose Avillez.  Chef Avillez has about 16 restaurants in Lisbon, so make sure to put at least one of them on your list. His flagship Belcanto is Michelin-starred, and brought him international acclaim in the culinary world. His empire now extends to London and Dubai. Chef Avillez elevates even the most simple preparations, like his traditional clams, where we had to copy the recipe.
This list are the essential places in Lisbon, but really if you popped into any tasca, which is a traditional Portuguese tavern, you're bound for good food. Fresh fish and seafood are grilled up for you, and enjoyed with a nice cold Portuguese beer.
Alma
Bairro do Avillez
Belcanto
Bistro 100 Maneiras
Cervejaria Ramiro
Cura
Eneko Lisboa
Pateo
Restaurante Mar do Inferno (Cascais)
The Lisbon Drinks List
Mini Bar
Palacio Chiado
Red Frog
Related Articles
Sublime Comporta in Portugal
Four Days You Need in Portugal
A Guide to San Sebastian 
FAQ's
Which hotels in Lisbon are the best?
When in Lisbon, the best hotels to stay in are the Sublime Lisbon, Four Seasons, and Lapa Palace.
What eats are the best of Lisbon?
When in Lisbon, make sure you grab a bite at one of Chef Jose Avillez's 16 restaurants, and Antiga Confeitaria de Belém.
What neighborhoods in Lisbon are essential to visit?
Make sure to hit the Chiado District, the Alfama District, and Bairro Alto when visiting Lisbon.
Map: