Tis the season, and if there's ever a time when it's apropos to break out the caviar, this is it. Caviar has changed, though: It's more international than ever. Yes, the Caspian Sea will always be legend. But there are some incredible eggs coming out of France — and even Uruguay. And we're sharing some of these caviar dream recipes with you.

Smoked Salmon Rolls With Caviar Topping
Black River Caviar
When you're looking for the best caviar recipes, you go to the experts. And Black River Caviar certainly knows its stuff. The family team of caviar producers has practiced sustainable, zero- waste methods for over 20 years. Their practices have gifted us all with access to caviars from a variety of fish, from the rare Beluga to the more common Siberian Baerii. And we are very grateful. These smoked salmon rolls are like Black River's love letter to the Tradition Oscietra. Its lively, bright flavor is paired with buttery smoked salmon to create the perfect appetizer.
Ingredients:
Yields 15 servings
200 g sliced of smoked salmon (7 oz)
200 g of Philadelphia cheese (7 oz)
12 green asparagus spears
1 tbsp. of capers
1 tsp. of dill
3 tbsp. of extra virgin olive oil
Freshly ground green pepper to taste
1 baguette
100 g of Black River Caviar (3.5 oz)
20 g of sugar-coated ginger (0.7 oz)

Directions:
Place the Philadelphia cheese in a ceramic bowl and incorporate the finely chopped capers. Season with dill, freshly ground green pepper, and extra virgin olive oil. Combine the ingredients. Cover and set aside.
To prepare the rolls, on a cutting board place a sheet of plastic wrap and lay 1 or 2 salmon slices so that they barely overlap. Use a spatula to cover the salmon with the Philadelphia cheese mix and close the roll using the film. Close the ends by twisting the roll to enclose the filling and to make it a uniform shape. Refrigerate.
Cook the asparagus in salted boiling water until they are tender but firm. Remove and place in cold water to stop the cooking process. Strain and set aside.
To prepare the toasts, cut the baguette on the bias to get larger slices. Preheat the oven to 180 °C (356 °F) and evenly toast the bread.
Cut the salmon rolls in slices of approx. 1 cm (less than half an inch) thick. Prepare the toast with the salmon rolls on one side, topped with the asparagus tips, and a teaspoon of Black River Caviar and a touch of sugar-coated ginger.

Best-in-Show Deviled Eggs
Trufflin Notorious Caviar
We've noticed a common theme among all our favorite caviar recipes. You take something classic (dare we even say basic), throw a dollop of caviar on top, and suddenly it's magic. Case in point: these deviled eggs. They are fabulous enough on their own, with crispy bacon and creamy dijon providing the deviled-egg taste we all know and love. But a touch of Trufflin Notorious Caviar throws a salty, nutty curveball into the mix — one that will have you coming back for seconds, and thirds.
Ingredients:
Yields 15 servings
A dozen eggs, hardboiled
1/2 – 1 cup of kewpie mayonnaise
3 tbsp of dijon mustard
2 tbsp of chopped chives
1 cup of cooked bacon or pancetta, diced
Salt and pepper to taste
Dill, for garnish
50 grams of Trufflin Notorious Caviar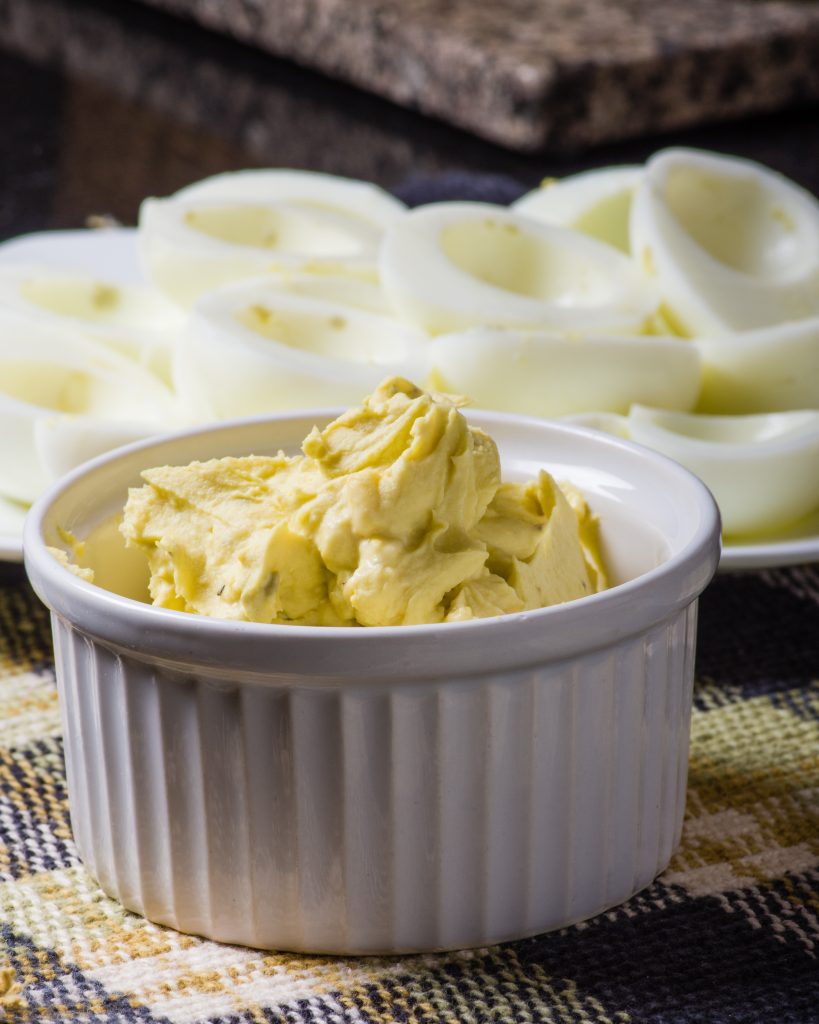 Directions:
Once your eggs are boiled, drain the pot and fill it with ice water. Let the eggs sit in the water until they are completely cooled. Peeling them in the water will allow the shells to come off easier, and help with cleanup.
Cut each egg in half. Carefully scoop out the yolks and add them to the bowl of your stand mixer. Set the whites aside.
To the yolks, begin to add the mayonnaise. Start with 1/2 cup, then add more if the texture still feels grainy. Mix until smooth, then add the dijon mustard, chives, bacon, or pancetta and salt and pepper to taste. Mix until just combined.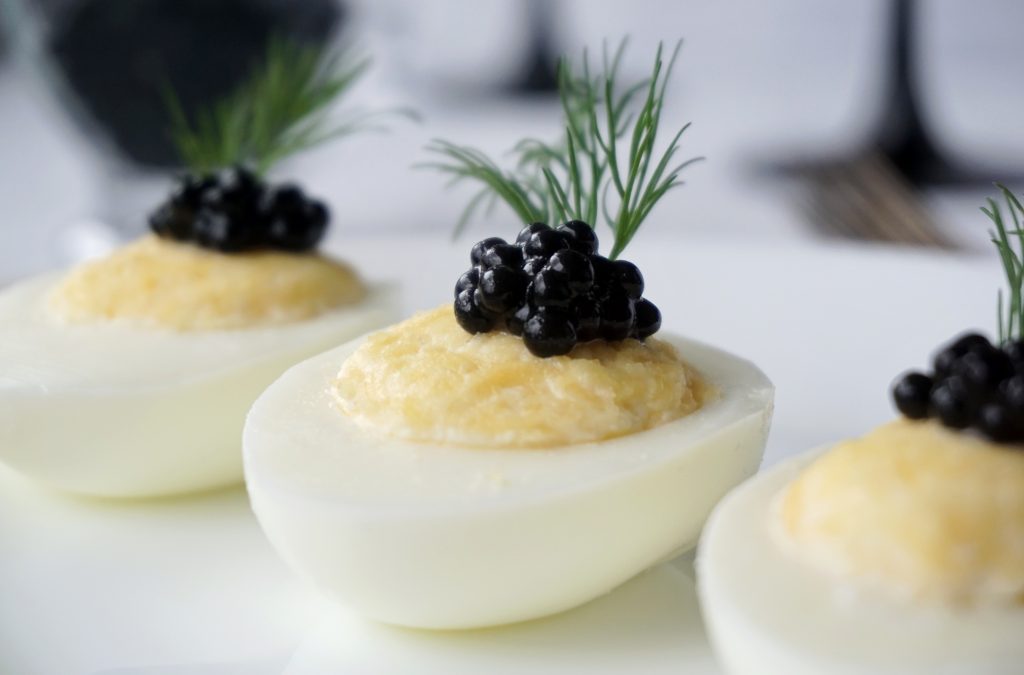 Add the mixture to a large Ziploc or piping bag, cutting the corner to pipe the yolks back into the whites. Garnish each egg with a dollop of caviar and a sprig of dill.

Caviar Baked Potato
The Nines
Inspired by the star of The Nines' menu, this baked potato is sure to be the star of your dinner, too. It can be served as a starter or a main, but we can't guarantee you'll be okay with sharing. This might be our favorite caviar recipe. Fluffy, creamy mashed potatoes get spooned into crispy potato skins and topped with the finest fish eggs. It's everything you love about the ultimate comfort meal, elevated.
Ingredients:
4 large russet potatoes
3/4 stick of organic salted butter
4 oz of sour cream + 4 oz more for serving
3/4 cup of whole milk
Chives
Maldon sea salt
Olive oil
200 g of Black River Caviar or your favorite caviar of choice

Directions:
Begin by preheating your oven to 400 degrees.
Wash your potatoes well and pat them dry. In a large bowl, toss the potatoes (skins on) in olive oil and Maldon sea salt until fully coated. Next, place a piece of tin foil on the second rack of your oven. Place the seasoned potatoes directly on the wire rack and don't wrap them in the foil. Bake for 50 minutes or until the potatoes are fork tender.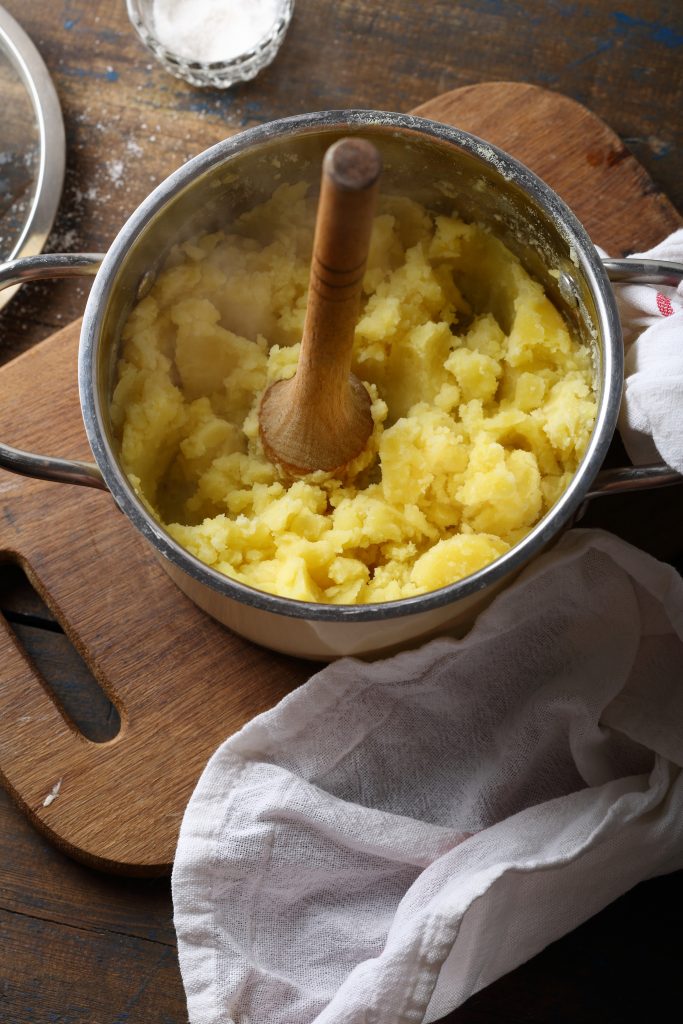 Remove the potatoes from the oven and immediately cut them in half. Carefully scoop out the flesh of the potatoes into a bowl, making sure to keep the skins intact. Set the skins aside. Next, work the butter into the potato filling until well incorporated, using a potato masher. Next, add the milk and continue to mix until just combined. Fold in the four ounces of sour cream and season well with salt and chives. 
To the potato skins, add the mashed-potato mixture. Place the filled potatoes on a foil-lined baking tray and put them back in the oven for an additional 20 minutes. The top should be just crispy and broiled, so keep a close watch and don't over-bake them
. 
Remove from the oven and add a pat of butter to each potato, then top with 50 grams each of caviar. Serve with extra chives and sour cream on the side of each potato.
Related Articles: