We know, you've been on your clean diet for 11 days now. And we know it's hard as heck. We're not saying to go all out and order cheese fries, but maybe there's a compromise. Like clean protein (salmon), antioxidants (mushrooms), and good old vitamin D (spinach), all wrapped up in puff pastry. Because life is all about balance.
Salmon Wellington
We're calling it a Salmon Wellington recipe, but you could also call this Salmon en Croûte. Which is just French (fancy) for any meal wrapped in pastry dough and cooked in the oven. Whatever you want to name it, it's the perfect meal for your Oscar party, a weekday date night, or really any occasion. Putting a spin on the classic Wellington formula, earthy mushrooms are balanced out with a creamy spinach-and-cheese mixture. Plus, folding breadcrumbs and parmesan into the spinach gives the dish a luxurious Oysters Rockefeller feel. 

Ingredients For Salmon Wellington Recipe
1 salmon filet, 1-3 lbs
1 leek
3 tbsp of olive oil
2 tbsp of salted butter
4 cloves of garlic
1 shallot
Zest of 1 lemon
1 tbsp of fresh thyme
12 ounces cremini mushrooms
¼ cup of dry white wine
1 tbsp of crème fraîche
2 cups of baby spinach
3 tbsp of panko breadcrumbs
3 tbsp of shredded parmesan cheese
1 egg, beaten with 1 tsp of water
1 tsp of dijon mustard
Kosher salt and freshly ground pepper
All-purpose flour, for dusting your work surface
2 sheets (1 pack) of puff pastry, defrosted
Ingredients for Truffle Thyme crème fraîche recipe
½ cup of crème fraîche
1 tbsp half and half
2 tbsp of chopped fresh thyme
½ tbsp of  truffle oil
Salt and pepper to taste
Directions:

Prep
Begin by preheating your oven to 400 degrees Fahrenheit. Line a baking sheet with parchment paper. 
Wash and slice your leeks. Next, mince the shallot, mushrooms, garlic, and thyme. In a large pan over medium heat, sauté the leek, spinach, 2 cloves of garlic, and lemon zest in 3 tbsp of olive oil. Cook until the leaves are wilted, then add the breadcrumbs and parmesan and season with salt and pepper. Take off the burner and put in a shallow bowl to cool. 
Next, wipe the same pan with a paper towel. Add your salted butter and shallot, sautéing over medium heat until it's transparent and fragrant. Add the garlic, mushrooms, and thyme. Cook for about 5 minutes or until softened, stirring occasionally. Stir in the white wine and reduce the mixture over high heat until the liquid is cooked off. Remove from heat and add crème fraîche, dijon mustard, and salt and pepper to taste. Spread the mixture out on a baking sheet and place it in the refrigerator to cool completely. 
Assembly
While your mixtures cool, sprinkle your salmon filet with salt and pepper on both sides. Set aside. Next, on a lightly-floured surface, roll both sheets of puff pastry into two even, large rectangles. Place one rectangle on your parchment-paper-lined baking sheet, and spoon the cooled mushroom mixture into the center. Do your best to shape it into approximately the same shape/size as your filet. Then, place the filet on top of the mushroom mixture, pressing down slightly. Spoon the leek-and-spinach mixture on top of the filet, smoothing it out so it doesn't spill over the sides.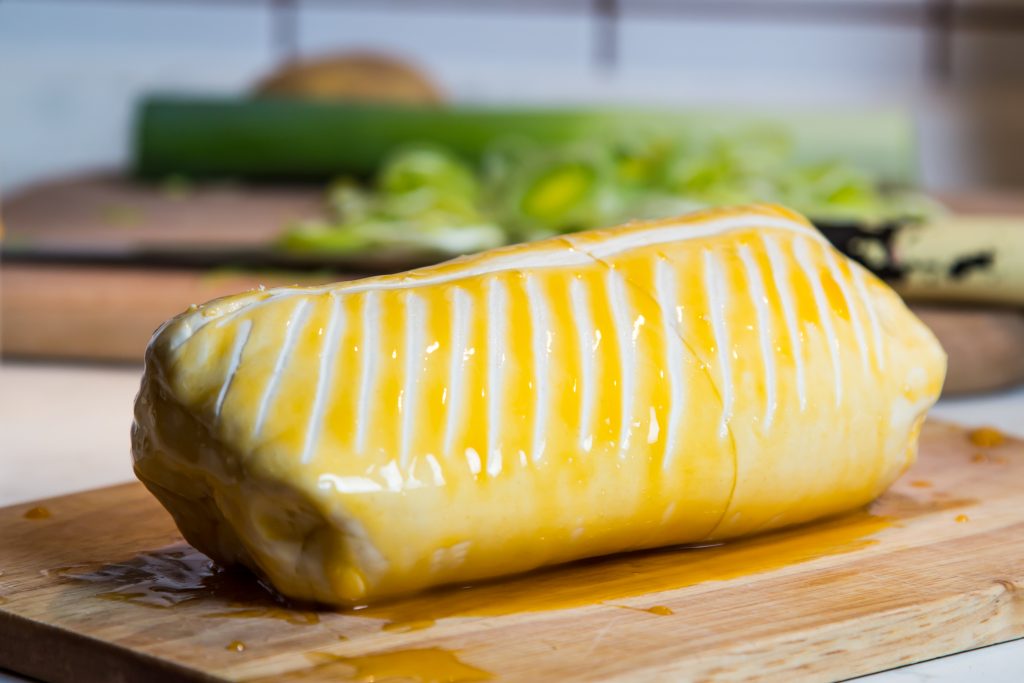 Brush your egg wash along all the sides of the puff pastry. Lay the second rectangle of pastry over top of the salmon, pressing down on the sides to connect the two pastry sheets. Trim off any excess pastry and brush the top and sides of the pastry with more egg wash. For a classic Wellington presentation, use a paring knife to score shallow diagonal lines to create a crosshatch pattern. Brush the top once more with egg wash. 

Bake & Serve
Bake for 20-25 minutes, until the pastry is puffed and golden brown. Let sit for 5 minutes before serving. While sitting, whip up the crème fraîche. In a small bowl, whisk together the crème fraîche, half and half, truffle oil, thyme, and salt and pepper to taste. 
To serve, sprinkle the Wellington with more fresh thyme and add a few dollops of the truffle crème fraîche. 
Related Articles
Mini Salmon Wellington with Caper Cream