Once you get a taste of real Brazilian food, you're more likely than not going into addiction territory. What's better than meat on a grill? Maybe the classic cheese bread, right out of the oven. Or pumpkin shrimp that you never knew you needed in your life. Here are a few classic Brazilian recipes to put on the dinner menu tonight.
Camarão na Moranga (Shrimp in Pumpkin)
We firmly believe that the cooler a food's history is, the better it's going to taste. And when it comes to Camarão na Moranga, the back story is as interesting (and bizarre) as it gets. Allegedly, Cinderella pumpkins (Morangas) were originally planted and harvested in Bertioga, a city on the coast of São Paulo. The pumpkins became a prized trade item, as the local population believed that when roasted, the seeds had natural healing properties that acted as an alternative for Western medicine. Urban legend has it that one day, one of these pumpkins fell into the ocean and emerged on a beach weeks later. When the owner of a restaurant on the island stumbled upon the pumpkin and discovered it was filled with shrimp from its time in the ocean, she had an idea. And thus, Camarão na Moranga was born, and has been a classic Brazilian recipe ever since. Whether it's folklore or truth, all we know is we're forever grateful to that seaside chef and her alleged genius. 
You won't find Camarão na Moranga on any old day in Brazil– the standout centerpiece is typically reserved for dinner parties, holidays, birthdays and anniversaries. Its dramatic presentation is a celebration in and of itself, and perfect for serving (and wowing) a crowd. Whether you're saving it for a special occasion or just using it as an excuse to treat yourself, prepare to be hooked.
Ingredients:
One large Kabocha pumpkin, thoroughly washed and dried
2 large shallots, minced & divided
6 tbsp olive oil
1 jalapeño pepper, diced
5 cloves garlic, minced
Salt and freshly ground pepper to taste
2 lbs raw shrimp
1 bay leaf
Juice of one lime
2 tbsp salted butter
A pinch of MSG (optional)
1/2tbsp garlic powder
1/2 tbsp onion powder
2 tsp smoked paprika
5 Roma tomatoes, diced
2 tbsp flour
1/2 cup heavy cream
7 oz coconut milk
1/4 cup fresh cilantro, finely chopped
1 cup softened cream cheese
1/3 cup freshly grated parmesan cheese
Directions:
Begin by preheating your oven to 350 F. Next, prepare your shrimp. They should be cleaned, peeled, and deveined, with the heads and tails removed.
Use a sharp pairing knife to cut around the outline of the pumpkin stem, cutting a large enough hole to reach inside. Remove the stringy interior and discard. Bonus points if you save the seeds to roast for a salad or baking project.
Next, add 1/2 a minced shallot, 2 minced cloves of garlic, 2 tbsp olive oil, and salt and pepper to a food processor. Blend until it reaches a paste consistency. Spread the paste mixture all over the inside of the pumpkin. 
Rub the outside of the pumpkin with 1 tbsp olive oil. Place the top of the pumpkin back on and roast in the oven for 45 to 50 minutes, or until softened. Remove from the oven and set aside. 
To Make the Stew:
Next, season the shrimp generously with lime juice, salt, pepper, onion powder, garlic powder, MSG, and smoked paprika.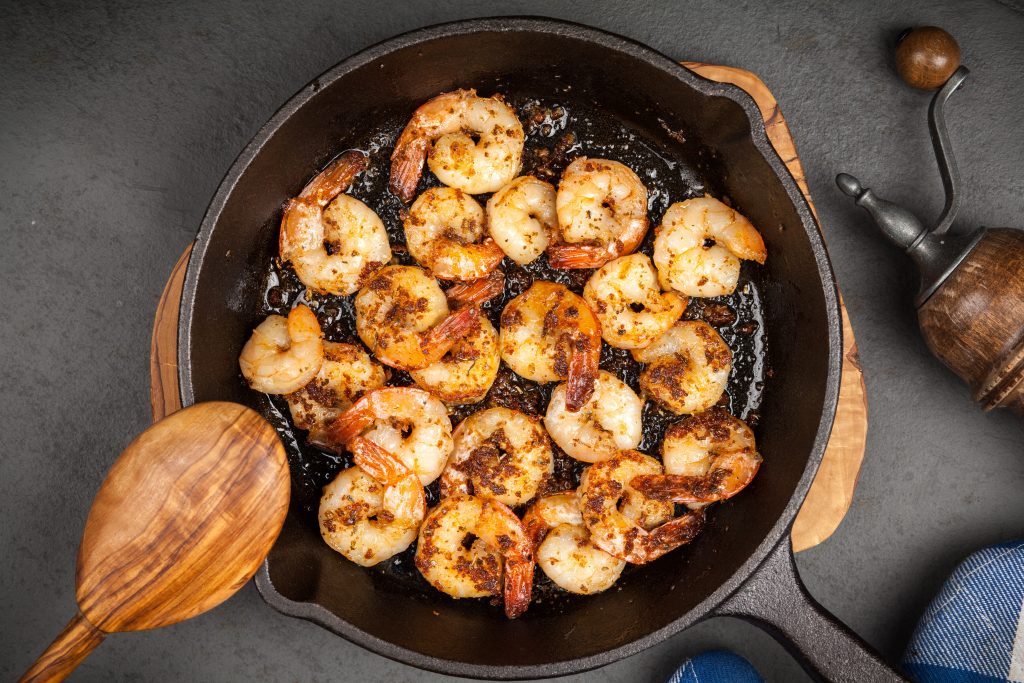 In a dutch oven, heat 2 tbsp of olive oil over medium-high heat. Once hot, add the shrimp and sear until just cooked, about 2-3 minutes per side. Remove once cooked and set aside. Add 2 tbsp of butter to the pot, along with the remaining minced shallots. Sauté for about 4 minutes, or until translucent. Next, add the garlic and jalapeño and season with a pinch of salt. Continue to cook for an additional 4 minutes or until fragrant. 
Add the tomatoes and bay leaf. Cook for another 6-8 minutes, stirring occasionally. Season again with salt and pepper. While the tomatoes cook, make a thickening mixture with the flour and coconut milk. Whisk together in a small bowl until thoroughly combined.  
Once the tomatoes are cooked, add the flour and coconut milk mixture to the pot and mix well, making sure there are no clumps. After the mixture has thickened to your desired consistency, stir in the heavy cream and cilantro.
Return the shrimp and its juices back to the dutch oven, stirring to combine. Taste and adjust seasoning as needed before removing from the heat and setting aside.
Next, use a paper towel to gently wipe the inside of the pumpkin. This will remove any excess moisture. Using a spatula, spread the cream cheese evenly across the inside of the pumpkin. Make sure to cover all sides and the bottom.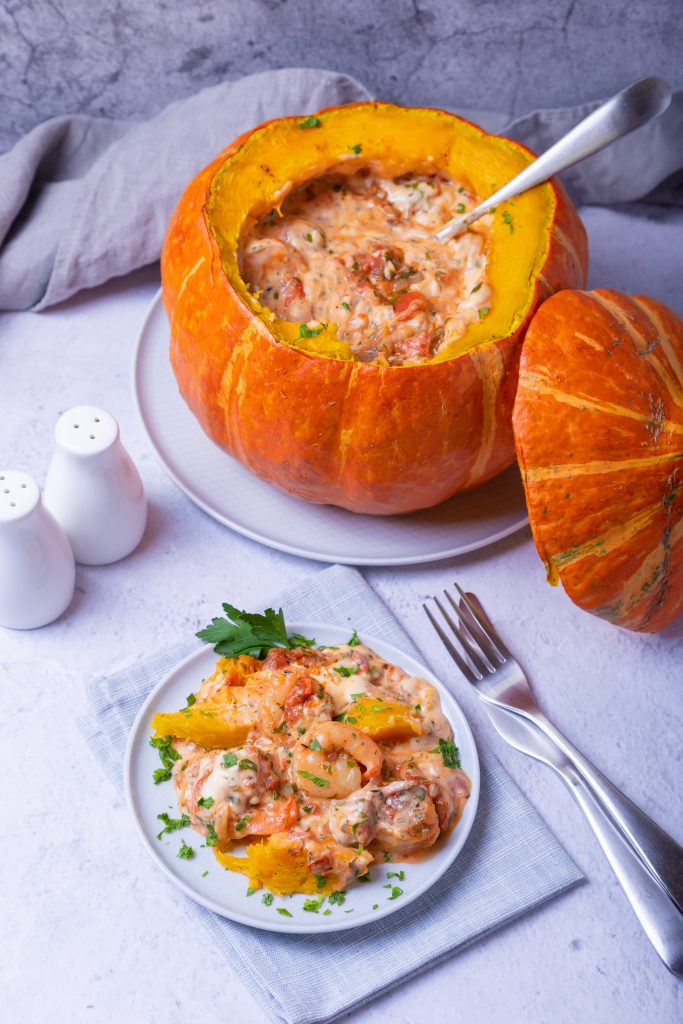 Carefully transfer the shrimp stew into the pumpkin. Top with parmesan cheese and bake for an additional 15-20 minutes. You'll know it's done when the pumpkin is softened and the top of the stew is bubbly and golden. 
Garnish with the remaining cilantro and serve with white rice.
Pão De Queijo (Brazilian Cheese Bread)
Introducing: the unsung hero of the international bread basket. You'll find pão de queijo, Portuguese for "cheese bread", at pretty much any Brazilian gathering. The dish goes all the way back to the 14th century, when the indigenous Guarani pounded native cassava to make small, fluffy balls of bread. By the late 19th century, Southeastern Brazil had become well-known for their dairy products, meaning home cooks could add cheese to the classic bread recipe. These regional influences caused the snack to boom in, and for good reason. They're shatteringly crisp on the outside and filled with chewy, fluffy goodness that practically melts in your mouth. They also can be easily prepped and stored in the freezer for later use. We recommend making and freezing an extra stash– your future self will thank you. 
Ingredients:
1 ½  cups freshly grated parmesan cheese
10 oz Queso Fresco, crumbled
1 ¼ cup whole milk
¼ cup
4 cup tapioca flour
¼ cup vegetable oil
½ cup water
2 large eggs
2 tsp salt

Directions:
First, preheat your oven to 350 degrees fahrenheit. In a small saucepan over medium heat, combine the milk, oil and 1 tsp of salt. Bring to a simmer.
While waiting for the mixture to simmer, combine the tapioca flour and remaining tsp of salt in a large bowl and set aside. Next, in a medium bowl, whisk together the cheeses and egg and set aside. Once the liquid is simmering, remove from the heat and immediately pour into the tapioca mixture. Use a wooden spoon to stir. Don't worry if it looks clumpy– the mixture will come together later. 
Wait for the mixture to cool, about 10-15 minutes. Once it is cool to the touch, stir in the egg and cheese mixture, either using a wooden spoon or your hands. After it's been thoroughly combined, the mixture should be soft enough to roll into a ball, with a few white specks of tapioca throughout the dough.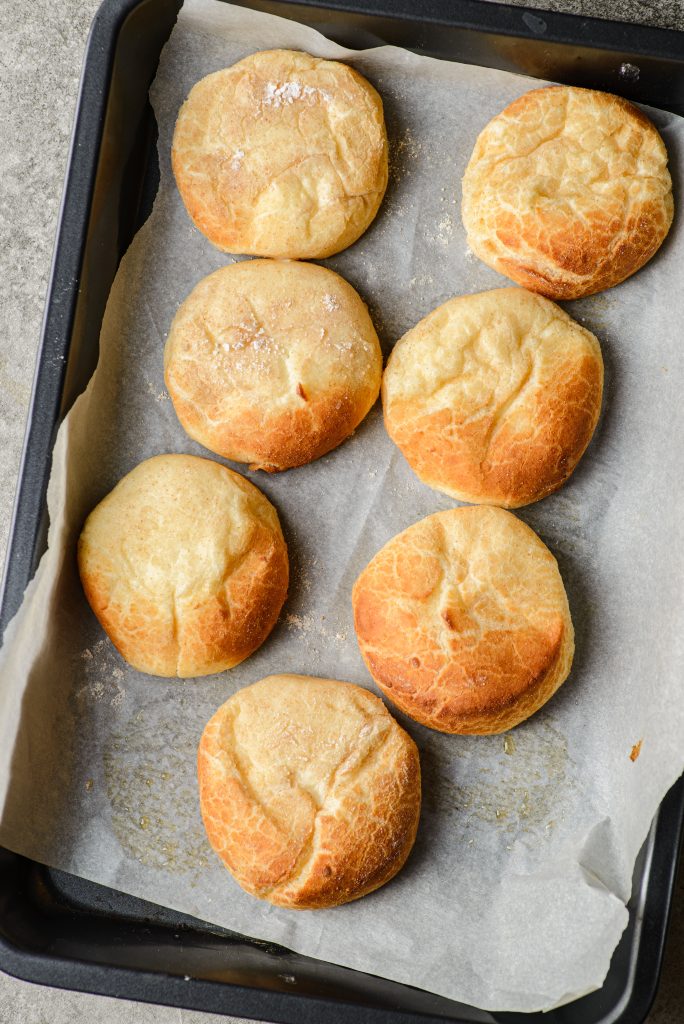 Oil your hands and scoop out 2 tbsp proportions at a time, rolling them into balls and arranging them on a baking sheet about 2 inches apart from each other. Bake for about 30 minutes or until fluffy and golden brown.
Related Articles