We know, you're gluten-free, dairy light, and Keto during the week. You've done every cleanse prescribed by GOOP. Twice. When it comes to diet, you're serious about eating right. But we have to break it to you: You're missing out — big time, actually — by passing on the breadbasket. Around the world, bread is an expression of culture, and there's nothing like it straight out of the oven. 
It's sort of the universal language if you think about it. In every culture, every country, even every family, you'll find it: the bread recipe. If we put our diets aside for just a moment, we'll find in the breadbasket a symphony of flavors, histories, and stories. That's why we're doing a deep dive on the bread of the world: a collection of carbs that spans two continents and four countries.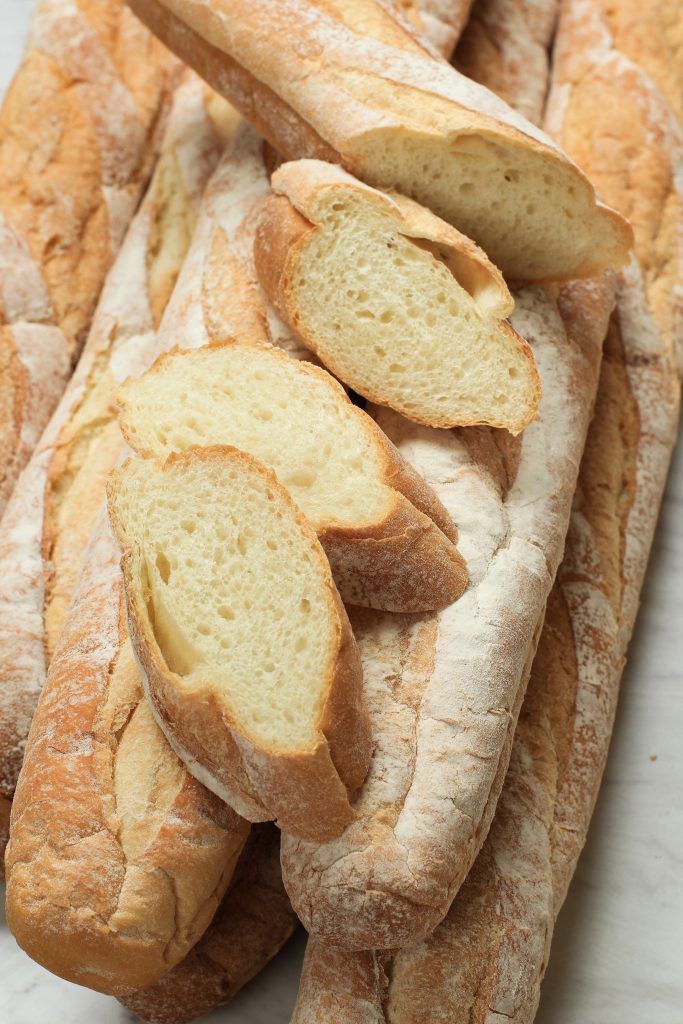 Baguette
France
Undoubtedly the most iconic French food, baguette translates to "wand," or "baton." A symbol of French life, the long, thin shape is rumored to have been invented so that Napoleon's soldiers could carry bread more easily during troop movements. Whatever the true origins may be, the baguette has been a staple of French meals and American breadbaskets alike for over 100 years. Reserve them for
stacked sandwiches
or to simply eat with
fresh butter
. Here's how to make a batch at home.
Yields: 6 baguettes
Ingredients
700 grams of flour
2 tsp of salt
1 1/2 tsp of instant yeast
530 ml of water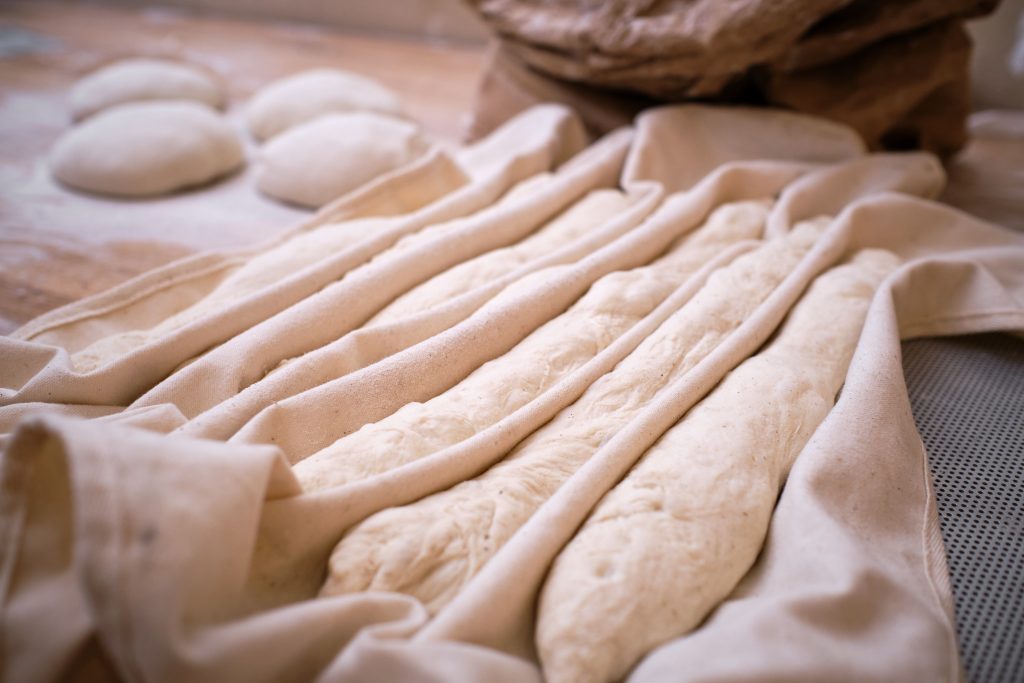 Directions
Begin by adding the dry ingredients to a large bowl, whisking well. Next, add the water and combine everything thoroughly. Cover the bowl with a clean towel and keep it in a warm, dry place for two hours or until the dough has doubled in size.
After the first proofing, take the dough out of the bowl and divide into six even pieces, about 250 grams each. Round each piece into a ball of dough, pulling the edges into the center. Cover the balls with a damp cloth and let rest about 45 minutes.
Next, begin to shape your baguettes. One piece at a time, flatten the dough ball slightly. Fold the piece almost in half, but not fully. Seal the edges with the heel of your palm. Then gently roll the dough into a log using cupped fingers. The log should be the size of your pan.
For the final proofing, place the logs seam-side down on a parchment-lined sheet pan. Cover with a damp cloth and and let rise until the dough is slightly puffed, about 45 minutes to an hour. The logs should look lighter than they did in the first shaping, but they won't be dramatically larger.
Preheat your oven to 450 degrees. Using a very sharp knife, make three long, lengthwise cuts in each baguette. Place your sheet pan of baguettes in the oven, along with a cast-iron skillet filled with boiling water. The steam from the skillet will allow the baguettes to rise and give them a beautiful crust. Bake for 24 to 28 minutes or until they are a deep, golden brown. Remove from the oven and cool on a rack.
Focaccia
Italy
Another widely-debated source of food history; most historians believe the crispy, fluffy bread originated with either the Etruscans of North Central Italy or in Ancient Greece. Whoever invented it, we are forever grateful for this contribution to our list of favorite carbs.
Load up your loaf with anything you'd like, from olives to roasted garlic to squid ink. While the process takes a bit of planning, we promise it's worth it.
Ingredients
4 cups of bread flour
2 tsp of kosher salt
Butter for greasing
2 tsp of instant dry yeast
2 cups of lukewarm water
4 tbsp of olive oil, divided
Flaky seat salt
2 teaspoons of whole herbs, such as rosemary or thyme

Directions
Begin by making your dough. In a large bowl, combine the flour, salt, and instant yeast. Mix in the water with a rubber spatula, allowing the dough to form into a sticky ball. Rub the surface of the dough lightly with olive oil and cover the bowl with plastic wrap. Refrigerate for at least 12 hours, or up to three days.
Line a 9 x 13-inch pan with parchment paper, or grease heavily with butter. Pour a tablespoon of oil into the center of the pan.
Remove the dough from the fridge and begin to deflate it. Use two forks to release the dough from the sides of the bowl, pulling it toward the center. Rotate the bowl as you deflate, forming your dough into a rough ball. Place the ball in your prepared pan, rolling the dough in the oil to ensure it is thoroughly covered. Let rest for 3 to 4 hours.
Preheat your oven to 425 degrees, with a rack set in the middle. Sprinkle the herbs all over the dough, as well as two tablespoons of olive oil. Rub your hands slightly in oil. Then, using your fingers, press straight down into the dough to create dimples. Gently stretch the dough as you press down, allowing the dough to fill the pan. Sprinkle with flaky sea salt.
Bake the focaccia for 25 to 30 minutes or until the bottom is golden and crisp. Remove it from the pan and transfer to a cooling rack, allowing it to cool for 10 minutes before cutting.
Soda Bread
Ireland
A simple yet hearty staple, this is the classic vessel for soaking up thick stews or lathering creamy salted butter. The Irish tradition of soda bread began in the mid-1800s, when baking soda was first introduced to the country. It was a time of widespread poverty and famine, leaving Irish families to resort to the cheapest and most basic ingredients. And, hence, soda bread was born. Here we took inspiration from Ina Garten's festive soda bread with orange and dried currants. This is the bread to make if you're looking for something a little less involved. The dough comes together in one bowl, there's no rising and little kneading required, and you can have a beautiful loaf of bread in a little over an hour. What more could you want?
Ingredients
4 cups and 1 tbsp of all-purpose flour, divided
1 tsp of baking soda
1 1/2 tsp of kosher salt
4 tbsp (1/2 stick) of cold, unsalted butter, cut into 1/2-inch cubes
1 3/4 cup of cold buttermilk, shaken
1 large egg, lightly beaten
4 tbsp of sugar
1 tsp of grated orange zest
1 cup of dried currants
Directions
Preheat your oven to 375 degrees and line a sheet pan with parchment paper.
In the bowl of an electric mixer, combine the four cups of flour, sugar, baking soda, and salt. Using the paddle attachment, add the butter and mix on low speed until the butter is mixed into the dry ingredients.
In a measuring cup, lightly beat together the buttermilk, egg, and orange zest. With the mixer on low, slowly add the buttermilk mixture to the flour mixture. Combine the currants with a tablespoon of flour and fold into the dough. You should have a very wet mixture.
Dump the dough onto a well-floured board and knead it a few times into a round loaf. Place it on the sheet pan and lightly cut an X into the top of the bread with a serrated knife. Bake for 45 to 55 minutes, or until a toothpick comes out clean. Cool on a baking rack and serve warm.

Milk Bread
Japan
Developed in Japan in the 20th century, milk bread has quickly gained popularity in the U.S. over the past few years. It's become the top trendy item to have on your restaurant menu, and food writers across publications have flocked to understand the sudden stateside phenomenon. To us, it's not in any way surprising: the sweet, fluffy texture is irresistible. Bake your milk bread in a sandwich loaf for chicken katsu sandwiches, or shape it into round rolls filled with jam. Fun fact: Milk bread is also what panko bread crumbs are made of. In the unlikely case of leftovers (it's that good), blitz up the stale ends of your bread in the food processor and use the crumbs to fry up some super-good, from-scratch cutlets.
Yields: Two Loaves
Ingredients
4 2/4 cups of bread flour
1 3/4 cups of milk
2 1/4 tbsp of sugar
1 2/3 tbsp of butter
2 tsp of sea salt
3 1/3 tsp of active, dry yeast
2 1/4 tsp of dough enhancer
Directions
Using the dough hook of your stand mixer, mix together the flour, milk, sugar, salt, yeast, and dough enhancer on the lowest setting. Once there are no more bits of dry flour, add the butter and beat on high speed. You'll know the dough is ready when it forms a smooth, glossy ball. Timing will vary, but it should take about 10 to 13 minutes.
Next, keeping its form, place the ball of dough in a well-oiled container. Let rest in a warm environment until the dough has doubled in size.
Once doubled, place the dough on a well-floured surface. Divide into six even pieces, rolling each piece into a ball. Loosely cover with a towel and let rest for an additional 15 minutes.
Next, roll each ball into a flattened oval shape. Folding the dough twice, bring the top and bottom thirds over the center, using a letter-fold technique. Then roll the dough into a spiral shape, pinching the seam closed. Place three spirals in each loaf pan, yielding your two loaves.
Preheat your oven to 365 degrees while allowing the bread to complete its final proof. Let rest in a warm humid place until the dough has doubled in size.
Bake for 20 minutes, or until golden brown. For an extra glossy crust, brush egg wash all over your loaves when they're fresh out of the oven. Let cool before removing from pans.