Summer is an egalitarian time in NYC, and everyone can enjoy a penthouse view. You know those perfect nights when the skyline looks like it was designed as a backdrop for rooftop cocktails. These are the places to know; some nearly impossible to get into and a few other hidden gems that make New York City so special.
You know that it's the unofficial start to summer in the city, when it's time for rooftop drinks. You just want to be outside, and this time of year if prime to take in the New York City views. Some of the best rooftop bars in NYC are private, like the Aman New York, where you have to be a hotel guest or rarified member of the Aman Club. There's also The Ned, which is the former NoMad hotel. We didn't think it was possible to top the original, but The Ned blew out the design and decor.
So are you shut out of the best rooftop bars if you don't have a membership? The answer is a resounding no. These rooftop bars are where you can sit back, relax, and take in the greatest city on earth. Just don't forget your sunscreen.

Nubeluz by Jose Andres
Location: NoMad
If there is one rooftop to visit, it's Nubeluz in the new-ish Ritz Carlton hotel. Nubeluz is an upscale bar where an attractive and upscale crowd come to indulge in cocktails and bar bites. This place gets extra props, because it's the creation of, José Andrés, one of the best human beings on earth. Seriously, his non-profit World Central Kitchen has served an astounding 300 million meals. So don't feel guilty about ordering the caviar service; it's all for a good cause.

The lush lounge features cozy seating and large windows with panoramic views of downtown. As this is the top of the Ritz, you should dress to impress — and to take photos. The Instagram worthy views are matched by creative mixology, with smoky and colorful drinks all over the menu. Bar bites include oysters, truffle grilled cheese, and of course, oysters.

Overstory
Location: Financial District
As far as dramatic views go, SAGA may be one of the best rooftop bars not only in NYC, but the world. It's tough to beat the 64rd floor of a landmark Art Deco tower. Overstory is the cocktail bar above fine dining restaurant SAGA, and lets you take in 360 degree views of NYC. The cocktails, as you would expect from a place this formal, are top notch.

Food bites are high and low; grilled cheese is made with black truffle, and there are tater tot with ranch and taleggio cheese. There's also caviar and homemade potato chips, as well as raw bar selections. Essentially  the SAGA and Overstory team know the way to your comfort food heart.
Castell Rooftop Lounge
Location: Midtown
Sometimes after work, you want an easy place that's both elegant but not going to be such a to-do. Rooftops aren't often relaxed and refined, but Castell Rooftop Lounge is. The indoor-outdoor terrace has a luxe granite bar and fireplace with the Midtown skyline in the background. The Castell has a '60s vibe and specializes in Martinis any way you want them. This is the place to take your coworkers afterwork, or to enjoy the first sunlit nights of the season.
Elsie Rooftop
Location: Midtown West
You know when you want to have a big cattle call for all your friends to get together? But you don't want to deal with an over-crowded rooftop or the bouncer, who won't let all your friends in. This is where the Elsie Rooftop comes into play. Elsie is a casual place for day into late nights, but yet elegant enough for no one to complain. And if they do, there's plenty of strong cocktails to keep everyone happy throughout the night.
The top of the Refinery hotel is home to Elsie Rooftop, a 1920's themed cocktail bar with gorgeous indoor and outdoor seating. The woman regarded as the first interior designer, Elsie De Wolf, lives on in 2023 with a rooftop bar dedicated to her. The interior portion features a large bar which is perfect for after work drinks, or an excellent starting place before a night out. Daytime definitely can't be missed, however, as skylights and clerestory windows let in sunlight and views. Elsie de Wolf is known for designing the first penthouse, and her dedicated rooftop is an ode to her.
While few flashy nods to the 1920's come through in prohibition themed cocktails, and opulent light fixtures, Elsie is mostly villa penthouse. The seating is luxurious, with large cushioned benches and comfy chairs.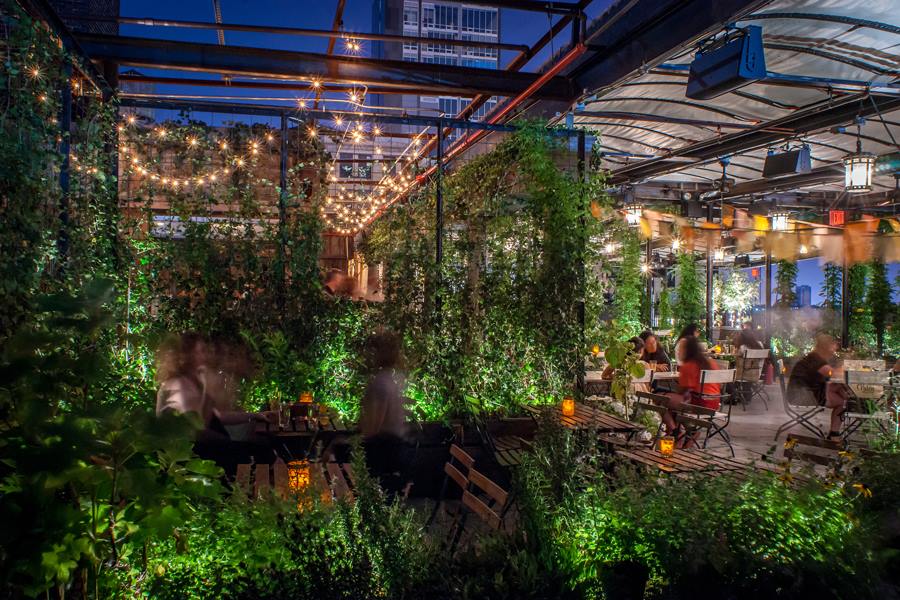 Gallow Green
The Location: Chelsea
When you want to kick it old school, like you did in your 20s and 30s, Gallow Green is there for you. The highest floor of the McKittrick hotel sets the scene for Gallow Green, a year round rooftop bar. The hotel is actually not a hotel, but rather is home to Sleep No More, a reimagined Shakespearean production. Upstairs/ once you depart from the spooky elevator, you step out into a garden themed space with views of Downtown Manhattan.
The bar features a central dining area shaded by minimal wooden structures covered in foliage. You might not expect to find a shaded woodland wonderland in a rooftop bar in the city. Gallow Green offers an escape high above the bustle of the city where mystical cocktails and good bites are served.
Related Articles