We like to chase the best and newest restaurants, and truthfully, there are few that ever warrant a return visit. Greywind NYC, which is in the expansion of the Hudson Yards neighborhood, is one of those places that deserves a spot on your rotation. In a nutshell, Greywind is a neighborhood restaurant that you'll want to come back to even if you don't live in said neighborhood. It's not that the food warrants a Michelin star, but it's pretty darned good and the menu options are crowd-pleasers. The atmosphere is one of its strongest virtues and has the bones of good service with a management team to support it. This is the Greywind NYC review.
Overview
Greywind NYC is an example of sticking with what you're good at. Chef Dan Kluger of Loring Place and pizza spot Washington Squares has another neighborhood hit on his hands. This time though, the neighborhood is next to Hudson Yards, where Greywind is one of the most compelling reasons to come to the area on a weekend night. Greywind is a Modern American farm-to-table restaurant with a menu that's interesting enough for foodies yet down-to-earth to become a nice staple in your repertoire.

Atmosphere
They got it right at Greywind NYC when it comes to atmosphere. First, like Babbo, they play good music that sets the tone of the restaurant. In lieu of rock music, the theme at Greywind is more of an Ed Sheeran/John Legend Pandora station. It's piped through a lively dining room where you can actually still hear your dinner companions, which is an art.
The lighting is just right, and it hits the spot for both groups celebrating birthdays and date nights with couples. You feel like you're in a modern farmhouse, which also aligns with the farm-to-table vegetable-forward menu. Parts & Labor, the same design firm that worked with Atera, created the clean and modern, yet warm vibe of Greywind. There are only 60+ seats in the restaurant and they nailed it on the design, placement of tables, furniture, and decor. The atmosphere is an equal reason to the food for why you would make this your go-to neighborhood restaurant.

Food
Honestly, they had me at homemade Cheez-Its. The Greywind version though is supersized and tastes identical to the original version. In fact, Greywind NYC excels at all their bread options, which is no surprise as during the daytime their bakery is open. There's a $14 seeded sourdough bread with homemade butter that's worth it. I preferred that over the focaccia with ricotta and seasonal vegetable, if you have to make a choice. Otherwise, order it all.
The menu is vegetable-forward, which especially shines through in the small plate courses. The snacks and small plates, which aren't very small, are hands-down the stars of the menu.  I would come back just to nosh on a healthy selection of the starters. The fava and English pea fritters had a light-as-air aioli and the sugar snap peas were in a hearty buttermilk dressing.
The main courses were, however, surprisingly just average, except for the roast chicken that was so tender and covered in barbecue sauce. I didn't try the scallops, which I regret because I opted instead for the sea bream, which was fishy. They also pickled the ramps which just did not work with the whole fish dish. Also, the pork is one of the most popular dishes, but the sauce the evening we were there was way too salty.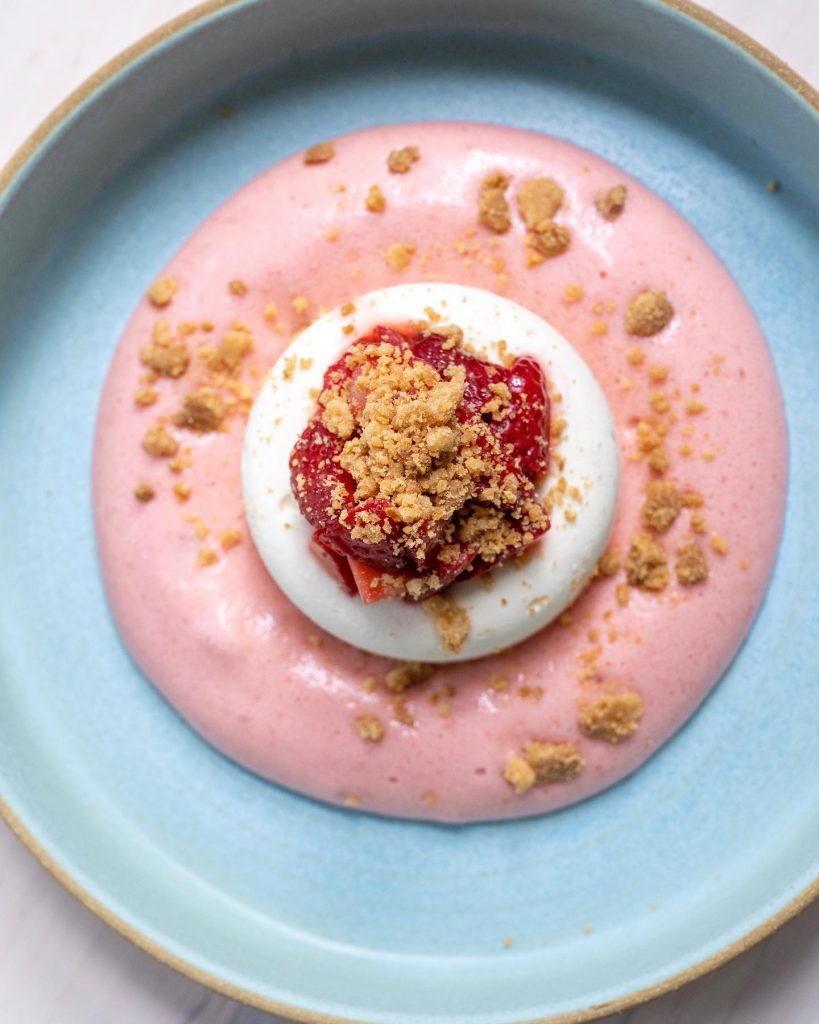 Save room for desserts as they cover all the basics, with a lemon layer cake, chocolate tart, strawberry rhubarb crumble, and an old-fashioned ice cream sundae. I think the optimal meal here is actually every starter and small plate on the menu, and then all the desserts.
Service
The management and maitre'd team at Greywind NYC are the epitome of the warmth you need to have at a neighborhood restaurant. The moment you walk in, you are genuinely welcomed, even without a reservation. It doesn't mean they'll be able to accommodate you, but they do give it their best shot, and there's no attitude. If you have a reservation, you're promptly seated as they clearly have their logistics locked down. This first impression of the dinner experience runs like a well-oiled machine.
The only glitches are they may not have quite enough experienced servers on the floor. This isn't an uncommon issue as many restaurants can't fully staff their team with experienced servers. Our waiter was well-meaning and tried his hardest, but he was clearly pretty new to the position. However, the management team knew how to head off the issues as they stepped in to take our order. They also periodically checked in with us as clearly, they were short-staffed and lacked a server team with career experience.
Even with the less-than-perfect service, it's hard to be disappointed when everyone tries so hard. We've been to other restaurants that have been open for a decade with less satisfactory experiences. With their strong management team in place, the service at Greywind NYC will only level up to the rest of the restaurant experience.

Overall: 8/10
I hope that Greywind is here to stay.
Other Articles You'll Like
Best First Date Bars in NYC
Principe NYC 
Carriage House NYC 
FAQ's
Q: Where is Greywind NYC located?
A: Greywind is next to the Hudson Yards at 451 10th Ave, New York, NY 10018
Q: What are the hours of operation of Greywind?
A: The hours of operation of Greywind NYC are as follows:
Sunday

Monday

Tuesday

Wednesday

Thursday

Friday

Saturday
Q: What kind of food does Greywind NYC serve?
A: Greywind serves Modern American farm-to-table cuisine, with a notable focus on creative vegetable menu items.