Baby, it's cold outside. We mean polar-vortex cold. Who wants to trek into the freezing temperatures day in day out to score a satisfying meal? These spots can bring the world to you through food on days you'd rather binge-watch Killing Eve from the comfort of your sofa. Pan con tomate almost as good as Landó in Madrid. Sushi sorta like Japan. And Italian – well, the restaurant we got for you just shines. This is the best food delivery in NYC now.

Kissaki
The Cuisine: Japanese
What to Order
The Omakase Juuni, which is a 12-piece sushi tasting that is beautifully presented in boxes that are nice enough to place right on the table. Or eat in front of the TV, your choice.

In a piece about the best food delivery in NYC, Kissaki is an easy pick. What sets the restaurant apart is the quality of the fish and the creativity of the toppings. You may find yourself biting into a yellowtail with pepper-infused butter, or a bluefin tuna with caviar, yuzu zest and plum soy sauce. Black truffle can also make an appearance, depending upon the chef's mood (he likes to mix it up). In addition to pieces of sushi that are like art, you get a choice of a 5-piece futomaki roll. Options include salmon tartare with tofu and avocado, and a spicy tuna with sweet-potato tempura and avocado.

Mercado Little Spain
The Cuisine: Spanish

What to Order
The pan con tomate, patatas bravas, the bikini cuatro quesos and the avocado. The tortilla Espagnol is by far the best in NYC, so it's a bummer that this is the one dish they currently don't deliver. Fret not: it's available (for dine-in guests only) at the Spanish Diner next door. Something about the Great Resignation and not enough people to work. We're hoping that things go back to normal soon. We miss that tortilla at home, but in the meantime you can check out our recipe inspired by Mercado Little Spain.

José Andrés is a genius, and in the Spanish category, Mercado Little Spain offers the best food delivery in NYC. You have not had bread until you've had it here. As authentic and close to the kind you get in Spain, the crystal bread, which is a Spanish style ciabatta, just melts in your mouth like a fluffy cloud. That large loaf they sell in the DIY kit will go fast, so order two. The tomato is shredded in a Picual olive oil and just needs a tad bit more of Maldon sea salt to make it perfection.
Avocado is on our list, and at Mercado Little Spain it's perfectly ripe…and bathing in just the right amount of olive oil and salt. Also, if you've ever been to Spain, Mercado's burnt cheesecake will take you back, because this lovely restaurant is one of the few places in New York that makes the authentic version of the sumptuous Spanish dish. For a place that's earned its place on the list of best delivered food in the Big Apple, prices are on the affordable side of fair.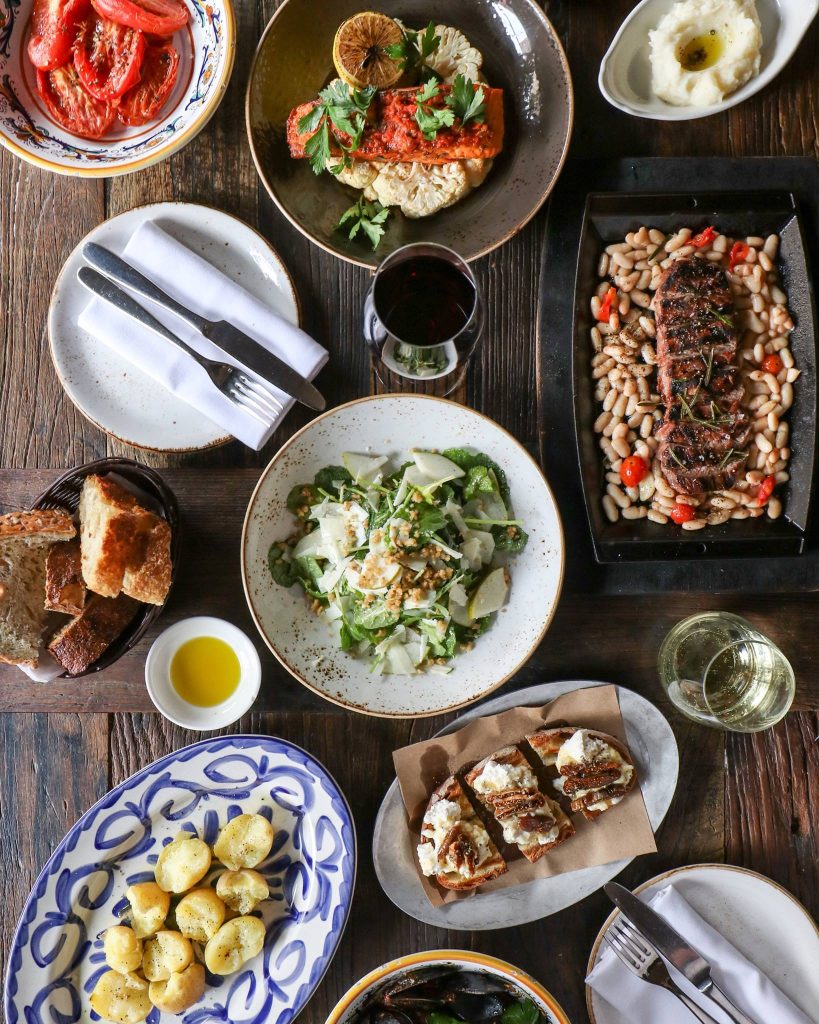 Felice Columbus
The Cuisine: Italian

What to Order
Let others mince words: Felice Columbus, and specifically this location, is one of the best food delivery options in NYC. The cacio e pepe (spaghetti with black pepper and pecorino) is something special, and travels surprisingly well. The homemade al dente noodles are in a perfectly emulsified sauce of parmesan, butter, olive oil and pepper. The artichokes, presented thinly sliced in an olive oil and lemon dressing, are another standout staple. It's not just carbs here though; the salmon salad is a meal, with both sun-dried and fresh tomatoes, a hard boiled egg, avocado, and mustard dressing.

Nami Nori
The Cuisine: Modern Japanese
What to Order
The temaki party kit, hands down. Nami Nori's superpower is its crisp temaki rolls (kind of the Japanese version of tacos). For an experience that's comparable to in-restaurant dining, the temaki party kit is essentially a build-your-own Japanese taco menu. The base of the temaki includes sushi rice, nori sheets, wasabi, and ginger. From there, you choose between six and nine proteins/vegetables. Options include salmon, crab, yellowtail, tuna, scallops, toro, ikura, and caviar (the latter will set you back $120).

Don't forget your veggies, including cucumber, scallions, and daikon. Then there's the garnish, which tips it to the next level. Crispy shallots, plum sesame seeds, crispy carrots, micro cilantro and diced jalapeño round it out. Then you pick your choice of sauce, which can include spicy mayo, hiker soy, poke sweet soy, and XO sauce. The presentation is ready to serve, with all of the accoutrements in tins and the base of the temaki in pretty wooden boxes. The possible downside of ordering this top food delivery in NYC is that you'll have to fork over around $250. Still, that's a decent value considering that there's enough food to satisfy 4-6 people.