First dates are serious business. Within the first few minutes you'll know if you want to leave immediately, or not leave at all. But in this era of dating, you don't have time to waste. So whether it's dinner, drinks, or drinks that turn into dinner, the bar or restaurant you choose can make or break the deal. We recommend you don't leave the choice up to him. Here are the best first date bars in NYC.
Veronika
Location: Flatiron
Even if you and your date have never met before, chances are you both have been to Veronika. You can trust that it will never miss, and you'll know what to order. Located inside the famous Fotografiska, the bar has a first date ambiance that just can't be beat.
The photography museum and private arts club lend an air of sophistication that transcends from the beaux arts architecture, to the classy guests who will follow you in through the door. And the vibes are romantic. It's dimly lit, but not so dimly lit that you won't recognize your date when they walk in (assuming they look like their profile). Also, the low tables and bar make it easy to nestle in to your own private corner. Veronika offers privacy in plain sight. And if you want to keep the night going, you can walk around to the restaurant and grab some delectable bites.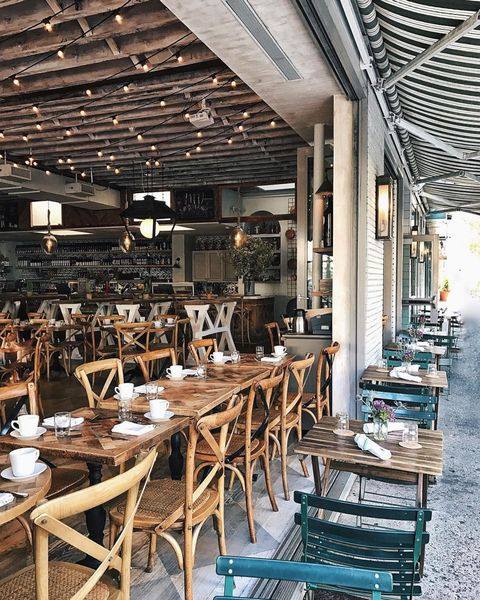 Rosemary's
Location: West Village
If he wants to take you out to eat, tell him to take you to Rosemary's. A dinner here can be quick without sparing any quality, or class. Or, you can stay and enjoy the Italian courtyard ambiance with a bottle of wine. This mainstay of the village has a stunning indoor-outdoor feel, with a rooftop garden that supplies produce for their dishes. And the food goes hard. This is homegrown Italian at it's finest. However, the pasta portions are small enough that you won't have to worry about a food baby or a to-go bag.
Also, we like that the energy inside stays high. The ambiance is everything when it comes to setting the vibe for a date. We're not saying you should do this, but if need be, this is the perfect place to bring your friends along to sit at the bar incase the date goes south.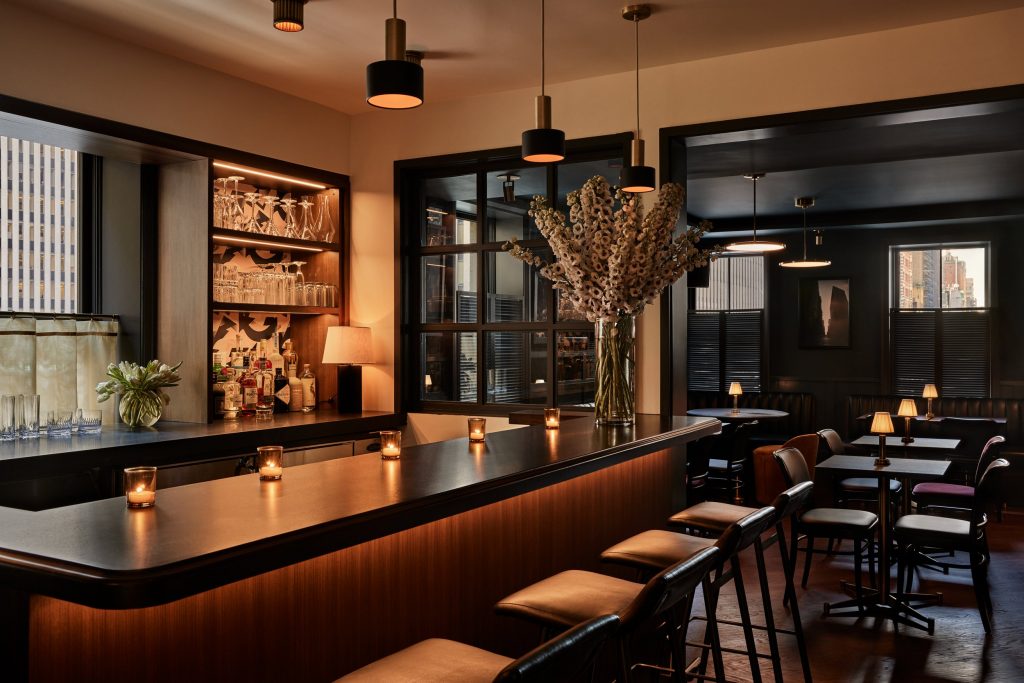 Pebble Bar
Location: Midtown
Pebble Bar is one of the best first date spots in NYC because it's an easy stop after work. Also, although it's in Midtown, you'll likely not run into too many of your work colleagues. Located around the corner from Magnolia Bakery, Pebble Bar takes its place on the second floor of a historic townhouse. When you walk in, though, you won't feel rush hour at all. Instead, the cozy and homely vibes conjure a welcome potentially romantic reprieve.
We pick Pebble Bar for the location and the drinks. It's tough to find a place as consistent and convenient. Their Aperol and vodka cocktail with mango, lime and cinnamon is a stroke of genius.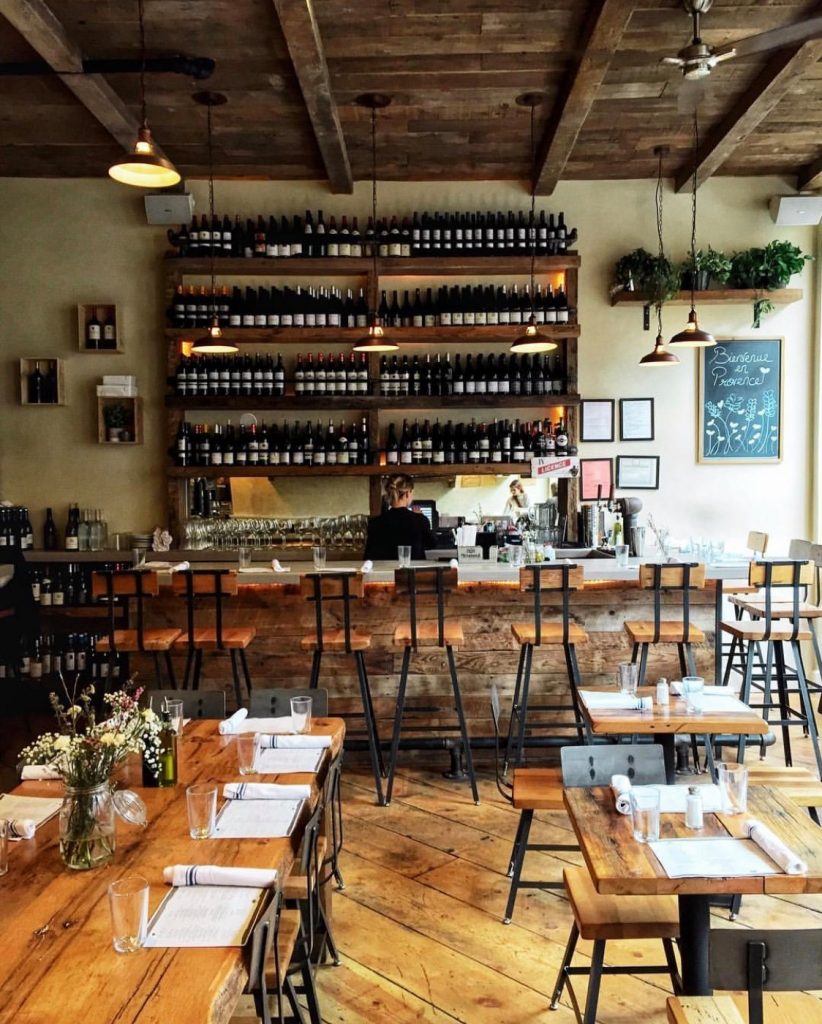 St Tropez
Location: West Village
We're not saying you'll have to be forced into conversation, but the quaint and lively St. Tropez has an energy that will elevate even the most dull of first dates. We like St Tropez because it doesn't stand out from other spots in the West Village. The broody dark wood creates a cozy environment that feels very french, which is just what was intended.
St. Tropez functions as a bar and a delicious french restaurant with small sharing plates. If things go well, a drink can turn into a coursed dinner. But, of course, that post-work glass of wine can be kept short and sweet. There are plentiful options of French wine to choose from, so at minimum you're going to get good wine.

The Mark
Location: Upper East Side
The Mark is a swanky first date fav. It's been around for years, and with Jean Georges piloting the experience, you can trust that every detail will be thoughtful. The servers know their way around wine, and the signature cocktails are creative and delicious. There's also an ambiance that stays happening every night of the week so you can plan a spontaneous date night and feel comfortable that it won't disappoint.
We love a lounge that has cozy seating, and the animal print chairs and couches create that intimate vibe that will have you wanting to keep the night going a little longer.

Locanda Verde
Location: Tribeca
Ideally you sneak into the Greenwich Hotel bar and courtyard which are the perfect romantic places to get things going. But if you're not planning to stay the night just yet, they might kick you out for not being a hotel guest. In that case, head to Locanda Verde, the hotel restaurant. The vibe is dark, woody, and  intimate — even though the restaurant is large. It also used to be a celebrity hot spot over a decade ago when it opened, which gives it an ambiance of intrigue that can be a topic of conversation if you're in need.
But it doesn't matter if neither of you care too much about famous people. The restaurant is worth it as a date spot. The food is delicious and won't break the bank, even as the prestige of its history makes it feel top notch. They also serve familiar menu favorites that come well portioned and perfect for sharing. If you do decide to become hotel guests, Locanda Verde is also the perfect place for a brunch date.
Related Articles