Where to Valentine It Up – Chalet-Style
There's a lot of pride in seeing restaurants hustle through this pandemic, especially in the depths of the New York winter. It's the definition of dedication, as pure drive and passion for food keep restaurants open over the next few months. Some have embraced the winter, even creating Michelin-level meals to enjoy in chalet-like cabins that are outdoor enough, while still rather warm and cozy. Right in time for Valentine's Day, we have the deets on the Daniel experience, whether eating indoors or in one of the fancy outdoor chalets.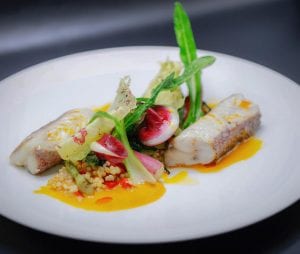 Whether your dining indoors (welcome back!), outdoors, lunch or dinner, this Valentine's Day at Daniel is going to require a ticket that you can reserve on Resy.  Lunch is running a cool $285 for a 3 course prix-fixe, plus an optional add-on of $165 for the wine pairing.  Dins is pretty packed, and jumps to $325 and $185 respectively for the privilege to feel half-way normal again, and also support these restaurants that are hustling their a—- off to survive.  Daniel has created a menu inspired by the sea and the mountains, where you can start with something like the St. Jacques Marinees which is a nuanced sea scallop ceviche with passion fruit, jalapeno and avocado coulis, or go more mountain with a hearty sauteed snail in mushrooms, garlic, parsley and hazelnut.  They have French dishes so classic it hurts, like the Canard a L'Orange and a fill you up Boeuf Stroganoff, which if you're eating in their velvet curtained chalets, will make you feel like you're in Europe for your annual ski holiday.  We really miss that cheese cart but they do have a Moses Sleeper stuffed with black truffle, that is just enough to tie us over until the full Daniel experience returns.