They say that love is blind – but while that much may be true, love is certainly not oblivious to beauty and luxury. And love is especially temped by them on Valentine's Day: this February week is synonymous with a romantic staycation. Think seclusion, nature, and intimacy. We're got you covered with our list of top five most romantic luxury Valentine's Day destinations (all in the name of love, of course).
Amangiri, Utah
There's a reason why celebrities who have every single resource available go to Aman. And it's not just the Instagram posts. In the U.S., it's difficult to find a place that's more romantic, restful, and beautiful than Amangiri. And hey, it's Aman – and everything Aman touches, turns to gold. We like it for the stunning suites, the breathtaking views, and the secluded location. Amangiri is surrounded by 600 acres of undeveloped land, which means that every unexplored canyon is at your mercy – it's about as one with nature as you can get.
Deplar Farm, Iceland
You are crushing it if you are spending Valentine's Day at Deplar Farm. Not only is this northern lights' territory, but it's also one of the few places in the world where the northern lights come to you in your outdoor pool and heated jacuzzi, as you stare up at the sky. It's one of the most remote places in one of the most remote countries in the world. The luxury is tasteful, the food is off the charts, and the adventure is simply beautiful.
Post Ranch Inn, Big Sur
Certainly, the most romantic place in California is the Post Ranch Inn. This place is like your glass house with your outdoor jacuzzi, overlooking the Pacific Ocean. It's the place where you want to stay in bed – and hey, that's what Valentine's Day is for. Each of the 39 private lodgings ("cottages," if you will) are secluded and cozy, the spa heavenly, and the food farm-to-table and delicious.
Glenmere Mansion, New York
Glenmere is a place so close to NYC that we almost don't want to share it with you because we don't want to spoil it. It's like Italy, but 75 minutes away from Manhattan. And if that's still too far for you to drive, you can take a helicopter from midtown Manhattan – and now it's about 15-20 minutes away. You'll land in a place that looks like the rolling hills of Tuscany. It's a place where Gatsby would have lived, and thrown one kick-ass party – think refinement, elegance, and at the same time, really down-to-earth service. The food is, of course, also incredible. And, they have a Turkish Hammam – so, in addition to Italy, it's a little bit of Turkey, too.
Hotel Lutetia, Paris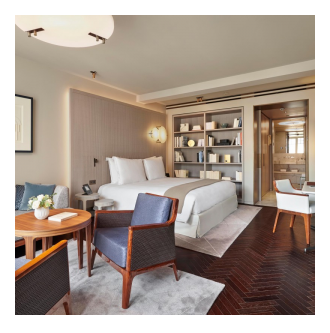 Is romance in Paris a cliché? The answer is "no" – we think of it as more of an iconic status, because Paris is always a good idea. And there are just too many romantic-and-classic, so-French-it-hurts luxury hotels to even name one. But the newest one that's noteworthy is Lutetia. Located in the Saint-Germain-des-Prés area of Paris, Lutetia is one of the most romantic hotels on the Left Bank. It's part of a hotel group you've never heard of, but should know if you consider yourself a hotel aficionado: The Set. They're creating some of the most beautifully designed and architected urban hotels in the cities you want to be in. Also, their spas are simply off the hook.