If you're wondering where the genetically blessed and overachieving in life are hanging this week, the smart bet is off the grid on 600 acres of tucked-away valley in Canyon Point, Utah. Amangiri is where the moon and sun meet for a magic hour of sunset and moonrise which cross at the same time each evening.  The scenery is so surreally stunning it looks like someone painted the mountains outside your window.
When you make it here, you know you've done something right. Combine this natural scenery with Aman hotels, and you have Amangiri. No matter how hyped it has been in all the mags, is the spot where words don't do it justice.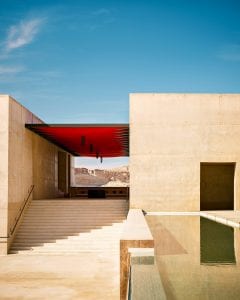 An Oasis 
But of course we'll try to do right by this oasis in the Utah desert, surrounded by mesas, canyons and mountain views. There are also rock formations that are millions of years old.  You get perspective when you come to Amangiri. When you arrive at the hotel it blends right into the topography.  The first signs of civilization in the area was about 10,000 years ago. You can even see  the drawings in a nearby cave, that you can hike to in the mornings.
It's a moment of reflection as you walk through what would have been the community fire pits. Generations of people huddled to keep warm without the creature comforts we have today. Anything you have going on, is not so all-consuming, at least in that moment.
More Than a Hotel 
Amangiri is more than a hotel – though it's a spectacular one at that.  Amangiri is a piece of history and Navajo culture, meant to showcase the natural environment. You feel it, whether it's at the iconic swimming pool that was designed around a rock that has been around for tens and millions of years. Or the floor to ceiling windows that frame the scenery that is like another planet.  The energy, whether or not you are into spirituality of land, is undeniable as you drive into the compound.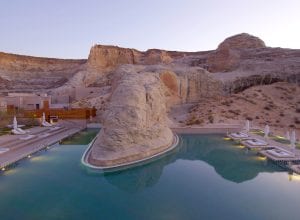 An Act of Congress 
Amangiri was a labor of love, which took an act of Congress, signed into law by President George W. Bush. The deal was part of a government land swap, to bring to fruition.  The owner, who also counts Dunton Hot Springs as part of his portfolio, originally had title to the land across the highway.  When he was scouting the area, he caught sight of the iconic rock formation that is now the center of the hotel.  He envisioned architecting a pool around the stunning centerpiece and as they say, the rest is history.  Or at least 10 years of planning before they put one shovel into the sacred ground.
A Zecha Project
From there, Aman's original Founder Adrian Zecha, owner Christopher Henkel and their famed architects did their thing, to create 34 rooms of modern, minimalist perfection.  You know it's a labor of love to spend a decade creating a resort with only 34 rooms, not including Camp Sarika, which we'll get to this summer. Because summer and camp go hand-in-hand, but more on that later.  The sheer scale of the resort with its 10 miles or so of hiking trails boggles the mind for such an exclusive amount of rooms.  The spa itself is 25,000 square feet. Whether you are an "Aman Junkie" or new to Aman, the spa is a signature of the Aman experience.
The Food
In the 20+ Amans of the 33 around the world we've been to, they're all special. But the food here is exceptional.  Under Chef Anthony Marazita, his range for what he can create for you is nothing short of gifted.  There are guests who like the fine dining experience, which he can rock out like any Michelin-level chef. For those who want to keep it real and have their comfort food, we've seen him bring out everything from Shakshuka to basmati rice and peas -inspired by Indian buttered chicken.
Chef Anthony sees inside your food heart, and intuitively makes it happen, with no ego, which also distinguishes him in the culinary world.  We think  you could throw any request at this guy, and he's up for the challenge.  Best table in the house is his Chef's Table, so book at least once for your stay.  And don't miss breakfast.  Ever.  The pancakes, huevos rancheros and breakfast tamale are off the charts good.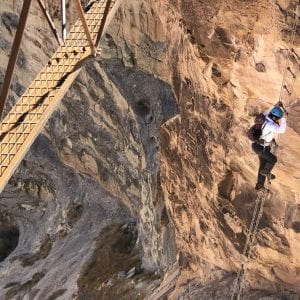 See the World
For some guests, the hotel, pool, spa, restaurant is the full experience, in which case you've already had a successful weekend.  But don't forget, you're on 600 acres of land at the hotel, and set within the Grand Circle, where at the Grand Canyon, rock formations date back 1.8 billion years.  So there may be a thing or two explore, including the Via Ferratas on property, which are rock climbs you strap into to reach the top of the mesa, for all levels of athleticism.
Should you choose to leave the resort, Zion National Park is two hours away, Lake Powell is a hop, skip and jump and the Grand Canyon by helicopter is one of those once in a lifetime experiences.  The activities are like an encyclopedia which is why guests return early and often.
So is Amangiri worth all the hype?  Our take is yes –  that, and then some.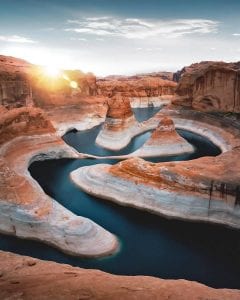 How to get there:
Practically speaking, because there are such limited flights in to Page airport, unless you're flying private in which case Page is 25 minutes from the resort, get in the car for a road trip to get to Amangiri.  It's part of the experience though, and the drive is stunning. Whether you come from Phoenix, Salt Lake City, Las Vegas or Los Angeles, it's all time well-spent in the car.
The closest major city is Vegas, at about 4 hours and 15 minutes. Alternatively you can take the scenic route and go through Zion National Park on the way there or back to the hotel.  A lot of LA guests make an 8-10 hour road trip out of a pilgrimage to Amangiri.