Craving some seafood? You're in luck – there are some great seafood and sushi delivery options in New York City. Whether you're looking for something traditional or something a little more creative, we've got you covered. Order some taco-shaped hand rolls from Nami Nori delivery or choose from the sushi sets at Nobu. Or go for more traditional seafood, like the lobster you'll find at Ed's Lobster Bar. Either way, here's the top spots this week to order delivery in NYC so you can get your fix without leaving home.
Nami Nori Delivery
There are few places where we would have waited two hours for a table pre-pandemic, and now there are few places we'll send a special messenger service for because we're out of the delivery zone. Nami Nori in the West Village is among those very select few. And it's back in the delivery and carryout realm, and thank goodness, as these guys deserve to continue crushing it. Nami Nori creates open-faced sushi hand rolls, but far from nori rolls, that are works of art, where each bite is nuanced to provide the most crave-worthy flavors. This may be the best sushi delivery in NYC.  They have a standard set of five that you can upgrade with favorites like the crab dynamite or lobster tempura. Or choose the vegan set, with favorites like the avocado "toast" and tofu chimichurri. We would suggest just going all out and ordering a set of 10. Per person. You won't want to share.
Ed's Lobster Bar
The moment we saw lobster poutine on this menu, we knew we had to shout its existence from the rooftops. It's exactly what you would dream it to be, if you know what poutine is: French fries smothered in lobster bisque, cheddar cheese and chunks of lobster. You're welcome. Ed's has been a Soho staple for ages, and their food is the key to their staying power. Other highlights on the menu are their buttery lobster rolls, fried pickles, fish and chips, and lobster salad you can buy by the pound. For classic comfort food, but with a lobster twist, try the Lobster Mac n Cheese or Grilled Cheese. This is comfort pandemic food at its very best.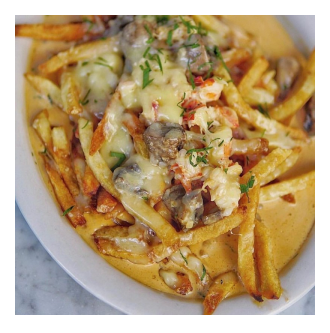 Nobu 57
Yes, the theme is seafood this week, but we couldn't resist as we are just not making our own sushi. That, and when we just want to go all out for a night, Nobu 57 is serving up an omakase that has all of the favorites: yellowtail jalapeno, crab tempura, umami seabass, beef tenderloin. Or try the crispy rice with spicy tuna and nobu tacos. We can go on, but right now we need to eat something — this is making us hungry just writing about it. If you're going for more everyday Nobu (yeah, we said that), they have a bento with shrimp tempura, black cod miso and a few other treats.
If you're looking for some other great delivery options in NYC, check out these posts: