You know a restaurant thinks highly of itself if its name is Lord's. Though when you realize that its sister restaurant is Dame, the name begins to make sense. After all, Dame is the place where, after three years, it's still near impossible to get a ressie. Well, like sister, like sister. This is the review of Lord's restaurant in NYC.

Overview
If your hope is that Lord's restaurant is a larger annex of Dame, it's not. Lord's has its own unique menu, and it goes beyond simple shore food. The place unfortunately doesn't have the Dame fish and chips, which is hands down the best in NYC. I actually can't even think of a place in the world where I've had better fish and chips than at Dame. But I digress; this is about Lord's restaurant, which is a totally different yet still related concept. Where Dame is seafood-focused and offers a lighter menu, Lord's excels at meat and unusual dishes like tripe and sweetbreads.  So, like we said at the beginning, like sister, like sister, but different.

Atmosphere
I can't help but compare Lord's restaurant space to that of Dame's, and in this case, it's much better. First, it's larger, and second, it has a proper bar. That bar is key for walk-ins early or late in the evening, outside of prime dining hours. The designers didn't go all-out on Lord's decor. I'm confident in saying that they're not going to win any design awards. That's OK: the foodies aren't there for the design. People who are at Lord's are there to have a culinary experience. In other words, you're not going to generally find tier-two models who need to eat a sandwich here. Instead, it's a mature, food experience-driven crowd. Even the drinks are secondary to the experience, which is the food.

Food
It's clear that Lord's value proposition is 100 percent its food. For a while you had the big gastropub trend in NYC, with spots like the Breslin and the Spotted Pig. Now we at least have the Commerce Inn, but otherwise this is a genre that needed additional players. Lord's delivers.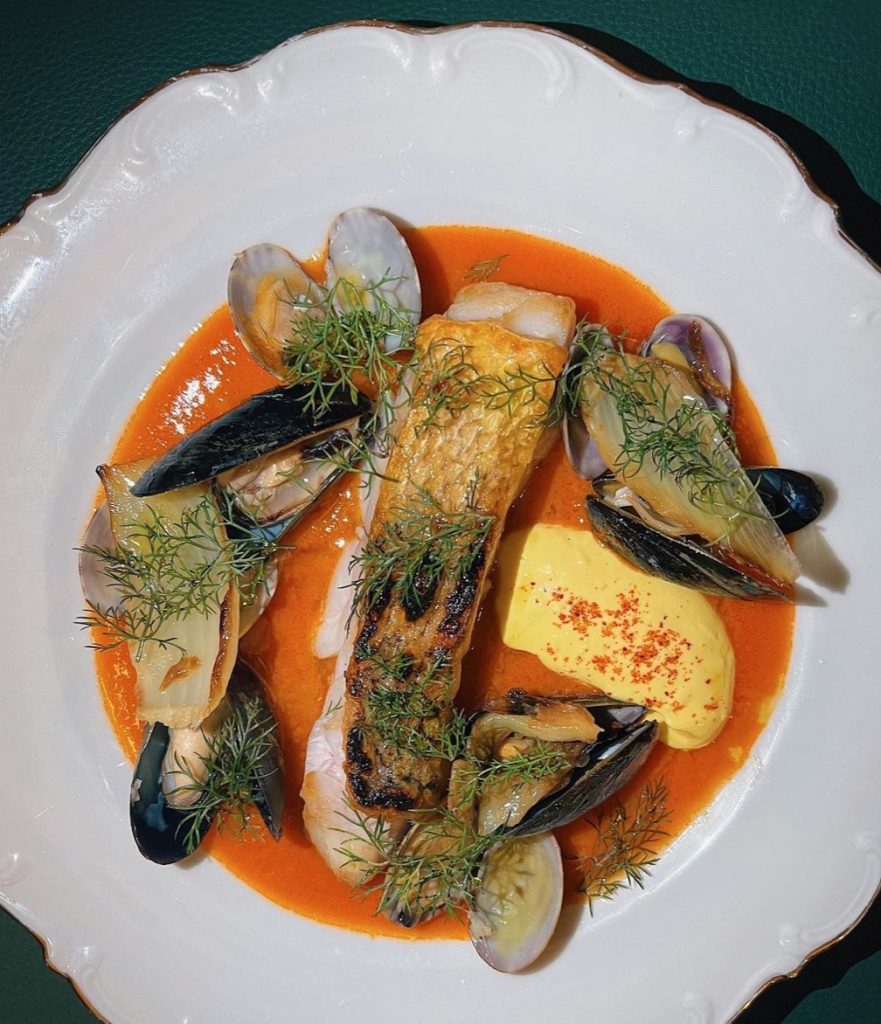 Every single dish is an artful labor of love. It doesn't mean that you're necessarily going to know how much thought went into sourcing the particular green crab for Lord's' bouillabaisse equivalent (otherwise known as the roast tilefish, fennel, mussels, and crab bisque.) But that's one of the cool parts of the creative sustainability behind the menu. Green crabs are pretty much bait, as they don't have enough meat on their bones. However, to make stock, they have an intense flavor that comes through nicely in this dish.
Pretty much all the menu items take something that's common in a British pub and elevate it to the next level. The Welsh rarebit, for example, has the traditional toast and cheese, and in this case also anchovy. The toast is broiled to almost a custard consistency that gives you a pronounced umami flavor. I still think of the flavors of the seasonal salad, which on the night I visited was apple on top of a burnt onion purée with shaved cheddar on top. There was also a trout with celeriac in a broth that was so perfectly tangy I could have imbibed it straight from the plate.
Even the proper English chips are made special by frying them twice, then tossing them in beef fat for a third time in the fryer. The result is crave-worthy thick-cut fries that are crunchier than you think possible. The kitchen crew elevates the menu with dishes like crispy pig's head terrine, braised trip, and veal sweetbreads.
Service
There are places where the waitstaff can talk all day about the food, and this is one of them. They're clearly fed the actual menu by the kitchen, as there's no way they would have the level of detail otherwise. The menu, as mentioned, is intricate. No dish is just a salad or a toast. Our waitstaff even shared that they come to eat at the restaurants on their day off, so there's no lack of passion. Food comes out and drinks are refilled exactly as they should be. We did deal with an apparently frazzled hostess, but no matter. The food and actual service made that first impression as good as an afterthought.
Overall: 7.5/10. I'm not sure this is a place where I'd become a regular, but I wouldn't be opposed to dropping by again.
Related Articles
The Review: Dame 
The Review: Koloman  
The Commerce Inn Returns