Right about now you're feeling fall. Boot season, big sweaters, and, of course, food that sticks to your bones. So we have a pasta tasting for that. Forsythia is all about the homemade pasta, which everyone can get behind at least once in a while — especially if it involves braised short rib agnolotti.

The Atmosphere
Forsythia's origins go back to June 2020, when the pasta joint was using a popup, takeout format. Now in its permanent Stanton Street location just off the Bowery, an intimate atmosphere prevails. An inviting wood bar greets you at the door and marble tabletops are nestled into quiet corners. Forsythia certainly knows it's on the ever-trendy Lower East Side. But it's clearly more focused on being a cozy, elegant space than on maintaining any type of scene. If anything, the scene here is about tucking into a bowl of pasta and enjoying a glass of wine. The dining room and patio are reliably booked on weekends, but a late-night weekday reservation gives you Forsythia in all its quiet charm.

The Food
Here, it's all about the pasta. Forsythia offers a prix-fixe menu for $89 per person, including an antipasto, main, and dessert. You're free to add a wine selection to the meal for an additional $61 per person. Also available is the à la carte menu, which features many of the same items as the prix fixe and is served at the bar daily, and to the entire restaurant on Tuesdays.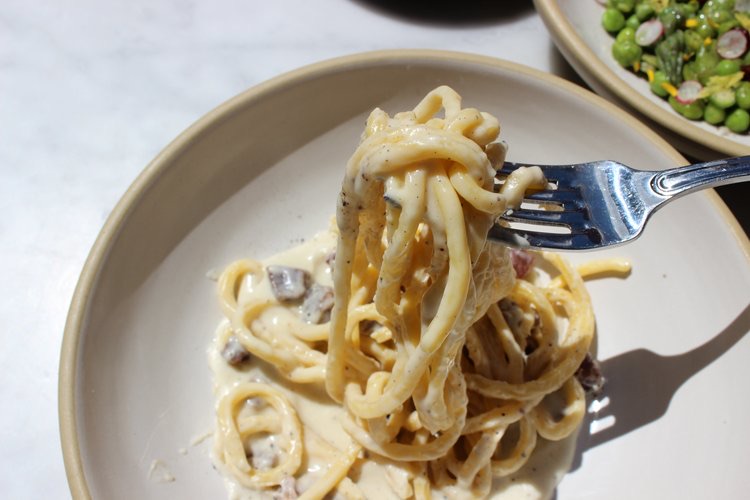 The menu takes inspiration from traditional Roman dishes, putting exciting spins on classics like carbonara and arancini. For your antipasto dish, the pesce fritto is a must: a fried skate wing served on a bed of aioli and salsa verde. The flavors here are perfectly balanced, and complimented by a shatteringly crispy texture. And while the fried cacio e pepe risotto stuffed with mozzarella di bufala is equally mind-blowing, we recommend sticking to one fried appetizer if you want to truly enjoy the later courses. Especially if you're a bread lover, since the focaccia that Forsythia starts you off with is irresistible. One thing about Italians, there's no such thing as "too heavy."

Pasta Highlights
If you're looking for boundary-pushing Italian fusion, let's be clear that Forsythia is mostly focused on the classics. Yes, there might be a spin of mushroom ragu in the orecchiette, but overall the pasta section of the menu is pretty basic. Nevertheless, this commitment to simple, high-quality ingredients is what makes the food so fantastic and allows the flavors to truly shine. For carbonara lovers, the mezze maniche with guanciale is not to be missed. The pasta is delicate and perfectly prepared, shining the most in simpler dishes like the bucatini with anchovy butter. And when braised short rib stuffed pasta is on the menu, that's just a no-brainer.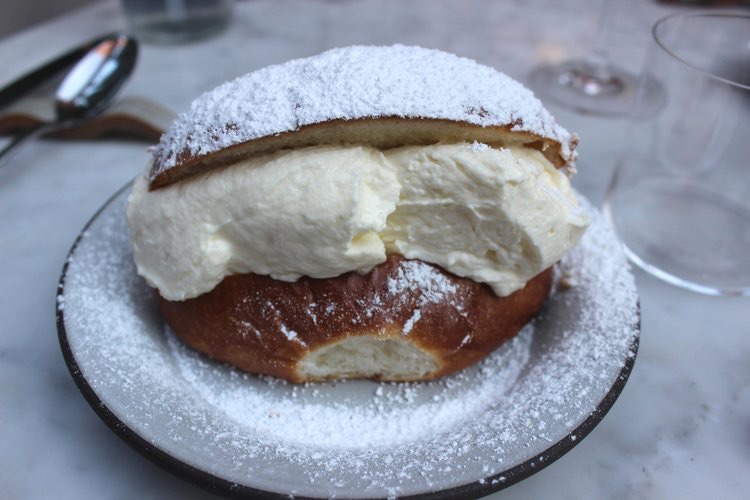 As for dessert, the prix fix menu has four options, while the à la carte offers two. Whichever you choose, the fig gelato sundae is available on both, and it's a must. Topped with olive oil crumbles and honey whipped cream, it's the best thing we ate. Honorable mention goes to the yeasted Roman brioche bun filled with crème chantilly. You really can't go wrong here.

The Service
The service at Forsythia is what you'd expect from a charming pasta joint on the Lower East Side. But we'd say it doesn't go too far beyond that standard. The team is professional and inviting; just don't expect enthusiastic wine recommendations or an impressive level of attentiveness. Overall, it seems that the staff lets the food speak for itself.
Overall: 8/10
The portions are filling, the flavors are exciting and intentional, and the pasta can't be beat. If you find yourself craving a cozy environment and next-level carbs, this is the place to be.
FAQs
Q: What are Forsythia's hours?
A: Hours are Tuesday through Saturday from 5:3o p.m. to 10 p.m. Forsythia is closed Sunday and Monday.
Q: Is the restaurant family-friendly?
A: It's not a great place for kids or large groups due to the smaller tables and intimate atmosphere.
Q: Does Forsythia have dress code?
A: Dress is upscale casual, with an emphasis on the casual.
Forsythia Information
Address: 9 Stanton Street, New York, NY 10002
Phone: 646-590-0609
Map: