Because it's squash season, we have another recipe idea for those leftover Halloween pumpkins. This recipe for pumpkin lasagna is perfect for next-day leftovers. And not just lunch leftovers, either. Think of it as a flavorful fall breakfast of champions. It's that good.

Ingredients
1 lb fresh lasagna sheets
3 large squash or 1 pumpkin, cut into cubes
1 lb fresh ricotta
12 ounces shredded organic mozzarella
8 ounces fresh mozzarella, cut into rounds
4 ounces fresh grated parmesan
3 small to medium zucchini, cut into long ribbons
1 1/2 organic eggs, beaten
2 1/2 cups oat milk or whole milk
2 shallots
3 tablespoons organic gluten-free flour
4 tablespoons butter
6-8 ounces fresh pesto
Fleur de sel
Olive oil
Basil
Directions
Preheat oven to 400 degrees Fahrenheit.
Prep the Squash
Line a large baking sheet, possibly two baking sheets with foil and lightly spray with cooking oil. With the skins on, cut the squash into half, and take out the seeds. Then chop the squash into large chunks. (It doesn't need to be perfect; eventually you will take out the flesh of the squash for your sauce.) Lightly cover the squash with olive oil and salt. Roast at 400 degrees Fahrenheit for about 30 minutes, or until the flesh is tender enough to scoop out.
Place flesh in a Vitamix blender and puree with 1/2 cup oat milk, 2 tablespoons olive and fleur de sel salt to taste. Add in about 1/2 cup of fresh grated parmesan and about 4 tablespoons of basil, finely chopped. Also if the squash isn't sweet, you may opt to add a tablespoon or so of sugar. You should have about 5 cups of squash puree. Set aside until you are ready to assemble the lasagna.
Alternatively, if you don't have extra Halloween or Thanksgiving squash or pumpkins, you can buy butternut squash sauce. (No judgment. Some of these store versions are just as delicious.)

Prep the Béchamel Sauce
Finely chop the shallot. In a 2-quart saucepan, heat 1 tablespoon butter over medium heat. Add in the shallot and stir constantly until just translucent (do not brown the shallot). Add 4 tablespoons butter to the shallot, 4 tablespoons flour and 1/2 teaspoon fleur de sel. Whisk until all ingredients are blended together. In a slow stream, pour in 2 cups milk, whisking constantly. Bring to a boil then reduce heat to a simmer until the sauce is thick, about 10 minutes. Set aside.
Prep the Ricotta Cheese
I like to go the extra step and break out my stand mixer for the ricotta cheese. Beat the ricotta along with the egg and fleur de sel to taste for about 2-3 minutes. The result will be the fluffiest ricotta layer in your lasagna. It's one of those steps that makes a difference.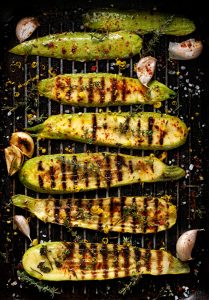 Grill the Zucchini
This is one of the most impactful steps in this lasagna recipe. Grilling the zucchini does two important things. The first is that it tastes delicious; the grill gives the pumpkin lasagna recipe a subtle smoky flavor. It's a nice contrast to the sweetness of the squash. The second is that grilling takes the excess water out of the zucchini so your lasagna isn't a liquid mess. If you're short on time, it's even better to grill the zucchini earlier in the day or even the day before.
To grill the zucchini, use a vegetable peeler to peel the zucchini into long strips. Brush a large grill pan (Le Creuset makes a good one) with a light coat of olive oil. Heat the grill pan on high for about 3 minutes and place the zucchini horizontally across. Brush a tiny bit more olive oil if needed and a light dusting of fleur de sel. You may not even need to flip the zucchini, if your ribbons are thin. You'll have to work in batches, as not all your zucchini will fit the first time around. Remove from the grill pan with tongs when your zucchini has those nice grill marks, about 1-2 minutes. Place on a plate and set aside for assembly.
Create Your Assembly Line
This pumpkin lasagna recipe is a little labor of love, but it's worth it. It's simple if you stay organized and manage your time. To put the lasagna together, create an assembly line. You'll want to organize it as follows:
Squash/pumpkin puree
Lasagna noodles (uncooked)
Béchamel sauce
Whipped ricotta cheese
Grilled zucchini
Shredded mozzarella
Pesto
Parmesan
Fresh basil
Fresh mozzarella
Use a large lasagna pan (don't mess around with the small pans as the fillings will bubble over). To begin, lightly coat the bottom and sides of the pan with olive oil (you can use a pastry brush). Next, spoon enough squash puree to coat the entire bottom of the pan. Add your first layer of noodles, followed by enough béchamel sauce to just lightly cover the noodles. Next, layer the ricotta cheese, zucchini, then shredded mozzarella. Place a layer of pesto on top and a light dusting of parmesan. Repeat again, starting with the squash puree, until all ingredients are layered. Your top layer should be noodle, squash puree, fresh mozzarella, pesto and parmesan cheese. The parmesan will give the dish a nice brown on top.
Bake and Drink a Glass of Wine
Cover the lasagna with foil and pop in the oven for 45 minutes. Cook uncovered for an additional 15 minutes so that the top is nice and brown.  Enjoy the most delicious, cozy scent while baking with a nice glass of wine.  If you need any ideas, we have a wine list for that.