This dish is formally known as Bistecca alla Fiorentina, for when you're in Florence and see it on the menu.  Wherever you are, this recipe will bring you right back to Tuscany, in about 17 minutes.  Yes, that's the cooking time, and it's a lot faster than a flight to Europe. Yes, how to grill steak is a lot easier than you may think, even a cut as premium as a Porterhouse with this Florentine steak recipe.
Each Porterhouse steak serves about 4 as a hearty meal, more for the lighter eaters.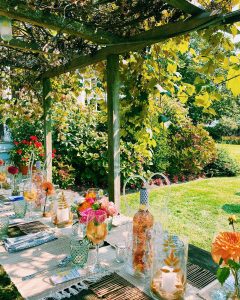 Ingredients
3-4 pound Porterhouse Steak
Maldon Sea Salt to taste
Fresh ground pepper
Olive oil
Rosemary for garnish
Fresh, high quality butter for serving
1/2 Meyer lemon

Directions
This Florentine steak recipe is no different than any other steak recipe.  It just looks a lot fancier, and yes, the cut of porterhouse is premium in price. Preheat your grill or charcoals on high for about 10 minutes.  If you're on a gas grill, turn off  one side of the burners or set them to the lowest setting.  This creates your indirect heat zone. Keep the other half of the burners on.  For charcoal, push your coals to one side to create your direct heat. The side without the coals is your indirect heat zone.
Season your steak generously with the salt, pepper and slather on the olive oil. Seriously, these are the main ingredients for this Florentine steak recipe, though the result is so much more impressive. Bring your Porterhouse to room temperature on the counter top until ready to grill.  On the direct heat side of the grill, sear the meat for about 2 minutes each side until nice and browned.  Then move the meat to the indirect heat side and place the grill lid closed.  Check the temperature at about 8 minutes with your thermometer until you hit the temperature from rare to well done on Robyn's Lindars steak chart.  Remember, Robyn's cardinal tip on how to grill steak; you don't need to guess how to grill steak.  Your thermometer will tell you.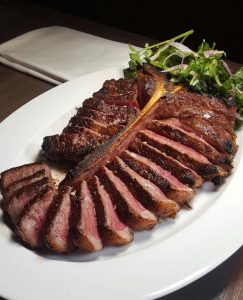 When you hit that magic number, place the steak on a wooden cutting board, and let it sit for 3-4 minutes.  Squeeze the Meyer lemon over the steak, slather the butter on top and garnish with the rosemary.  Serve immediately with the best bottle of wine you have. Here are a few of our favorites from Napa Valley. After all, while you may be inspired by Italy with this Florentine steak recipe, it goes beautifully with a big California Cab.