It's about that time of year when hopping in the car for some leaf-peeping is a good idea. For a place that was naturally beautiful and so close to NYC, it took a long time for luxury hotels to arrive in the Hudson Valley. You know they've arrived though, when Auberge Wildflower Farms has taken up residence on 140 acres to be your next weekend trip.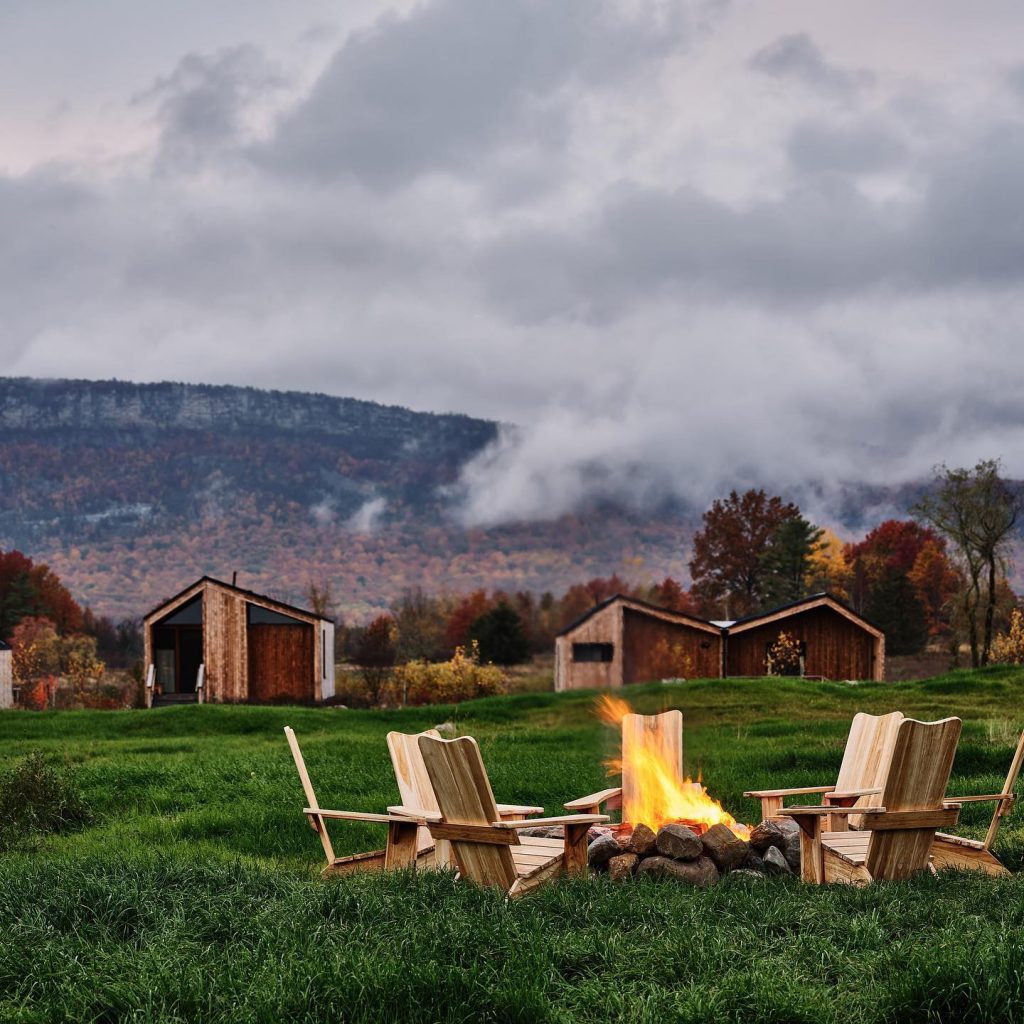 Overview
When you're a city dweller escaping the concrete jungle, a visit to a farm is a whole vacation in and of itself. Most city slickers probably don't even know what happens on a farm. The irony of small-sustainable-farm as luxury, and novelty is not lost on Auberge, though. Rather, the resort draws attention to the necessity that is connecting to the earth, perhaps, especially because of how rare it is. Located an hour and a half outside of New York City, Auberge's Wildflower Farms is one of the most luxurious hotels in the Hudson Valley.
Accommodations
Where just five years ago to find a luxury Hudson Valley hotel was as common as a unicorn sighting, today it's hard not to find a luxury hotel. Auberge Wildflower Farms though takes it to the next professional level. Accommodations are stunning standalone cabins that are the poster child for sustainable architecture. There are 65 rooms, suites and cottages throughout the wildflower fields, hence the name of the hotel. A number of the accommodations also have fireplaces and there are two bedroom cottages for families traveling together.

Wine + Dine
When you get to Wildflower Farms, chances are you're there to stay at the resort. This means your meals will be all on property, so they have three dining options. The upscale dining is  at Clay which is progressive American focused on locally sourced vegetables and meats. Great Porch is the all day dining with shareable bites and drinks in an open air atrium with views to the Shawangunk Ridge.
During the summer season, Dew Bar is the restaurant for poolside dining.

Activities
The activities at Wildflower Farms are all about the simple things. You get your inner Martha Stewart on with leaf-peeping hikes through the valley, botany classes, and pressed flower pottery sessions. For kids, both adult and children, you can also just enjoy time at the farm and feed the animals. You know, all the things that city slickers want to do in the country.
They take the flower theme of the hotel to the botanical treatments at the spa, Thissel.  A vacation at Auberge Wildflower Farms comes with a price tag, but the wellness experience and quiet of the countryside is worth it.
Other Articles You'll Like
The Hudson Valley Round Up
Greyfinch Chatham Inn
Hidden Pond: A Luxury Inn in Maine 
FAQs
Q: Where is Auberge Wildflower Farms located:
A: Auberge Wildflower Farms is located 90 minutes from New York City. Its address is 2702 Main Street, Gardiner, NY12525. 
Q: How many rooms does Auberge Wildflower Farms have?
A: Auberge Wildflower Farms has 65 rooms that are spread across the resort amongst the wildflower fields, hence the name of the resort.
Q: Does Auberge Wildflower Farms allow children?
A: Wildflower Farms does allow children, and they have a special Wild Explorers Kids Club on weekends with customized activities.