When you think of Americana glamour, Martha's Vineyard and Nantucket are top of mind. As for Cape Cod? Well, that's where you've picked up the ferry. But now there's a quaint luxury inn that's opened that may inspire you to skip the boat and stay on the mainland. And the best lobster rolls too, may just be on the Cape.
Everyone deserves an end-of-August weekend on the Cape. If you haven't been, Cape Cod is like the Hamptons but for Bostonians — which means fewer high-end stores and restaurants, and more historic and beloved cafes, seafood shacks, and family-owned steakhouses. And the vibe for where you stay is more bed & breakfast than a 5-star resort. But an authentic Cape Cod experience doesn't have to happen at your Grandma's Cape house (although there is something special about finding sand in every room of the house). The new Greyfinch Chatham Inn bestows an elegance upon everyone's favorite, easy, family-oriented summer vacay destination.

The Overview:
Not all inns in Chatham are created equal. Greyfinch Chatham Inn has newly renovated rooms that add a touch of elegance to a rugged Cape Cod experience. The 30 rooms have all been redone with cozy and modern interiors, whose refined design stands out against the nautical vibes typical of the area. But the real draw is the impeccable service. You can go out for a half-day beach trip with the kids and come home to find all of your linens pressed and in order.

Newly renovated King suites also offer much-needed living space which comes in handy if you're traveling with kids. A kitchen bar with a microwave and refrigerator makes it easy to whip up some pb+j's to take to the beach. A living area with plenty of seating and a huge TV is also a nice place to enjoy a glass of wine and a movie in the evening.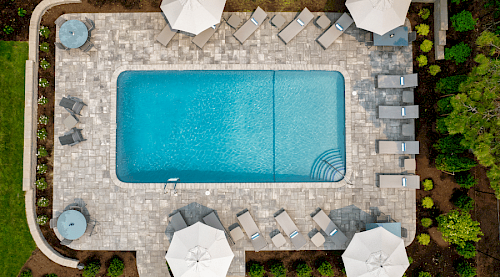 There's also a redone outdoor pool area with ample sun loungers. Though you'll probably spend more time at one of the beaches within 5 minutes from the inn, it's always nice to have a quick dip to wash off all the salt water. And the on-site picnic tables next to the pool make for the perfect spot to enjoy those fried clams you'll pick up on the way back.
The Location:
The town of Chatham is on the elbow of the Cape, meaning it has some of the most popular bay and oceanside beaches on the Cape. This town has a quaint center with a mix of high and low-end stores that all have a beachy vibe.
Though the town is small, there's a perfect mix of local art galleries, shops, cafes, beaches and wildlife, and fun activities like water sports and lighthouse visits. It also has a community-oriented vibe, as people come back every summer year after year.
The best restaurants include Del Mar Bar and Bistro, which has live jazz and authentic brick-oven pizza, and The Chatham Squire, a Chatham favorite with a bar side and a more upscale restaurant side serving family-friendly favorites.
Related Articles:
Top Places to Road Trip in the US