Thank goodness for presidents. The upcoming three-day weekend in February is perfectly timed to break up the hardest part of winter. This means that you need to make the holiday weekend count. Whether it's to catch fresh morning tracks on a ski trip or to head to the beach, here's where to go for Presidents' Day that's outside of the box.

Hotel: Silversands Grenada, Grenada
The Optimal Presidents' Day for: Beach time and enjoying one of the most beautiful under-the-radar hotels in the region
Overview
Silversands Grenada is your hideaway in the Caribbean, that not enough people know about. Set right on on the pristine Grand Anse Beach, you're in prime turquoise waters and white sandy beaches, that stretch for over a mile. What's unique about the hotel is its architecture, which is centered around the largest infinity pools in the Caribbean. Silversands is a modern hotel that's built to the quality of St. Barths. Its vibe is in harmony with the thriving landscape of the island, which integrates the local flora and fauna. The rooms, suites, and villas all come with floor-to-ceiling windows and views for days of the ocean. You will catch at least one sunset on your balcony, as they're pretty unforgettable at Silversands. 
For dining, Asiatique is one of the on-property restaurants that creatively combines Asian cooking with Grenadian spices and ingredients. Meanwhile, Grenadian Grill offers a mix of seafood and cuts of meat prepared in a Mediterranean style, set right on the water. Additionally, the luxury spa has a selection of treatments and massages to help you unwind. Not only does it have its own showstopper of a pool, but it's known to give the best pedicures, manicures and services. So the point is, you get all this without the St. Barths price tag. 

Highlights
The stunning infinity pool is 330 feet long – that's the longest in the entire Caribbean. In addition, Silversands Grenada also has a two mile-stretch of beach for visitors to enjoy.

Hotel: Deplar Farm, Iceland
The Optimal Presidents' Day for: Outdoor adventures and getting hygge with it by the warm fire
Overview
Deplar Farm is as off-the-grid as you can get. It's located in the Fljót Valley of northern Iceland, that's far away from the tourist scene of the Blue Lagoon. The secluded location gives you a perfect chance to see the Aurora Borealis (Northern Lights). Here you don't have to chase the Northern Lights; instead they come to you while you soak in the heated pool.
The property itself is a converted sheep farm that includes 13 rooms outfitted with sheepskin and Moroccan wool. There are also indoor and outdoor geothermal pools and hot tubs. In addition, the state-of-the-art spa includes a sauna, steam, plunge pool, and isopod flotation tanks. For dining, local farmers and fishermen bring fresh provisions which are prepared with a modern take on traditional Icelandic dishes. Their chefs are so good, guests have been known to try to hire them away. 

Highlights
Deplar Farm lets you choose from a variety of Icelandic adventures; adventure is in their DNA. Activities like skiing, snowshoeing, whale watching, biking, hiking, kayaking are just a few of the ways to stay entertained at Deplar.

Hotel: Sublime Lisboa, Portugal
The Optimal Presidents' Day for: Culture and food
Overview
If you haven't been to Portugal, you're long overdue for a visit. Portugal is the place to be at the moment, and Lisbon is the start of any visit. Part of the reason to come is because of the food scene, which is burgeoning in Lisbon. They currently some of the top restaurants in the world. Sublime recently opened  in Lisbon's cool Amoreiras neighborhood. Amoreiras is an area full of historic buildings, lush gardens, museums, and top food.
The 20th-century townhouse includes 15 rooms and suites. Each is uniquely decorated, with attention to detail of fabrics and personal touches to each room. Sublime Lisboa's restaurant, Davvero, serves Mediterranean fare under chef Isaac Kumi. As far as amenities go, Club VII is just around the corner. Guests of Sublime have access  to its 82-foot pool, sauna, Turkish baths, gym, and spa.

Highlights
Sublime Lisboa has a luxury concierge service which creates a personalized itinerary through connections with its local partners. In addition, the team can plan day trips for you to the nearby beaches, castles, and vineyards. Sintra and Cascais are day trips that should be on every itinerary for their castles and quaint fishing villages.

Hotel: The Lodge at Blue Sky, Utah
The Optimal Presidents' Day for: Getting your ski fix in
Overview
The Lodge at Blue Sky is part of the Auberge Resorts Collection. This 3,500-acre private retreat is a30-minute drive from Salt Lake City. Set in the Wasatch Mountain Range, the location gives guests a chance to reconnect with nature and leave the modern world behind. There are three unique options for accommodations — Sky Lodge, Earth Suites, or Creek Houses. Each option has its own personality and features, but all three are within walking distance of the main amenities. The restaurant, Yuta, has a farm-to-table approach, using ingredients from the surrounding mountain landscape. In addition, the cliffside wellness sanctuary provides treatments, yoga, and guided meditations.

Highlights
The Lodge at Blue Sky presents itself as the ultimate nature escape with a huge variety of activities to enjoy the landscape. While you snowshoe on one of the trails, spot hundreds of elk migrating through the valley. Additionally, there is skiing, horse-drawn-sleigh rides, private dinners in a yurt, and helicopter rides over and through the mountains.

Hotel: Cap Juluca, a Belmond Hotel, Anguilla
The Optimal Presidents' Day for: A getaway a deux to a hotel high on the romance factor
Overview
Cap Juluca, A Belmond Hotel in Anguilla is where to be for President's Day if you're looking for some island relaxation. The resort's 64 rooms come with pristine ocean views from your private terrace. Also, the 44 suites have their own patio gardens and pool. The private pool villas are the resort's most extravagant accommodations, where guests have been known to check in and not leave the room.
Uchu is the Peruvian-inspired outdoors restaurantwhere you can eat while watching the gorgeous sunset. In addition, the restaurant Pimms features Anguillan cuisine, while Cip's by Cipriani has Mediterranean fare. Besides lounging by the pool or beach, you can go fishing, snorkeling, sailing, and kayaking.

Highlights
Culinary Shores is Cap Juluca's celebrated guest chef series. Julia Komp, Germany's youngest-ever Michelin-starred chef will be featured over Presidents' Day weekend.
Hall of Fame
We know it's a top 5 list, but there are some destinations that are in the Hall of Fame for President's Day. That means that they're likely totally booked. But if you're lucky, someone might cancel their reservation. So look out the week before if you haven't already planned and St. Barths and Aspen are in your sights.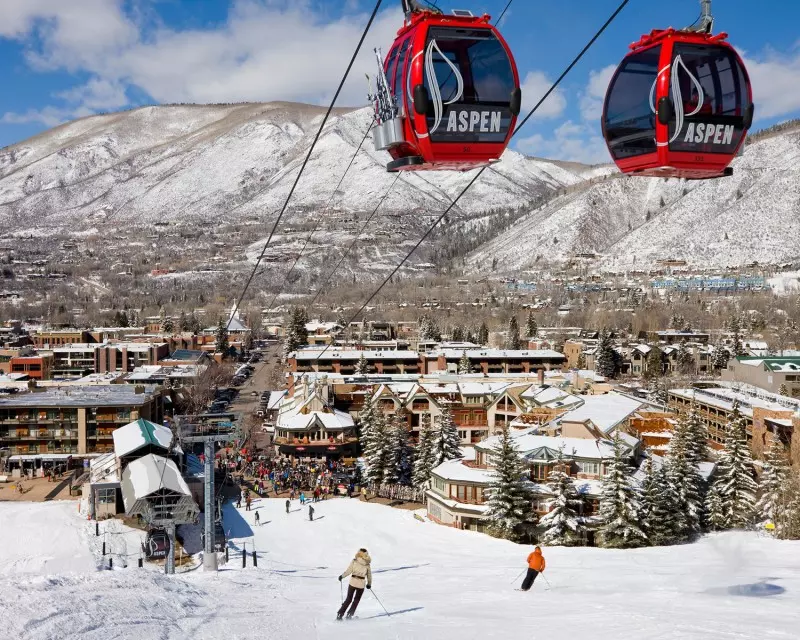 Aspen
AspenSnowmassPRGondola