We love this time of year, when days are full of sunshine and there's just a nip of fall in the air. We love it even more for the goodies it brings to the farmers market. And when the season gives you a bounty of corn, potatoes, fennel, and parsnip, how do you celebrate? Make a vegetable pot pie, of course. While we've covered our bases with creative pot pie variations, sometimes you find yourself craving a classic. Luckily, we have a recipe for that. With an herby sauce and deceptively easy crust hack, it'll be your new staple for breakfast, lunch, and dinner.
Vegetable Pot Pie
Serves 6

Ingredients
6 tbsp salted butter, plus 1 tbsp for greasing
8 oz baby bella mushrooms
1 fennel bulb, sliced
4 medium russet potatoes
1/2 parsnip
4 carrots
1 yellow onion, minced
1 cup frozen peas
5 cloves garlic, minced
1 cup corn
1/4 cup fresh chopped thyme, sage, and rosemary
3 tbsp grated parmesan
1/4 cup heavy cream
2 cups vegetable broth
1/4 cup sherry or white cooking wine
2 packs (4 sheets) puff pastry, thawed
1 egg
1/4 cup flour
2 tbsp parsley, chopped

Directions
The Filling
Chop your potatoes, parsnips, carrots, and mushrooms into bite-size pieces, around 1 1/2 inches. Keeping your vegetables roughly the same size will allow them to cook evenly and at the same rate.
Place a large pot over medium heat and add 4 tbsp butter. Once it's melted, add onion and garlic and sauté for five minutes until fragrant. Next, add the mushrooms, carrots, potatoes, parsnips, and fennel. Add the rest of your butter and cook for about seven minutes before adding the herbs and flour. Cook off the flour for one to two min, coating the vegetables evenly.
Next, deglaze the pan with your wine. Cook for about a minute or until the alcohol is no longer fragrant. Slowly add the vegetable stock one splash at a time, mixing until a thick sauce has formed. Taste and season well with salt and pepper.
Now take the pan off the heat and add the peas, corn, parsley, heavy cream, and parmesan. Mix thoroughly and taste again, and season as needed.
The Crust
Preheat the oven to 400 degrees. In a small bowl, whisk together 1 egg and 1 tbsp of water.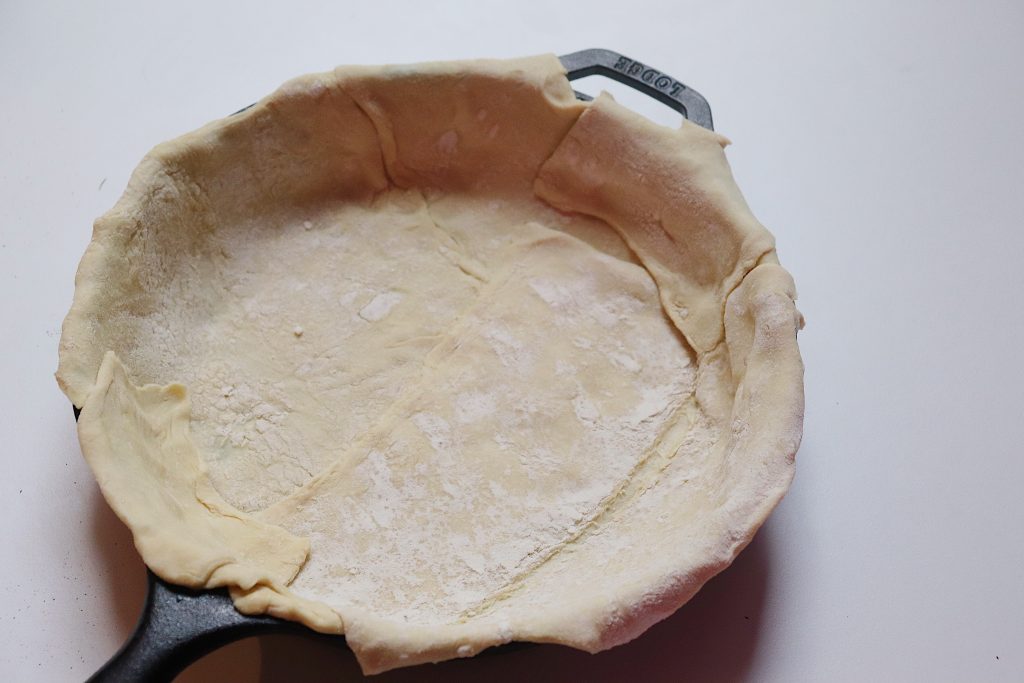 Grease a large cast iron skillet with your butter. Gently move two unthawed puff pastry sheets into the skillet, ensuring the bottom and sides are entirely covered. Crimp the dough firmly against the edges to ensure the crust doesn't slump down in the oven. Prick the bottom of the crust with a fork multiple times and brush with your egg wash, coating the surface generously.
Bake for 5 minutes on the bottom rack. While the bottom crust is baking, cut the remaining puff pastry sheets into large squares, about three inches wide. You should have enough to completely cover the top of your pie, about 10-13 squares.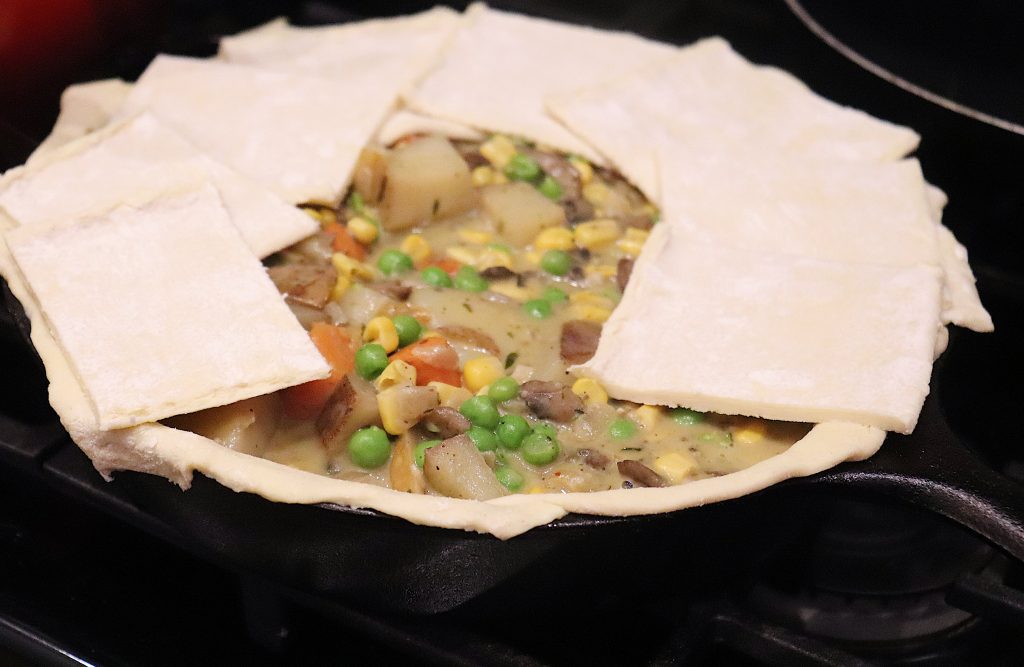 Once the bottom crust is baked, add your filling to the skillet. Make sure to not overload your pie. Place your puff pastry squares on top, overlapping slightly to ensure full coverage. You can arrange the dough in any pattern you like, just be sure to completely cover the top of the pie. Brush with the remaining egg wash and bake for 30-40 minutes until golden brown. Check the pie after 25 minutes. If the crust is getting too dark, place a piece of foil loosely over the top and continue to bake.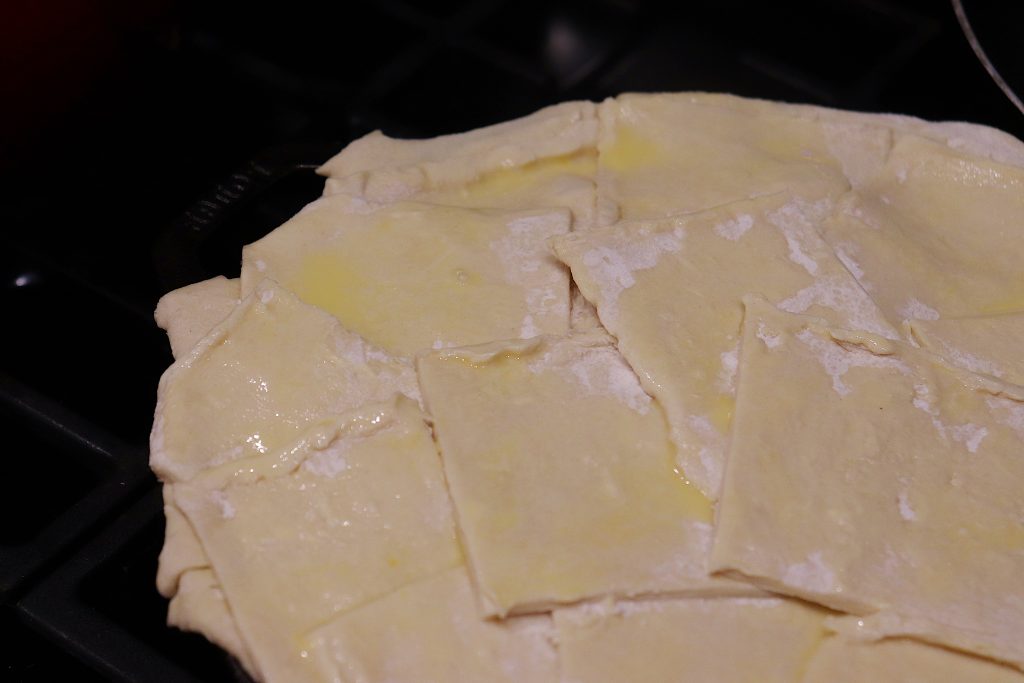 Let cool for 15 minutes before cutting. Serve with additional parsley and a sprinkle of parmesan.
Related Articles
Wolfgang Puck's Chicken Pot Pie