Where do they serve 800 stone crab claws, 30 pounds of 24-karat gold dust and 1,400 bottles of Champagne? That would be the Governor's Ball, which for over 24 years, has been helmed by Wolfgang Puck. While this year does look different, we're honoring the Oscars with Puck's famous chicken pot pie and passion fruit margaritas, both staples of the post-Oscars dinner.
Throwback to 2019
The question is, whether the Governor's Ball, which is the official post-Oscars dinner, is all that special. Absolutely the answer is a resounding yes; an invitation here is on a lifetime #goals list. A culinary staff of over 200 alongside 850 service staff are on-hand to serve up over 13,000 glasses, 4,800 small plates and 6,000 cocktail forks to A-list guests. This is no stuffy party though; the menu keeps it fun with a comfort food theme.  That includes that Puck's perennial favorite, the chicken pot pie.
Chef Puck proves he doesn't take himself too seriously by starting with spicy ranch popcorn and crab deviled eggs. Celebs are then treated to his signature pizzas, tuna tartare in sesame miso cones, and smoked salmon matzo. At the center of it all is a lavish raw bar with made to order nigiri. And this is just cocktail hour, which is before anyone even sits down to dinner. For those that don't take home a real Oscar, a gold dusted chocolate replica is a perennial party favor.
That Famous Chicken Pot Pie
The main course is famously a chicken pot pie, which is Wolfgang Puck's favorite comfort food. After weeks of dieting to fit into that tux and dress, it's the best cheat meal. The pie is buttery and warm, and stuffed with the most tender chicken and vegetables.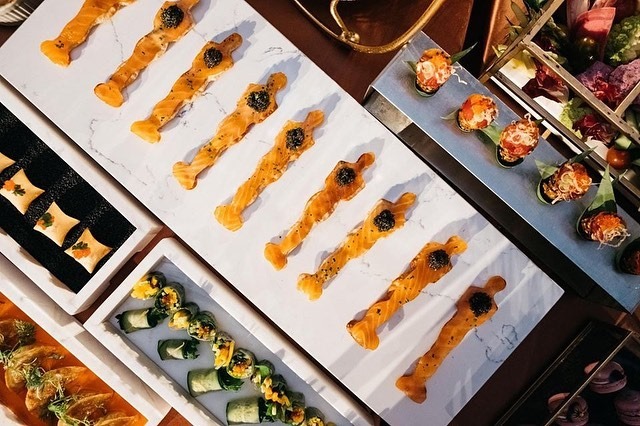 The Oscars at Home
This year, like last, we're watching the Oscars from the comfort of our homes. It's the perfect excuse to create a Governor's Ball-inspired feast, from pre-party drinks to the chicken pot pie. You've made it through the pandemic, so celebrate.
While Puck isn't catering the ball this year, he can bring his catering to those who are LA-based. Cocktail snacks, hors d'oeuvres and small plate dinners are on tap at Puck's eponymous restaurant. Of course, the boxes include classics like the mini pot pies, bacon-wrapped dates, gold-wrapped potatoes with caviar, and smoked salmon pizza. You can also add movie candy-flavored macarons or raspberry meringue kisses for something sweet.
Recipes for Oscar Sunday
For those who are not in LA but are inspired to cook, we have Puck's favorite recipes to make at home.
Passion Fruit Margaritas
Before you pop the champagne, you'll want to indulge in one of Chef Puck's favorite margaritas. These refreshing drinks are so easy you can whip them up while debating the Best Actor noms.
Ingredients