When you're just a girl. Standing in front of a boy. Asking him to love you. It's even more dramatic when it's happening at a luxury hotel. It's the Oscars this week, and it's time to tip our toques to Hollywood because, wow, movies have really helped a lot of us get through this past year of pandemic. Netflix and chill, nowadays, is really Netflix and chill. Movies have magical powers to connect us to people and places beyond ourselves. For 90 minutes or more, we enter someone else's story. That escape, empathy and perspective can be everything. In honor of Hollywood, here are six movies filmed in hotels to put on your list.
Movie: Maid in Manhattan
Hotel: The Roosevelt Hotel, New York
Plot: Boy meets girl… You know where this is going. Maid in Manhattan is the serendipitous encounter of an unlikely couple played by Jennifer Lopez and Ralph Fiennes. J Lo is mistaken for a socialite, and of course, Fiennes' character falls head over heels. Maid in Manhattan is a Cinderella story with a grown-up twist and the fairy-tale ending we all want.
What Makes This Hotel Special: As one of the movies filmed in hotels, it's the reason the lead characters meet. Marisa is a "maid", after all, at the hotel.  It's not hard to see why the Roosevelt made Chris and Marisa fall in love. The historic hotel which has catered to generations of Hollywood stars and socialites was one of the most iconic and romantic hotels ever. The large ballroom was just the place to make eye contact with someone special from across the room. Unfortunately, due to the pandemic, the Roosevelt has closed after a century, but it will live on forever in Maid in Manhattan.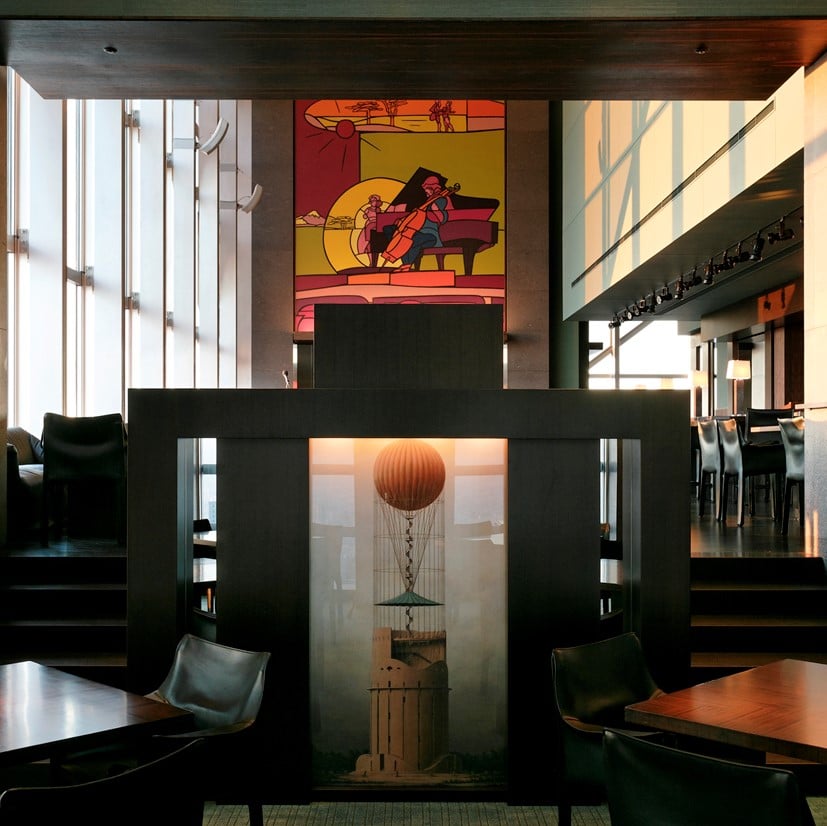 Movie: Lost in Translation
Hotel: Park Hyatt, Tokyo
Plot: What else to do when you're a forgotten movie star but head to Tokyo for a midlife crisis? Or at least, that's what Bill Murray's character, Bob Harris, does as part of a promotional tour for Suntory Whisky. There, he meets and befriends gorgeous free spirit Charlotte, played by Scarlett Johansson. The tension is high as the two share intimate moments, ultimately parting ways at the end of their stay. Murray is phenomenal as always, and Johansson proves she can hold her own.
What Makes This Hotel Special: This is one of the movies filmed in hotels, that was shot almost entirely at the hotel. Even after all these years, Park Hyatt still has it. It may not be right in Shibuya where Johansson and Murray flock to for the night, but it is a destination in its own right.
A 10-minute drive from Shibuya, the skyscraper hotel is one of the most expensive in the city. The penthouse bar where Murray spends a considerable amount of time has views of the city and Mount Fuji. Guests stay here because everything in this sleek, modern hotel, down to the toto toilets, is an experience.
Movie: Pretty Woman
Hotel: Beverly Wilshire, Beverly Hills
Plot: A wealthy man finds himself ungodly lucky when the woman he hires to be his escort winds up being Vivian Ward, a woman of the night played by none other than Julia Roberts. You know the drill. They meet and, over the course of a long weekend, dazzle each other and fall in love, all in the Beverly Wilshire.
What Makes This Hotel Special: Since 1928, the Beverly Wilshire has been the king of hotels in Hollywood, hosting the international elite.  The historic building has been the site of many a movie and TV series, though Pretty Woman is by far the most famous. Easily among the area's top three hotels, the Beverly Wilshire has been taken over by the Four Seasons, so what was great is now outstanding.
Apart from the key location and star-studded clientele, the glamorous hotel has modern guestrooms that complement the gorgeous views of the Hollywood Hills. And it's always fun to stay here because who doesn't want to feel like a pretty woman once in a while?
Movie: Ocean's 11
Hotel: Bellagio, Las Vegas
Plot: The first installment of one of the most iconic film franchises in Hollywood history, Ocean's 11 features an all-star cast of characters, from ex-cons and technicians, who come together to stage a heist at three distinguished Las Vegas casinos. The criminals are smart and easy on the eyes, making for an entertaining and adrenaline-inducing adventure wherein the greatest moments happen at the Bellagio hotel.
What Makes This Hotel Special: Before the Bellagio, people went to Vegas to gamble. But that changed when the Bellagio opened as a destination unto itself. The Bellagio exudes luxury, from its food to its entertainment to its fountains made famous in the movie's closing scene. Trust us, when you're going to Vegas, this isn't something you'll be hedging your bets on.
Movie: Notting Hill
Hotel: The Ritz, London
Plot: Notting Hill is not just another rom-com — it's a rom-com starring Hugh Grant and Julia Roberts. Book store owner catches the eye of Hollywood star, romance ensues and the rest is history. Much of the story takes place at the ever-iconic Ritz.
What Makes This Hotel Special: There are so many nice hotels in London, but the Ritz is one you can always count on. The neoclassical architecture makes you feel like you're walking into a movie, and not just because you are. Not only is it gorgeous and super-posh, but it has Michelin-starred dining and is located in the heart of London's West End. Like an old friend, The Ritz is always worth a visit if you're in the neighborhood.
Movie: Serendipity
Hotel: Waldorf Astoria, New York
Plot: It's honestly a shame that Serendipity doesn't get more attention for its fateful tale of boy and girl who meet while trying to buy the same pair of cashmere gloves and then reconnect again years later. John Cusack and Kate Beckinsale do an incredible job of conveying the magic of enduring love with touches of comedic relief. And it all goes down at the Waldorf Astoria.  It's not only movies filmed in hotels here; there have been TV shows and interviews at this famed hotel.
What Makes This Hotel Special: The luxury hotel in midtown is one of the classic hotels in New York. Whether you're a seasoned traveler or not, you've probably heard of the Waldorf Astoria. Featured in shows like Gossip Girl, the hotel is known for being a super-elite spot, and anyone who's anyone has spent a night there. Today, the Waldorf is closed for renovation and will reopen as a combination hotel and residences.