There are few things in Midtown that excite us — like count-on-one-hand excitement. But we may just need another slot for the arrival of Le Rock, with prime views of the holiday tree. If you think about it, though, Le Rock may have just been destined for greatness, as it's the brainchild of the guys from Frenchette. This is the Le Rock review, of a restaurant we hope stays forever in Rockefeller Center.

Overview
It's not often that a place has it all going on. Scene, food, and service are a trifecta at the new Le Rock. Even more surprising is the location, in Rockefeller Center. Once a bastion of mediocre dining choices, Rockefeller Center continues to churn out one good restaurant after another. Le Rock is the latest restaurant from the James-Beard-award-winning Frenchette in Tribeca. During the pandemic, Frenchette dipped its toes in the water with a popup event, and it clearly resonated, because now it's here permanently. The theme is still French, but Le Rock has its own identity, one that fits in with the Uptown location.

Atmosphere
Le Rock's dining room and bar keeps with art deco history and architecture of Rockefeller Center. In the Le Rock review, the vibe is notable, as it's a much cooler scene than the traditional Rockfeller Center restaurants. The restaurant is one big room, which impresses with dramatic decor from the moment you arrive. The bar area is buzzy with the after-work crowd, and makes for good people-watching. You have options to eat at the bar, if you can snag one of the few coveted seats. Otherwise the dining room is high-polished tables and leather banquettes that bring a touch of the lively French brasseries you find in Paris.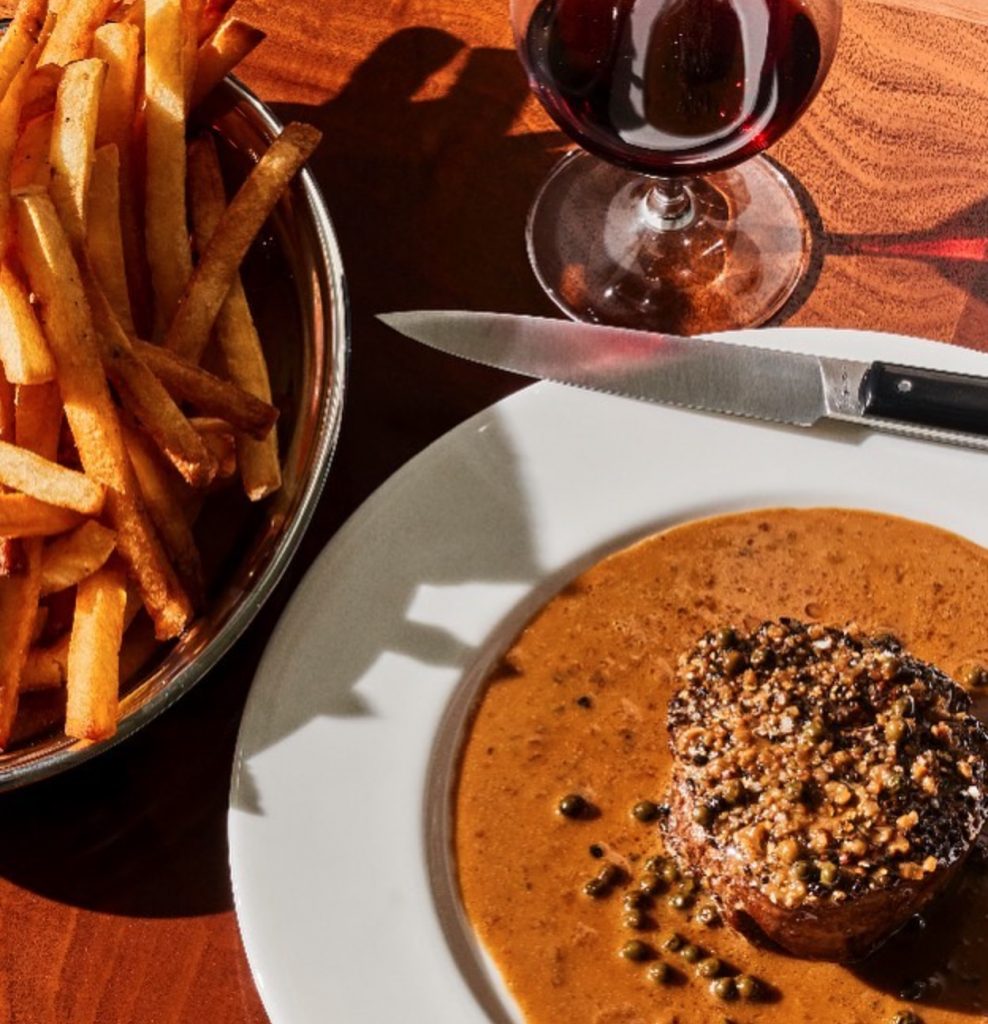 Food
The food in the Le Rock review is a highlight of the whole experience. No one does canapés like the French, and Le Rock has an extensive menu of small bites and starters. I liked that they have a caviar-dip pommes dauphine, that at $45 gives you a chance to indulge without breaking the bank. There's also a cervelle de canut, which is Le Rock's upgraded version of Boursin cheese. The dressed crab is a beautiful presentation of Dungeness topped with egg, chive, and capers. It's the type of execution that differentiates Frenchette downtown from other French restaurants, and now Le Rock.

For the mains, this is where Le Rock is almost so French it hurts. There's a steak haché which you would think is a traditional steak frites, but instead is seared mince beef. The steak frites rendition at Le Rock is actually the bison frites. The meat dishes are the strongest on the menu. While there's halibut and swordfish, pescatarians may want to go heavier on the amuse and appetizers. For vegetarians, the selection is limited, but you can piece together the agnolotti, falafel, and  rice pilaf, all of which are delicious. Then of course there's room for dessert.

Service
Le Rock brings a polished service to Midtown, but with a team that's passionate and knowledgeable about the food and wine. It's hard not to be enthused by the menu, as the execution by the kitchen team is top-notch across the board.
Overall: 8/10. Le Rock review is that it rocks
FAQs
Q: What are Le Rock's hours?
A: Hours:
| | | |
| --- | --- | --- |
| Thursday | | |
| Friday | | |
| Saturday | | |
| Sunday | | |
| Monday | | |
| Tuesday | | |
| Wednesday | | |
Q: What kind of food does Le Rock serve?
A: Le Rock serves French food. You'll find everything from raw-bar items to escargot to côte de boeuf.
Q: Is Le Rock good for families?
A: If your children are adventurous eaters, have impeccable table manners and like grown-up places, then yes. Otherwise, there are better places than Le Rock in Rockefeller Center for families.
Related Articles
Top Eats Near Rockefeller Center 
Five NYC French Restaurants 
Caviar Dreams