Overview
We have a lot of French restaurants in NYC, but Libertine is something special. Libertine brings the effortless French bistro with food so French it hurts to New York. Every classic plate of food is simple yet gourmet. There's nothing that's smoking or molecular about the menu. Yet there is clearly someone in the kitchen who has a gift for creating dishes that have complexity yet translate into French home cooking. This is the download on Libertine NYC.

Atmosphere
It's amazing what a coat of blue paint can do for a restaurant. Libertine is located on the corner of Christopher and Greenwich Streets. That blue coat of paint that covers the entire outside of the restaurant is the first thing you notice. It creates a charm that makes you want to check it out, which is exactly what you want out of a neighborhood restaurant.
Once inside, the entire restaurant is an open room, which includes a bar that serves a full dinner menu. The seating at the bar is stools, but yet that didn't seem to dissuade anyone we saw from enjoying a 2+ hour meal. What's surprising about Libertine is that they don't pack the restaurant with tables. Unlike Raf's, another French newcomer, you're not on top of your neighbor's table. There's also a lot of space for servers and guests to move around, though they could add another 6 tables to fill the restaurant a bit more. There's certainly demand for it. The blackboard menu (in lieu of individual menus) adds to the authentic bistro vibe.
The crowd is both neighborhood locals and those like myself who wish the West Village was my neighborhood. What's missing at Libertine NYC are tourists as well as any club-going riff-raff. You're more likely to find friends catching up over dinner and date nights going on with the crowd.

Food + Wine
To cut to the chase, Libertine NYC serves some of the most authentic and best French bistro fare in the city. The menu is traditional home-y dishes, that are elevated multiple notches up. Dishes are served on small plates, just like they are in traditional bistros in France. It's like each dish is made with such care and love, you'd expect Libertine to be in the mountains of Jura, versus the West Village. While there's clearly butter in the food, (they have a butter tower in the open kitchen) the food doesn't sit heavy in your stomach. This may also be attributable to the authentically sized French portions. There's a reason why the French are generally not overweight, even though they partake in bread, butter, cream, and other rich fare.
Dishes to Know
But enough of telling you about how the food makes you feel. We had 6 dishes on the menu and everyone was a simple home run. The Oeufs mayonnaise had a light mayonnaise that wouldn't offend even those (like myself) who don't like mayo. Salmon roe and chives lightly garnish the top of the dish. The crisp green salad is perfectly dressed and salted. The scallop in seaweed is not quite rich but yet comfort food at the same time.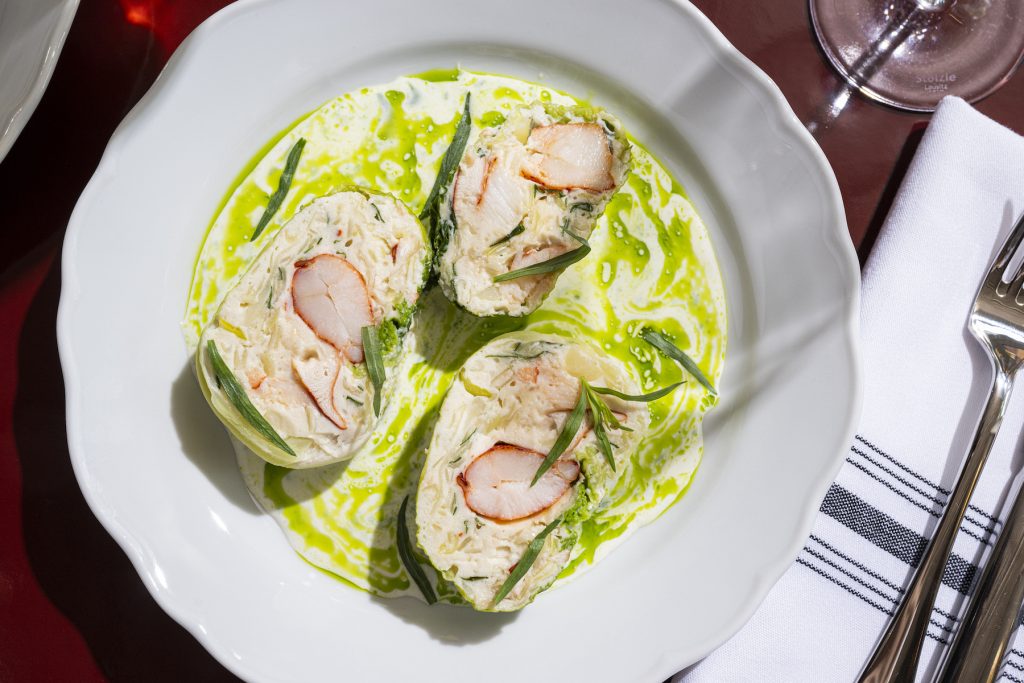 The lobster chou was something I hadn't had anywhere, in all my trips to France. The dish is a chilled lobster in a fish mousse that's all wrapped in cabbage. It's served atop a light cream with herb oil. I could never do justice to it in my home kitchen, so it's officially a reason why I'll come back. There's a cote de boeuf for two as well on the menu, and a duck done two ways and a puree of sausage. The gnocchi Parisienne is a main dish but can also be a nice side dish to share with the table.
Wine + Liquor
Libertine NYC makes solid gin and vodka martinis, but don't expect to find Titos on the list. They have one gin, and one vodka, which are both not mainstream. They also have a comprehensive selection of French liquors and over 200 bottles of wine on the menu.
A note about the wine: it's all-natural French. This natural wine is all the rage nowadays, and it's no surprise as the owner spent much of his life in France and is a somm by trade. For serious wine aficionados though in the Burgundy and Bordeaux societies who are into super high-end wines, the list may not be your cup of tea. Of course though, if you're willing to move up in price point to around $350+ a bottle, there are some options. However, most of the list sits below $200, so I would think of the wine as more approachable to a bistro in level.
Service
For a restaurant that's only been open for a few weeks, Libertine operates like it's been around forever. There is a clear work culture of collaboration, almost familial actually amongst the team. This translates into the exact service you want for a neighborhood restaurant, that is going to have longevity. From the moment you walk in, the maitre'd/host team is friendly, even if you don't have a reservation. There's zero attitude across the board, and the experience runs like clockwork. Drinks come out quickly and are replenished. Food is perfectly timed and perfectly executed. A big part of this is owner Cody Pruitt, who is formerly of the wine bar Anfora down the street.  Pruitt runs around recommending wine and chatting up the guests but doesn't act like he owns the joint. He's a big part of the down-to-earth atmosphere.
You want to come back to Libertine to become a regular, because of how they treat you, from the moment you walk in. A+ on service and these guys at Libertine just got started.
Overall: 8/10
This French restaurant is in it, to win it. The perfect local French bistro for any casual night out of the week.
Related Articles
Raf's NYC Review 
The Noortwyck 
Hancock St. Review
FAQs
Q: Where is Libertine located?
A: Libertine NYC is located at 684 Greenwich St, New York, NY 10014 in the West Village.
Q: What are Libertine NYC's hours?
A: Libertine's hours are as follows:
Monday

Tuesday

Wednesday

Thursday

Friday

Saturday

Sunday
Q: Do you need reservations for Libertine?
A: Reservations are highly recommended as the restaurant is popular. Though you can though in at the bar if you're lucky. They serve a full dinner at the bar, along with cocktails.