If there's one place that has made this dining in sub-zero weather not only bearable but something sought-after all winter, it's Don Angie. Far beyond the requisite space heater, Don Angie restaurant makes the socially distanced dining experience actually social.  And enjoyable.  The cabins are designed so you can see the people around you, outside your pod with windows in between.  Don Angie's cabins are the warmest places to eat during the winter as well.  It's even better when those people are Sarah Jessica Parker and Andy Cohen.  They're neighborhood regulars, who dine at Don Angie frequently with friends.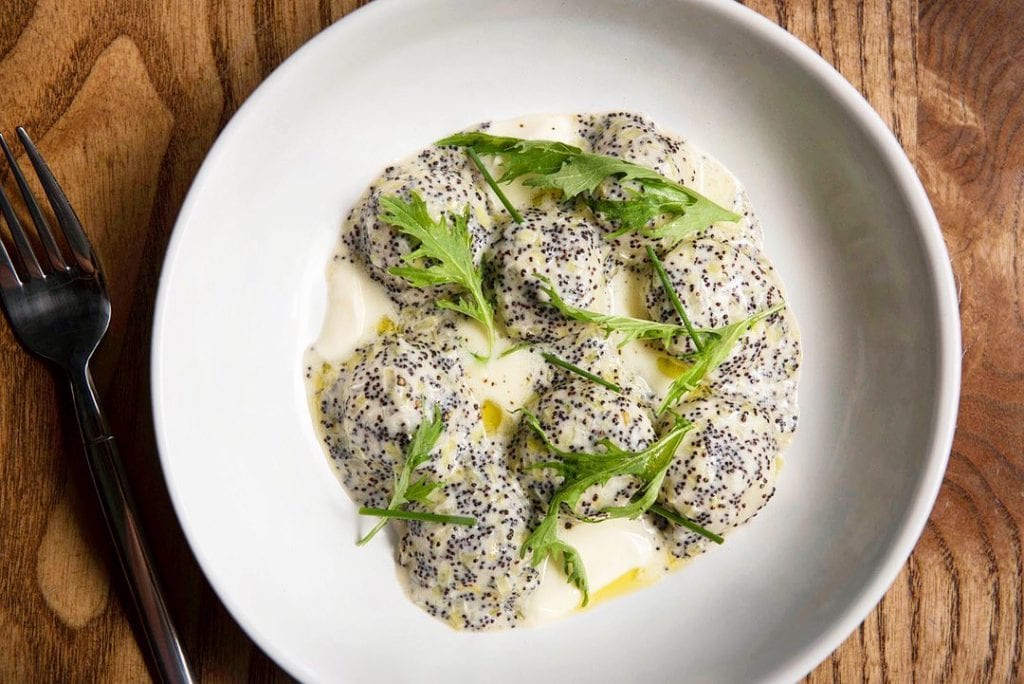 The Food
All we've talked about so far are those darned nice cabins.  But we haven't even started on the stellar food. We think you've seen inside people's souls this pandemic, and what restaurants especially, are made of.  Don Angie shows us that they are in it, to win it.  We're not grading them on a pandemic scale either. Given how insane this out of a science fiction novel this past year has been, most restaurants require an adjustment to expectations. This applies to even at the top Michelin restaurants in the city.  Actually, especially at the top restaurants in the city.
We would venture to say that Don Angie is just as good, maybe even better, than pre-2020.  Right now they're running a black truffle dumpling special pasta, which is what gluten dreams are made of.  Other standouts are the garlic flatbread, which should just be a forgone conclusion to start every meal. They even make their charcuterie and cheese platter something unique and special.
The chrysanthemum salad is a must, even for those who don't eat greens.  And  just give in and order every pasta on the menu.  There are some unusual combinations too, like the smoked mussels and sopressini, which you don't see anywhere else.  Their lasagna is the stuff legends are made of; in lieu of layers it's presented in wheels. It's not a light meal by any means but one that's worth the splurge.
Overall:  8/10
FAQs
Q: When does the bar open?
A: The bar opens at 4:30p.m. Monday-Thursday and 3:30p.m. Friday-Sunday. The restaurant opens 5p.m. Monday-Thursday and 4p.m. Friday-Sunday.
Q: Is Don Angie open 7 days a week?
A: Yes, it is open everyday.
Q: What is the rating of Don Angie as per Galavante? 
A: Galavante rates this restaurant 8/10. Don Angie provides a stellar assortment of menu options, all delectable.
Don Angie Information
Address: 103 Greenwich Ave, New York, NY 10014
Hours:
Sunday                    3:30-10p.m.
Monday                   4:30-10p.m.
Tuesday                  4:30-10p.m.
Wednesday            4:30-10p.m.
Thursday                4:30-10p.m.
Friday                      3:30-10p.m.
Saturday                 3:30-10p.m.
Phone number:   2128898884