Gosh help us, we've rediscovered souffle and we just can't stop. Yes, perfectly puffed-up cheese soufflé can become an obsession. We have our own cheese souffle recipe for the French classic that, as long as you have a stand mixer, guarantees success. So bring on the eggs. Bring on the gruyère cheese. And bring your appetite.
Ingredients
4 tablespoons organic flour
3 1/2 tablespoons organic salted butter
5 tablespoons parmesan cheese
1 1/4 cup whole milk
5 egg yolks at room temperature
6 egg whites refrigerated
3/4  teaspoon cream of tartar
1 1/2 teaspoons high quality dijon mustard
3/4 teaspoon paprika
1/2 teaspoon cayenne pepper
Fleur du sel and white pepper to taste
3/4 cup Gruyere or sharp white cheddar cheese
Directions
Preheat oven to 350 degrees Fahrenheit
Grease 6 individual ramekin dishes with butter.  Dust with parmesan and set aside in the refrigerator.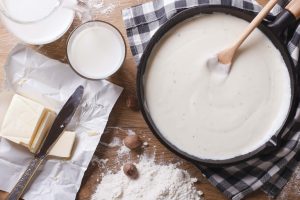 In a medium sauce pan, melt the butter on low heat.  Whisk in the flour, stirring constantly for about one minute.  Add the whole milk, while continuing to whisk.  Continue to whisk until thickened about 3 minutes.  Season with your paprika, cayenne and fleur du sel and white pepper, to taste.
Take the pan off the heat.  Blend in the egg yolks, while stirring constantly.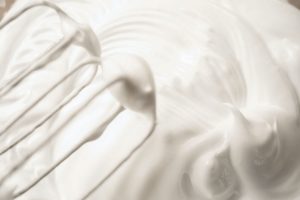 In your stand mixer, (note below) or if you're freakishly strong, beat your egg whites until still peaks form.  The consistency should be light as air.  While you don't want to over beat, if you don't beat enough, your soufflé will never rise.  Add in the cream of tartare and beat on high until you have clouds of egg white.  The key to this cheese souffle recipe is the egg whites.  Don't under beat, or over beat the egg whites.
Gently fold in about 1/3 of the egg whites into the yolk and béchamel mixture.  Gently mix in the cheese.  Fold in the remaining egg whites.  Be careful not to over mix.  You should still see those beautiful, airy egg whites.
Divide the cheese souffle recipe mixture amongst the 6 individual ramekins and garnish with the chives.  Bake for about 30 minutes until puffy and golden brown.  Serve immediately.  You wait for the soufflé'; the soufflé' does not wait for you.  This point is maybe the most important tip, to the cheese souffle recipe.
Note:  If you can, invest in a Kitchenaid stand mixer, which you can order from Williams Sonoma.