It's already the experience of a lifetime to go to the Olympics but add in Paris and special access as if you're on the Olympic Committee, and now we're talking. Yes, there are VIP seats, a special entrance, exclusive lounges, and hosts to shuttle you around to your seats. But then there's also your own official Olympic vehicle, which means you get your own lanes on the streets of Paris. While everyone else is stuck in traffic for hours, you'll arrive in twenty minutes flat. Yes, sometimes it's our job to show you what the possibilities are. This is the inside look at the VIP Olympics experience.
Paris in the Summer is an idyllic setting. Throw in the fact that 2024's Summer Olympics are being held there and you have a match made in heaven. This is going to be the pinnacle of next Summer. The place where not only the rich and famous will flock but also where the whole world will be watching. But, like all things sought after, tickets and accommodations in the city of lights are selling out fast. That's where Galavante comes in. We've got the VIP package worth splurging on for this once-in-a-lifetime experience. So, here's to attending the 2024 Paris Olympic Games in style.

An Olympics Like Never Before
The 2024 Summer Olympics will take place from July 26th to August 11th. There are 35 venues hosting the different sports, with 24 of them within 10km of the Olympic Village. Although Paris is the epicenter for the events, the soccer tournament will be played in six other French cities. This includes places like Bordeaux, Nantes, Lyon, Saint-Etienne, Nice, and Marseille. In addition, the sailing tournament will be held in Marseille and the surfing will take place in Tahiti.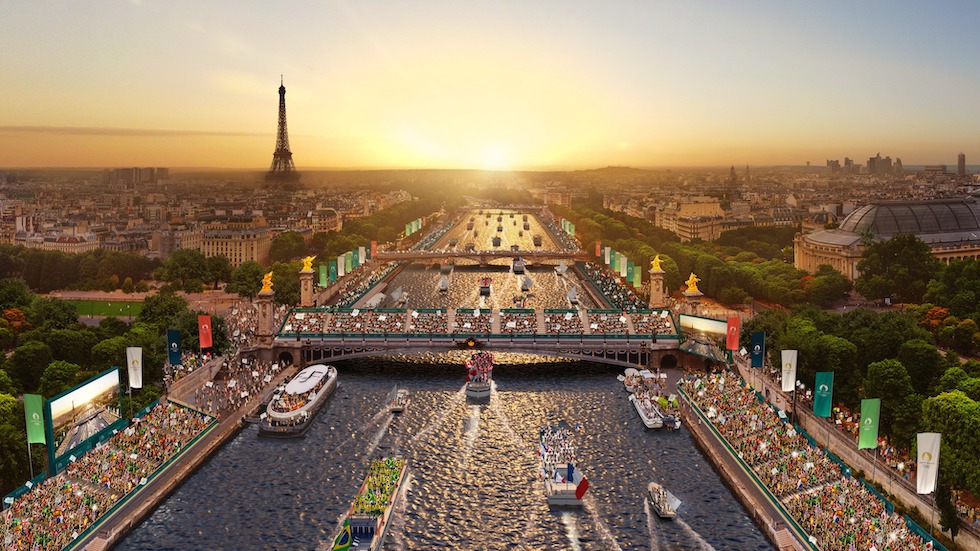 A main attraction of any Olympics is the opening ceremony, and Paris is breaking ground with what they have planned. For the first time in the history of the Olympics, the opening ceremony will be happening outside of a stadium. Instead, the setting will be the waters of The Seine, which flows through Paris, hitting many of the capital's landmarks. Each national delegation will have their own boat heading from east to west crossing through the center of Paris.

The DIY Package
In order to have the best experience at the 2024 Paris Olympic Games you're going to want to secure a tickets and accommodation package that makes things simple. Our DIY Package gets you six nights at either the Shangri-La or Hotel Lancaster in Paris. The package also includes Roundtrip private transfers from the airport to your hotel, including personalized meet and greet upon arrival. Additionally, for your Olympic tickets, you get X2 Category-A tickets to the following events: ATH06-including 100M Men's Semi and Finals (Fastest Man in the world, most popular), an Athletics Final of your choice, and two Athletics Preliminary round events of your choice. Other niceties are daily breakfasts, a welcome kit, a Summer Games gift package, a half-day Paris city tour, and a personalized itinerary. Special services include Pre-trip travel assistance from an At-Your-Service team and experienced onsite event hosts and destination experts available 24 hours.
Pricing:
Shangri-La Package – $32,450 USD per person based on double occupancy
Hotel Lancaster Package – $25,650 USD per person based on double occupancy

The VIP Package
For the VIP Package, you get the same features as the DIY Package but with a lot more perks. This includes a VAPP Vehicle which is a complete game changer. Whereas with the DIY Package, you are on your own getting to and from the events, with the VIP package you get an officially credentialed vehicle that is allowed to travel in reserved lanes. With this access, you can get from point A to B in approximately 20 mins while in the other lanes, you could be stuck in traffic for hours. Additionally, you would get VIP seats guaranteed to be within the first fifteen rows and four middle sections of the field. In addition, you have the potential to attend an Athletics Final, including a medaling event. There is also the possibility to secure closing ceremony tickets with a hotel at an additional cost.
Pricing:
Roughly $64,000 per person based on single occupancy

Book either of these packages now at Galavante
Related Articles